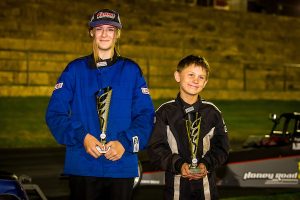 Second-generation racer Angel Bakranich heads to next weekend's MacTrack Westernationals at the Perth Motorplex on a high after securing her first event victory last week.
The MacTrack Westernationals will host the latest round of the Summit Racing Equipment Sportsman Series (SRESS), as well as the Australian Drag Racing Championship (ADRC), and the Motorplex's Nitro Slam series across March 5 and 6.
Thanks to her breakthrough win at the Motorplex's Fast Friday event on February 18, 14-year-old Bakranich now leads the Junior Dragster standings in the Fast Friday rankings.
She is also a hot favourite to take out the Summit Racing Equipment Junior Dragster category at the Westernationals this year with her recent form combining with the fact that she was the runner-up at last year's event.
"This is only my second season – I spent years watching my dad race and crewing for my cousin Tyson, so I have wanted to race for a long time and now that I am, it is a really good challenge and I am enjoying the competition," the year 9 student said.
"Before last week the highlight of my racing career had been my runner-up result at the 2021 Westernationals, but my first win at Fast Friday last week was pretty great too!
"I will be giving it my best shot at this year's Westernationals to try and go one better at that event and take the win.
"It would certainly mean a lot to win at the Westernationals – it would be my first ANDRA Christmas Tree trophy win and that would be very special."
Bakranich is the daughter of Top Sportsman racer Alby Bakranich, who will also be competing at the Westernationals.
Like many competing in the Junior ranks, Angel is hopeful of following in her dad's footsteps.
"I am just out there giving it my best shot, but it is definitely a goal to one day take over racing my dad's car – that is if he ever gets out of it!" she laughed.
"I would like to thank everyone who has supported me so far – my dad, nan, pop, Josh, Zack, Uncle Darren, Jason at CSC Performance, Mike at WA Racing Developments, Dave at Westcoast Cylinder Heads, Sandro at SCM Racing and VP Race Fuels."
The 2022 MacTrack Westernationals will be held at the Perth Motorplex across March 5-6. For more information, visit www.motorplex.com.au