Last weekend at the NT Titles in Darwin, Debbie O'Rourke said goodbye to racing after a career spanning 20 years.
It wasn't quite the send off O'Rourke was looking for but at least she got to say goodbye on her own terms at the track – although we certainly haven't seen the last of her!
"We had a bit of a tough weekend with tyre shake and dropping cylinders, but on the third run of the weekend we were able to run a 5.90 second pass which was rewarding, despite the fact it wasn't a perfect pass with a dropped cylinder part the way through," she said.
"That final pass was certainly not what we had hoped for – I dropped two cylinders early and the belt parted ways later in the pass, so we stopped the clocks at 6.154 seconds.
"But despite that, it was still a good weekend at the race track and I was really pleased to be able to get on the track a few more times before saying goodbye.
"The support and well wishes that have been coming through has been a bit overwhelming, and I promise I won't be going far!"
While saying goodbye to racing, it was always her intention to remain in the sport as O'Rourke Motorsport will pool their resources into husband Grant O'Rourke's Top Doorslammer program.
But sadly life in the literal fast lane has come to an end as family and work commitments outside of racing take precedence.
Here, O'Rourke gives a very frank and honest interview with ANDRA.com.au about her racing career, the obstacles she faced in the beginning and the reasons for retirement.
ANDRA: How proud are you of your achievements and do you feel you've paved the way for some of the promising ladies we have racing in the Sportsman classes to step up?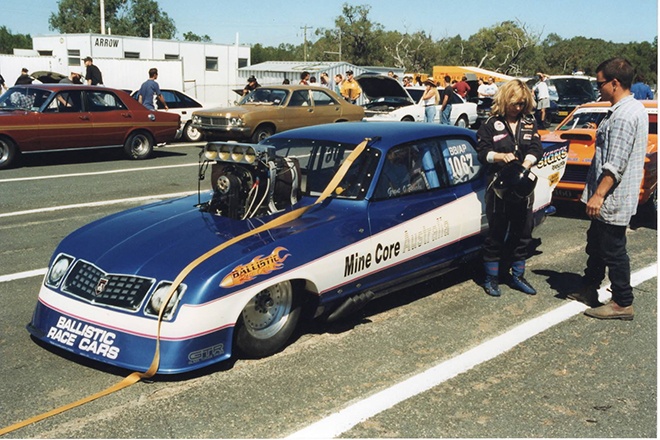 O'Rourke: I guess in a way I am proud of where I started and where I ended up. When you consider that I never grew up around fast cars, didn't know how to do a burnout and never felt anything like the horsepower that I ended up with, I'm proud that I gave it a shot.
I think much to many people's chagrin, especially around the time that I had a few incidents in the yellow Torana, I am proud that I kept going, trying to learn from my mistakes, I kept pushing through. I brushed myself off, put it behind me, and tried again.
People forget that there really is no real practicing with these racecars. It is what it is on the day – testing, match racing or competition. I knew for a fact that there was a minority of people – that's mostly the only people I heard from by the way – who had the opinion that I shouldn't be in a racecar with a supercharged motor. And this sentiment has lasted right throughout my racing career mostly in those early years, and some who are still around still think that.
But, what really spurred me on at these times was the fact that I was told in no uncertain terms at the debut of the blue and white supercharged Torana, was that women shouldn't be on the race track – the kitchen is where they should be, because women weren't experienced enough to understand the mechanics of this type of car and know enough about the safety elements – this was from a very senior ANDRA steward at that time.
And to be honest from then on, he made our livess very hard and no matter which way we tried to better ourselves or try to get on top of things – we were only late twenties and money was very tight – all obstacles were put in our way. From tribunals, to extending licencing – making Grant run on the record for that bracket before giving him a licence – rules and generally making our lives very difficult. This was one of the reasons that Grant had a hiatus; he couldn't deal with the pressure anymore.
Way before anyone else we were taking passengers for rides – it was good for the sport and people loved it – we gave up at 43 passengers. However what people don't know is that I totally wrote the rules and compliance policy to enable that to happen which was also adopted by ANDRA, from the full procedures, to the forms that the passengers had to fill in. Just one more scenario that we had to deal with.
From that perspective I think that's pretty awesome but to be honest I think I fell short of what I could've achieved for many different reasons, luck has never seemed to feature for me!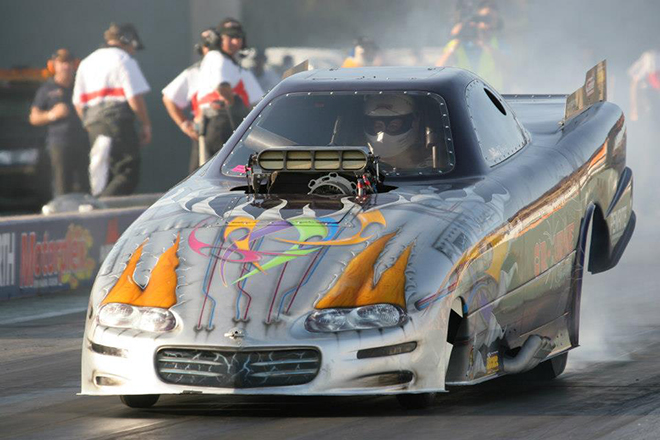 Having said all this if I didn't get in the blue and white Torana, and think that I could eventually overcome all the challenges that it laid down in front of me, I would not have kept going.
For the ladies that are coming through the ranks, I hope that they have a better start than me, with more general support – and mostly from racers and stewards. It was difficult for me to get my head around it, in essence it can't be that hard can it, leave the line, pull a few gears, pull the chutes and stop.
In real terms, when a car needs to be pedalled and / or you need to hit shift lights and leave the line on the correct revs, understanding all the reasons why this needs to happen was very useful and it took me a while to get it all. Being told it has to happen is way different to knowing why. For me knowing why was the key.

ANDRA: What were some of the biggest challenges in your racing career?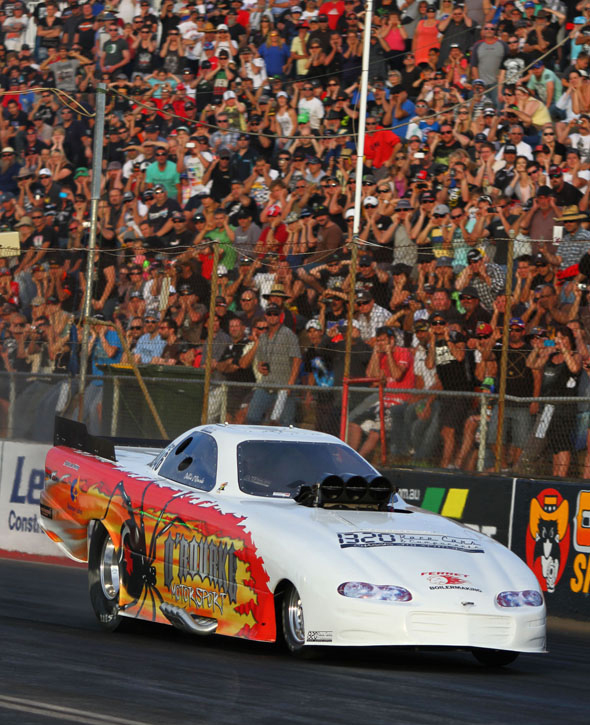 O'Rourke: Getting back in after an incident / accident. When something bad happens, your adrenaline is through the roof and I felt that I just wanted to get back in and 'fix' it then and there.
Of course, most of the time that wasn't possible and you have to wait a while to get your chance at redemption. Those times were an agonising wait and posed real mental dilemmas. As I said, there was never really any practicing or testing that I was able to do, so what happened on the race track on race day was it. I used to practice, in my head, morning, noon and night. But it didn't cut it really; it was about the real thing.
Running two cars is a real challenge for us and me. Fitting it in with my family and work life has always been a challenge, that and not spinning spanners or being able to physically do what a man can do. This puts extra work onto Grant and the crew and I had to rely on them to get the racecar ready to go racing. I would've preferred to have control over this and one of my biggest regrets is not being able to do that.
ANDRA: Are there any things you'd do differently?
O'Rourke: Sure, I think there always is! I could be here all day!… I think my biggest impediment, given my start, was that I listened to too many people and didn't just get on with it – confidence was an issue and continued to be throughout. Because of the accidents I had early on, my head has gotten in the way of me doing better.
ANDRA: You are still going to be active in drag racing, are you now in a position to push OMS and 1320 Racecars further forward off the track in a commercial sense?
O'Rourke: To be honest, I don't really know. I've just stepped up into a role at work, where I am responsible for the East Coast, so my leisure time is getting less and less. If I get an opportunity or an opportunity comes to us, then absolutely I will pursue it.
We are really lucky in that we have a media/marketing/sponsorship expert helping us and has been helping us for quite a while. But money is very tight and has been for a while, which is a reason why I've focussed more and more on my career.
Our best time for sponsorship was in the early 2000's – it hasn't been the same since then really. I'll be at most, if not all of the races more than likely, but I can't see my role being a major one. The Doorslammer team work really well together and it looks as though it's a good combination, the results speak for itself. As Grant said early on – if it ain't broke, don't fix it!
Images: dragphotos.com.au (top), O'Rourke Motorsport, ANDRA