The SA Summer Nationals will be the first glimpse Adelaide fans have of the beautifully turned out AC Delco Holden Monaro Top Doorslammer of Maurice Fabietti and his driver Mark Belleri on December 3-4.
It's part of a concerted effort to increase awareness of the brand and potentially reward dedicated fans with a ride in one of the fastest Doorslammers in the country.
"AC Delco is a fantastic brand from the US," said Fabietti.
"Holden always had it as a by-product of their line here. They've decided to start pushing it a bit more in this country so they are using our vehicle as a benchmark to get it out there in the public's eyes.
"We're working with Holden on some new ideas on how to market the product and get it out there more so keep your eyes on the website ACDelco.com.au.
"Hopefully we'll have some exciting competitions by buying products from your AC Delco dealer through Holden and win a prize to have a ride in the car."
Returning to Adelaide International Raceway for Round 3 of the ANDRA Drag Racing Series, the team currently sit in third place on 131 points, 53 points behind leader John Zappia.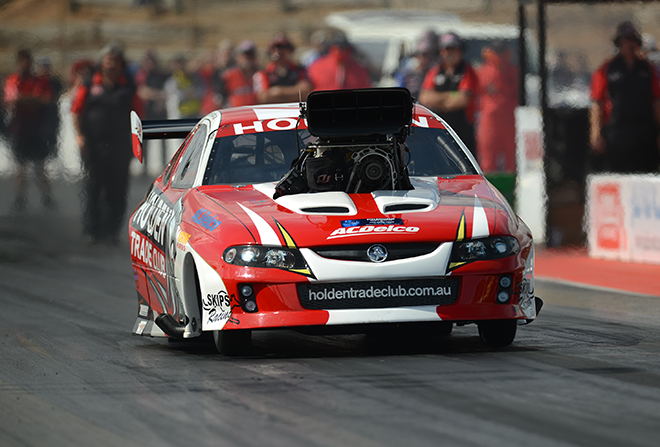 But with over 100 points up for grabs at each race, the deficit can quickly evaporate and Fabietti has every confidence in his driver Belleri.
"Mark is a fantastic driver, he's young, he's keen, it gives me more time to tune and concentrate on getting the car down the track.
"Just lately we've received a lot of good accolades from people, good results and I couldn't be much happier."
Fabietti previously piloted and tuned the car for over 30 years but since hanging up his helmet, he has come to terms with life out of the seat and enjoys watching Belleri grow into a dynamic racer.
"I'm 55 now, I'm not getting any younger and sooner or later you gotta say enough is enough and I want the best for Holden and AC Delco so it's all just fallen in our hands.
"We've got a fantastic car, we've got a good driver – his reaction times have just been unbelievable, it's really got the other competitors worried. The car has been consistent, it's been fast and Mark very rarely mucks up on the run."
The SA Summer Nationals hits Adelaide International Raceway December 3-4 featuring the ANDRA Drag Racing Series and Summit Racing Equipment Sportsman Series.
Gates open from 9am. Qualifying begins from 10am on Saturday and racing from 11am on Sunday. Adults tickets $35 / Concession $20 / Kinds under 15 FREE / Weekend Passes $50.
The Garmin VIRB ANDRA Drag Racing Live Stream will be available on Sunday December 4 and is free for ANDRA members using their member number as a coupon code. ANDRA membership is available from $55 at www.andrashop.com.au
Non-members can access the Garmin VIRB ANDRA Drag Racing Live Stream for $7.99. Visit Motorsports TV to sign up.
Image credits: fabiettiracing.com.au (top), Bob Taylor / bobteee.webs.com