The Fuchs Winternationals on June 4-7 at Willowbank Raceway will see an oversubscribed Pro Stock Motorcycle field as nine riders vie for eight spots on race day.
It represents the beginning of a new era in the bracket as the Pro Stock Motorcycle Association has come to together to boost competitor numbers and increase it's digital footprint via a new website and proactively engaging in social media.
Bundamba's reining two-time ANDRA Drag Racing Series Pro Stock Motorcycle champion Luke Crowley is helping to lead the charge after taking some time off to rehab his knee following a sporting accident. He returns at the Fuchs Winternationals with a new bike and ambitious plans for an expanded Luke Crowley Racing team.
"It's great to have nine bikes entered for the Winters and with a few new riders into the category its certainly a boost for Pro Bike," he said.
"I'm very sure that next season we might see this a lot more often than we have been, as I have a few meetings with people over the Winters weekend that could see as many as four bikes racing out of the Luke Crowley Racing stable for the 2015-2016 season.
"Its not all a done deal yet, but I'm doing as much as I can to help bring back the numbers with leasing my old bike to another new rider and hopefully help bring two old faces back into the class.
"Throw on top the new Buell of Corey's (Buttigieg) and also the other one that is here, and Brad Lemberg on the family bike, we are going to see some very interesting times ahead for this class – 7.20's are not going to cut the mustard like they have been recently."
PSMA President and 2011 champion Maurice Allen shares Crowley's excitement as more teams are set to enter the championship fray next season.
"It's fantastic news (to see nine bikes at the Winternationals) and a chance to see a heap of low seven second bikes and showcase the premier factory hot rod class," said Allen.
"There's still more teams that haven't quite been able to make this event but should be out testing shortly.
"Our Pro Stock Motorcycle Association is flying with healthy numbers which has indicated to us that teams have been getting ready for this moment and we're finally starting to see these teams roll out.
"Even if it's the biggest event outside of the USA, the PMSA has some great new ideas to help engage both the competitor numbers and also spectator awareness.
"So keep up to date at our website www.prostockmotorcylcle.asn.au."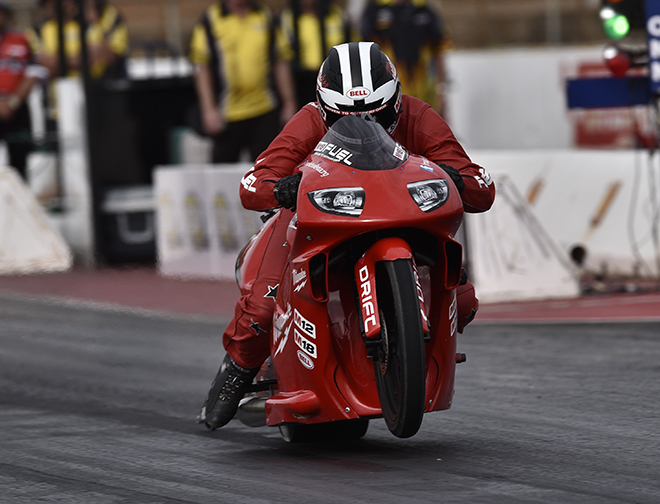 At the Fuchs Winternationals Allen will swap his PMSA hat for his helmet to resume a long running battle for supremacy with Crowley who will make his first appearance of 2015.
Crowley will simultaneously debut his new locally bought ride insisting the new bike features numerous differences to his championship winning Suzuki in order to keep pace with the Buell set to be unleashed on the the ANDRA Drag Racing Series.
"It was time to upgrade to help find some more performance as like I said 7.20's aren't going to be quick enough to beat an NHRA spec Buell," he said.
"I cant wait til the Winternationals this year, we have a few more days of testing to do yet and I'm still waiting for a brand new engine to arrive and also parts I'm ordering as I speak.
"I have big plans for the off season after the Winternationals and will freely speak about them after this race, as all efforts are going into the preparation for the big show in a few weeks.
"I'd like to thank my supporters Craig Thompson Machining, LAT Race Oil Australia, Aaron Tremayne and VP Race Fuel."
While Crowley returns, Allen is chasing a second championship at the season finale but it just got that much tougher with one team guaranteed to miss the field on race day.
"The Winters always carries that special event stigma where by winning your class is the ultimate accolade on the calendar and that's what we'll be focussing on," he said.
"I think that the final qualifying session for us on Saturday night is going to be the first test that's for sure, just to make sure you're in the field.
"Fans can follow us at @prostockboy98 on Instagram, #ANDRAPSM and don't forget to tag us in your Winternationals photos!"
The Fuchs Winternationals featuring over 500 racers across the six ANDRA Drag Racing Series Group One categories and 12 Summit Racing Equipment Sportsman Series brackets from all over the country take over Willowbank Raceway June 4-7.
Tickets are on sale online now – including discounted pre-purchase only tickets. Looking to bring the family? Don't forget that children aged 13 and under gain free admission, while students with ID and Concession Card Holders can access discounted entry (terms and conditions apply).
For more information including race scheduling please visit the event page here.
Images courtesy: Fred Dwyer (top), Bob Taylor (middle)