This weekend's round of the ANDRA Drag Racing Series at Darwin's Hidden Valley Drag Strip (14-15 August, 2015) will host not only the last race for retiring fast femme Debbie O'Rourke, but also round two of racing for her husband Grant O'Rourke in the Top Doorslammer championship.
The fairer of the husband and wife racing team announced her impending retirement from the sport of drag racing earlier this month – electing to make this weekend's event her last outing in the O'Rourke Motorsport Top Alcohol Funny Car.
Debbie – the country's quickest female racer and only current professional-level female drag racer – will take part in match racing with Aaron Deery, Scott MacLean and Jamie Noonan in a special exhibition bracket this weekend.
"It has been a tough decision for me to make and it has taken me a while to make it, but the truth is I haven't really been having fun for a while now," said Debbie, whose drag racing career has spanned two decades and included everything from Super Sedan to Top Alcohol.
"Drag racing has always been a way for me to do something different and for so long I looked forward to getting into the driver's seat each and every time, but now my competition has stepped up, I have lost the passion, and I don't want to let my team down – we just don't have the resources as a mostly privately funded team to front two competitive race cars at every event, and getting testing time and spending more money to step up in performance is just something we cannot afford to do.
"I am pleased that I was able to front at most Top Alcohol rounds for the last four years – however my biggest regret is that I was never able to pull off a group one win over the years.
"I am however very proud of what I and everyone involved in our team has been able to achieve, and I am very appreciative of those that have supported and believed in me even when I doubted myself.
"It is time to move on, and I have heaps of other things want to do – it is now time to redirect my energy, time and expense to these things, while continuing to support Grant in his racing endeavours of course.
"I love Hidden Valley Raceway and the way they run their events, so it was natural to choose this weekend as my last ride – I can't wait to get on-track this weekend one last time, and hopefully I can finish with a personal best!"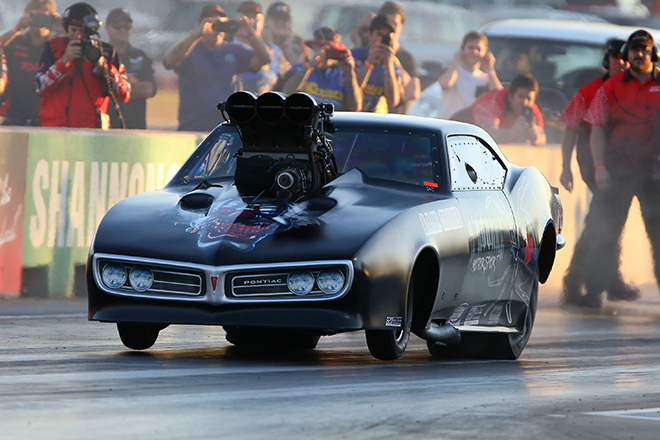 Debbie will still be seen around Australia's drag racing venues, supporting husband Grant O'Rourke in his pursuit of the Top Doorslammer championship – an endeavour that continues this weekend.
During the last round of the championship – also held at Hidden Valley just last month – Grant was able to make it all the way to the finals while setting three personal bests.
"We are currently second in the championship after one round of racing, and with the three personal bests and the runner-up result last month here at the same venue we are feeling quietly confident," said Grant O'Rourke,
"We had a great car during qualifying last time out but it wasn't as good come race day, but we have plenty of data having made so many passes in Darwin last round, so the crew have been spending plenty of time looking it over to make sure we can have a more consistent car this time around.
"While we will be definitely be working hard to chase a Top Doorslammer result this weekend, I know myself and all the crew will also be keen to see Debbie achieve a personal best this weekend as she farewells the driver's seat.
"I am so proud of all of her efforts both on and off the track, and I hope that this weekend delivers a fitting salute to her two decades of drag racing and all she has done for females racing in the sport – she deserves it."
The action at Hidden Valley Raceway will kick off with qualifying on Friday 14 August, before racing on Saturday 15 August.
For more information please visit www.hiddenvalleydrags.com
Images: Grant Stephens / Drag News Australia