Yep while some watched Danny Green and Anthony Mundine bang each other in the head over 10 rounds, ANDRA Championship drag racing returned to Perth Motorplex with a bang of it's own. The Goldenstates was back and with championship rounds for Top Doorslammer and Top Fuel Motorcycle. Anticipation was high to see who could run the numbers and who would win in conditions that were best described as hot and sticky. Damian Muscat became the first winner of the event when he dominated the three-round format in Top Fuel Motorcycle.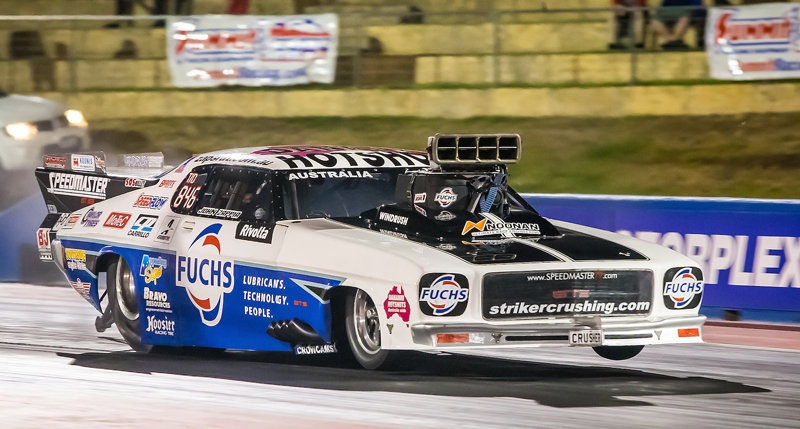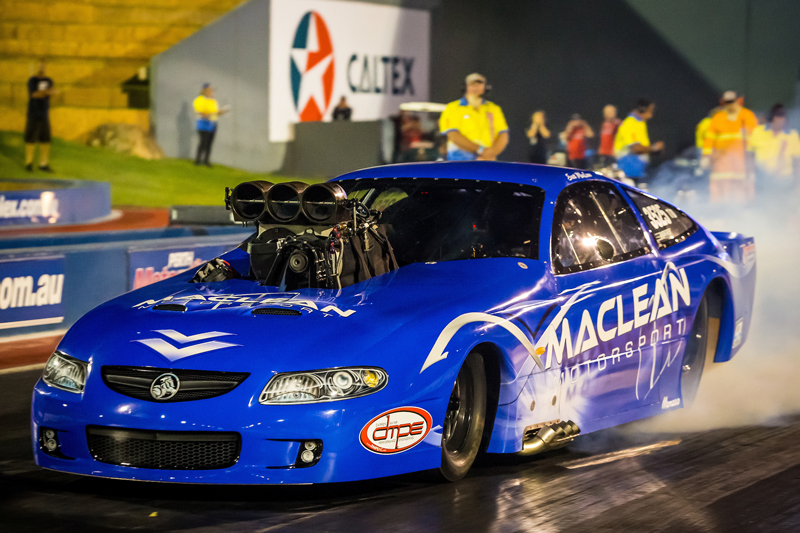 Top Doorslammer
Top Doorslammer had a field of 12 drivers racing for eight spots. Did someone say drama and excitement? Wow in the first session current ANDRA Top Doorslammer Champ and recent Australian Nationals winner John Zappia popped a blower in the first session, stayed in the pits during the second session but came back for the third blew everyone out the park with a 5.70 at 410.87 Kph. Zappia would no doubt have been nervous about coming into the final session, but as a nine-time champ he knows only one way to respond to pressure – come out swinging.
Mark Belleri led the two earlier sessions with a 5.90 ET in the AC Delco Holden Monaro, but sat out the final qualifier feeling confident. Well cars were moving around like a game of chess and bumping in and out. Scott Maclean faced Grant O'Rourke and what a drag race this was. MacLean jumps into second spot with a 5.82 in his Holden Monaro and O'Rourke puts his Firebird into No.3 with a 5.87! Belleri watched himself get bumped into fourth position.
The Camaro of Daniel Gregorini filled fifth with a 5.94 and Sam Fenech improved in the final session to a 5.97 for sixth. At this stage the 55 Chev of Steve Aldridge was out the field but he goes 6.08 to get back in for seventh. Pino Priolo also was chewing nails and snuck in with a 6.14 ET. Hard luck to Kelvin Lyle who was making his debut in Top Doorslammer in his Mustang, however his PB of 6.14 was short by that much! Others on the outside were Ryan Moresby, Frank Taylor and Paul Carey.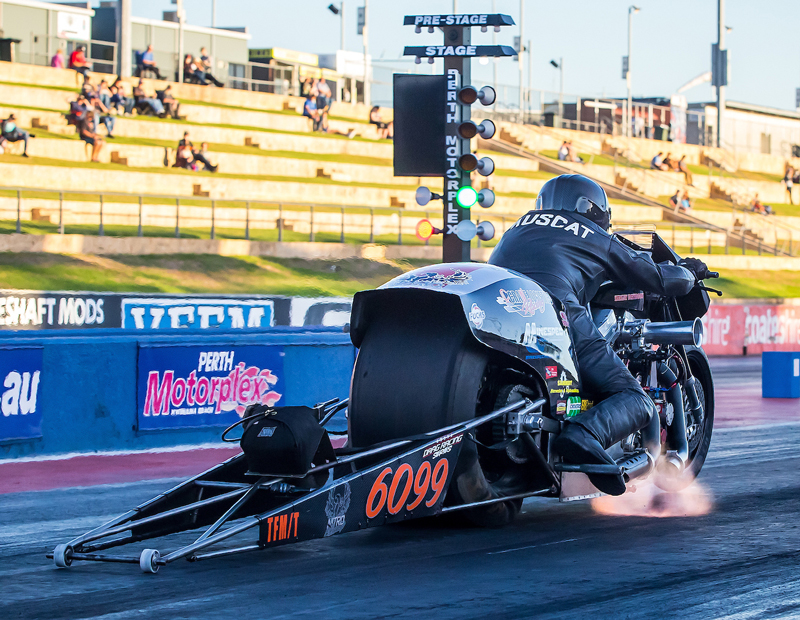 Top Fuel Motorcycle
Looking at the entry list there were some heavy hitters that were worth keeping an eye on – Ian Ashelford, Mark Drew, Damian Muscat and more. Jay Upton was back on his full-bodied nitro fueller, however elected out of competition and was happy to test.
It had been decided that TFM would run a three-round format over the two days. While the entry list had nine names on the sheet, the first qualifier was down to seven bikes. On top was Damian Muscat with a 6.50 ET and almost a second behind was Greg Durack's 7.51. Big surprise here was Mark Drew who didn't record an ET.
In the end the A Final saw Muscat take the win and points with a 6.64 to a 7.07 from Durack. Les Holden defeated Wayne McGuinness for the B Final with a 7.74 holeshot to a 7.60.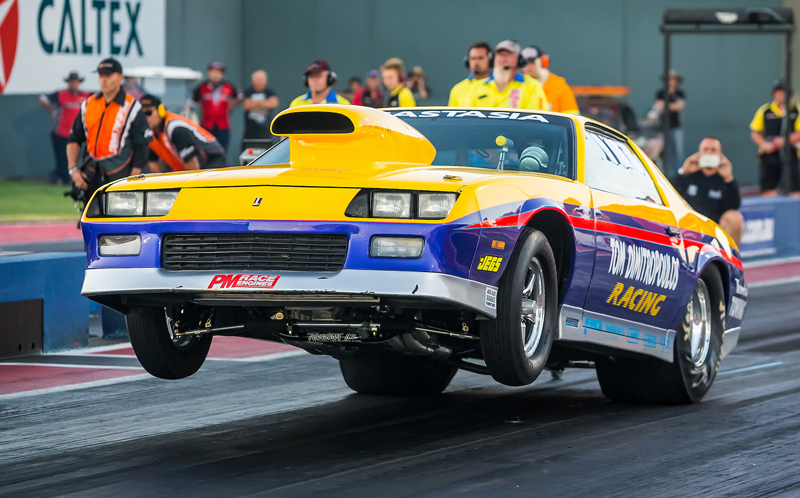 Summit Racing Equipment Sportsman Series

Friday presented all the Sportsman categories with two qualifiers and another two sessions on Saturday morning.
Leading Competition was ANDRA Champ Craig Geddes with a 0.637 under B/Dragster 7.122 and was followed by Sharon Sheehan's 0.555 under 6.66 in her CC/DA.
With 12 entries in Super Stock, eight went under their index. On top was recent Australian Nationals winner Jamie Chaisty with a 0.429 under 9.320 in his H/MSA Holden. Tom Dimitropoulos was second in his high-stepping A/MS Camaro with a 0.394 under 9.185
Competition Bike had seven entries with Rob Wasley the only rider to go under his index. His B/SB Kawasaki went 0.115 under with a 9.404 ET.
Supercharged Outlaws had 11 entries however only seven registered an ET. Darren White's Dodge Dart sits on top with a 6.88, ahead of the 7.19 ET from Greg James' Countach.
The Ford Probe of Colin Davis is currently No.1 in Top Sportsman with a 7.55 and ahead of Paul Russo's Chev at 7.60 seconds.
In Modified the dragster of Erin Healy went 7.65 after two sessions while Paul Ryan grabbed an 8.10 ET in his popular Famoso Slingshot.
Twenty names entered Super Sedan with Johnny Brecich Chev Camaro recording a 8.48 ahead of Terry Dibllasi's 8.90.
Bruce Jones was the quickest in Modified Bike with an 8.988 from his Suzuki. Ross Garrett's Kawasaki is second with a 9.27 ET.
Super Street saw Steph Gullotto record a 10.353 ET to just be ahead of a 10.354 from Ian Taylor.
After two sessions in Summit Racing Equipment Junior Dragster it was Jack Wasley on top with a 8.002 and followed by a 8.021 from Bailey Ferguson.
images by Phil Luyer/High Octane Photos