When the news let it be known that the forecast over the weekend was for hot and humid temperatures in the high 30's, it was game on. Saturday's qualifying saw even the toughest racers struggle during the sessions where track temps reached around 120 degrees.
In the lead up to the 46th running of the Westernationals, the potential news we could see close to 18-20 Top Doorslammers in the Perth Motorplex pits saw plenty of interest in what could become one of the best showdowns seen in Top Dooslammer in years. Especially with the appearance of Ben and Victor Bray in their new look Gulf Western Oil sponsorship, and arch rival nine-time ANDRA Champion John Zappia looking to clinch a potential 10th title in his Fuchs Monaro. The Westernationals was set to explode.
Add Top Alcohol, two rounds of the Top Fuel motorcycle championship, the Summit Racing Equipment Sportsman Series and we has a race not to miss.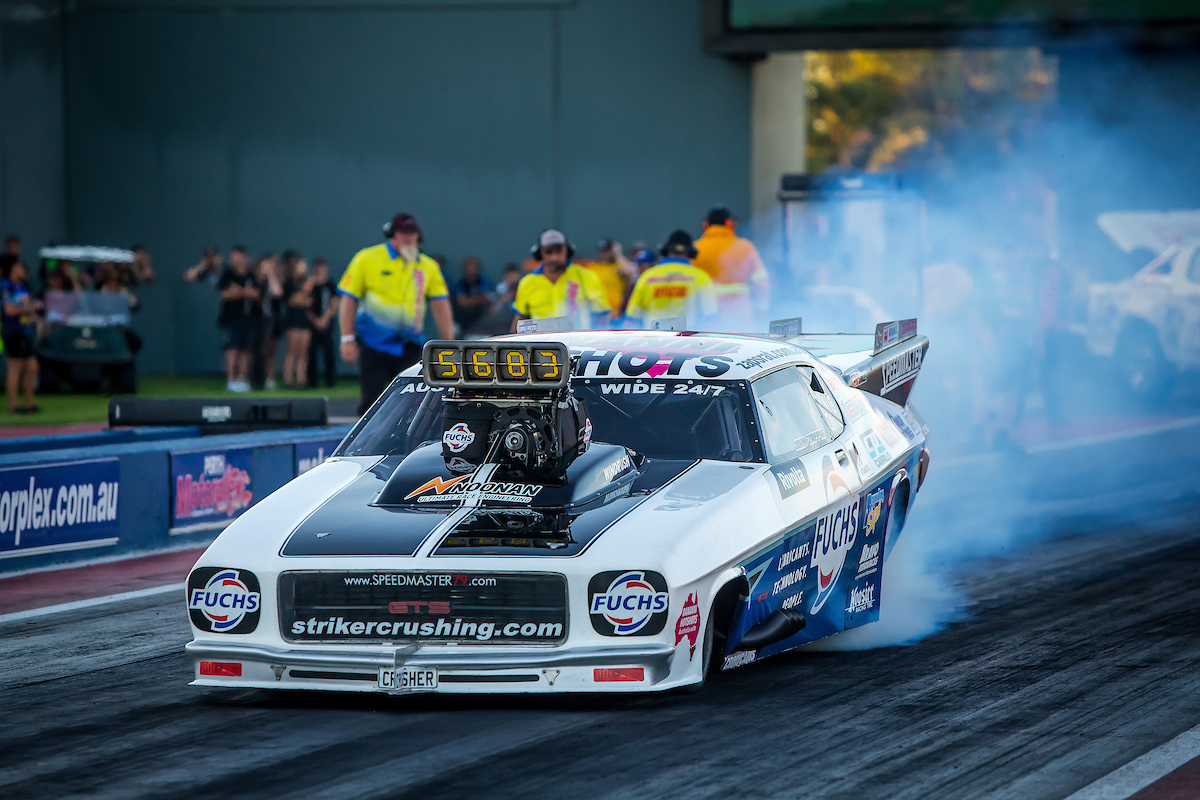 In the first session of Top Doorslammer there was no real surprises, as a lot of the big hitters struggled to come to terms with the extreme heat. Leading the pack of 16 cars was last years' Westernationals winner Grant O'Rourke with a 5.96203 ET at 404.13 kph. Then came the AC Delco Monaro driven by Mark Belleri on 5.96217. John Zappia was in third with a 5.98 in his Fuchs Monaro. Paul Cannuli sat in fourth with a 6.08 in the PC Cranes Duster, and Victor Bray went 6.13 in the Gulf Western Oils 57 Chev. The remaining three spots went to Kelvin Lyle (6.18), Sam Fenech (6.22) and Pino Priolo (6.24). Some of the other eight looking in from the outside included Mamone, Dack, Maclean, Ben Bray, Aldridge, Gregorini, Moresby and Taylor.
The second session saw the predicted all five-second field start to come alive. Zappia moved into number one with a 5.740 in the Fuchs Monaro. O'Rourke improved with a 5.86 however stayed in second and Belleri put up a good fight with a 5.88. Benny Bray punched into the field with a solid 5.94 for fourth and Frank Mamone went 5.98 for first. After that Cannuli was bumped into sixth, Fenech in The App Shop Camaro stayed in seventh with an improving 6.09 and Kelvin Lyle went 6.10 for eighth. By now Victor Bray was ninth.
The third session had high hopes of that all five-second Top Doorslammer field, and while some cars had run, time got the better of the rest with a looming 11pm curfew.
The schedule had been moved around in order to conclude night one of Top Fuel Motorcycle, pushing Top Alcohol to the back of the Group one session.
This saw Greg Durak score a win in the B-Final, after Chris Porter didn't front, and Goldenstates winner Benny Stevens red lighted in the A-Final handing Damian Muscat the automatic win.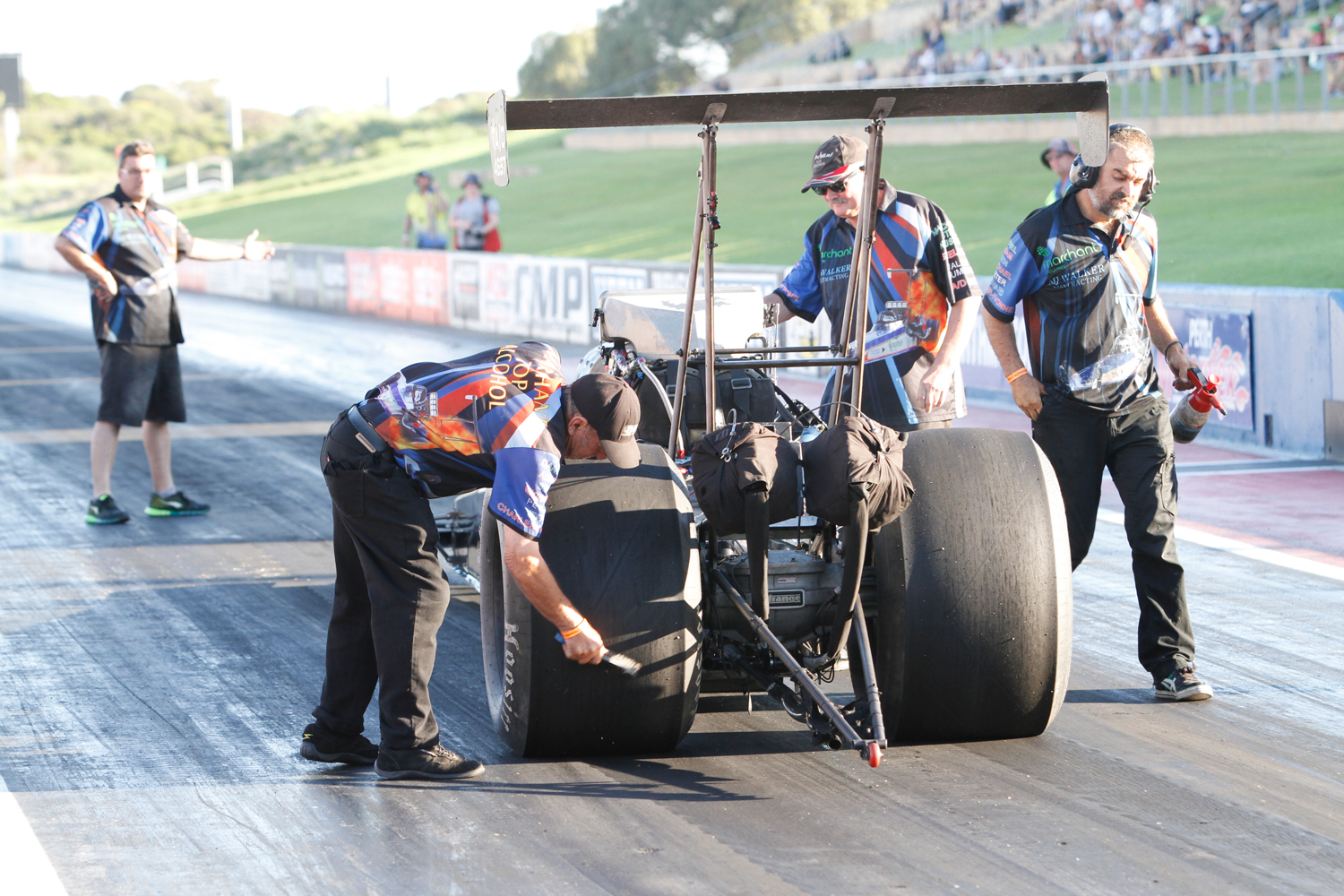 After the first session of Top Alcohol, it was local Adam Marchant leading the 8-car field with a 5.793, ahead of current ANDRA champ John Canuuli's 5.87 and Stephen Del Caro's 5.89. Rounding out the field was Russell Taylor (5.931), Ben Moignard (6.25) Aaron Deery's belt breaking 11.25 ET and Scott Maclean and Craig Classby.
The second session saw a whole lot of improvement with Marchant staying No.1 with a 5.67, while Cannuli stayed in second with a 5.717, while Classby was a fraction behind with a 5.718. Del Caro was fourth, Deery showed some pace with a 5.89, and Taylor didn't improve. For Moignard, he recorded his first five-second ET with a 5.97 in his altered while Maclean rounded out the field.
Due to the curfew, both Top Alcohol and Top Doorslammer will be back on Sunday morning March 5 for their final session.
In the Summit Racing Equipment Sportsman Series Craig Geddes leads Competition qualifying with a -.502 under 7.187 in his B/Dragster. Daniel Natalotto was in No.1 with a -0.360 under B/SB 9.159 in Comp Bike. Michael Caroscio leads Super Stock with a –0.563 under 9.836 in his C/MSA Pontiac. Darren Saliba leads Top Sportsman with a 7.26 ET, Terry Diblasi sits on top of Super Sedan with a 8.54, Paul Scown in Super Street with a 10.33, Supercharged Outlaw's David Biggs 6.749, Merven Biggs 7.57 in Modified, Troy Thompson's 8.494 in Modified Bike and Jack Wasley in Junior Dragster with a 8.001.
Sunday morning will see the final qualifying sessions for all Summit Racing Equipment Sportsman classes.
CLICK here for updated Sunday event Schedule
Images by John Baremans and Phil Luyer