At the Perth Motorplex's Westernationals earlier this year – part of the 2019/2020 Summit Racing Equipment Sportsman Series – the McClure Motorsport Torana GTR was recognised with the Crow Cams Best Engineered Award.
What started out as a rusted mess is now a striking Barra-powered racing machine with even more upgrades ahead.
"We first picked the car up about 12 years ago from a friend of ours as a rusted-out wreck and it sat in the corner of the shed as just that for about 10 years," driver Connor McClure said.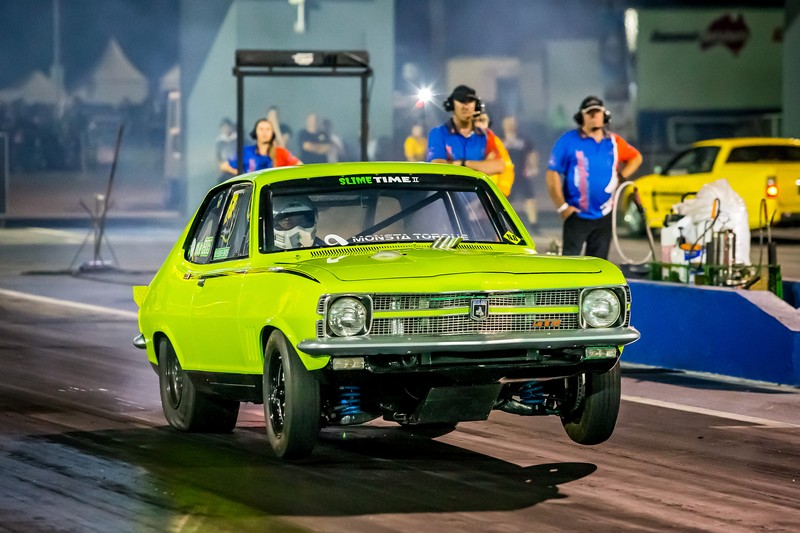 "We slowly started with just straightening the car out bodywork wise; not knowing at that point exactly how serious we wanted to go with the car as it probably was just salvageable as a street car.
"Well six months passed after having a serious thought about what was going to happen with the car, it had a full rear clip in it with 4-Link suspension, a nine-inch diff and of course 275 radials on the back!
"I always wanted to put a turbo six in the car, but I was reluctant to spend the amount of money needed to make a 2JZ or RB26 go as fast as we aimed for.
"We were aiming for around mid-eights with the car and given that I wanted something that delivered bang for buck power we decided you just can't go past an Australian-made Taxi motor!" he grinned.
"With Rob from Monsta Torque guiding us on what parts we needed and supporting us with his endless Barra knowledge, we got the car to make just over 900hp at the hubs with help from Rotormotion's Michael Buckley who setup all of the wiring and Haltech engine management in the car.
"One of the coolest things has been how straight the car went when we did our first few laps. Having built it completely in our shed, it was a very satisfying feeling after all the hard work to see it on the track.
"The car's current personal best is 8.49 seconds at 160 miles per hour with a 1.24 60-foot time, and that is with a standard crank and cams. We are looking to upgrade those parts in the near future to really see what this thing is made of.
"In the meantime, we have made a few changes recently to the brake pedal as I wasn't happy with the feeling in the top end. We have also put in a new pair of rear shocks from Afco which should help the car get off the line more consistently."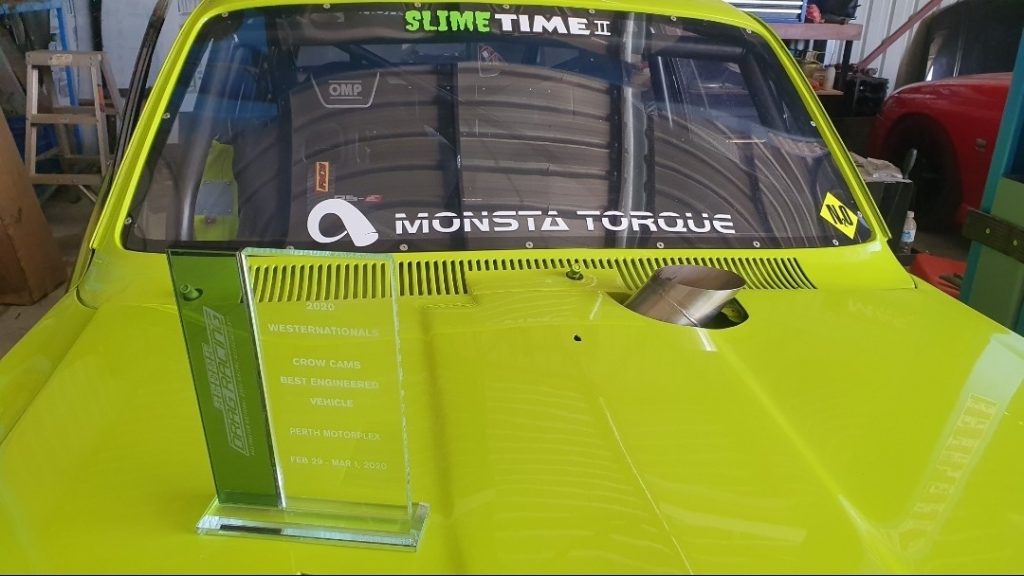 After so much work, it is no surprise that the awarding of the Crow Cams Best Engineered Award was well received by the team.
"Being recognised with the Crow Cams Best Engineered Award came as a complete surprise as the pits in Perth are always full of so many beautiful cars," McClure said.
"We were certainly honoured to be acknowledged in this way by Crow Cams and ANDRA and it is definitely something off our bucket list.
"It really does feel great to know that this is something that we built and to see that other people appreciate the work that goes into a well-presented car.
"We would like to say a huge thank you to Crow Cams for supporting drag racing in Australia and for sponsoring this award."
McClure Motorsport was first established in the late 80s by Connor's dad Alastair.
"It started out as just my dad when he began his drag racing career in Super Street in his Holden 202-powered Datsun four-door in 1989," McClure explains.
"Once the Perth Motorplex was built, both of my uncles also started racing in Competition and Modified Bike and my grandad also had a go in Super Street.
"At the same time, my dad was racing in Supercharged Outlaws and my brother and I were in Junior Dragster – it was a full pit area for us!" he laughed.
"We would like to take this chance to thank all of those people who have supported us over the years: Monsta Torque, Keys Family Motorsports, Allfast Torque Converters, Applied Automotive, Connelly Images, Hydraulic Technical Solutions and Advanced Automotive Wreckers."
For more from Crow Cams, visit www.crowcams.com.au
The ANDRA Grand Final is currently postponed due to COVID-19 restrictions. ANDRA hopes to host the event later this year on dates to be confirmed. For more information, visit www.andra.com.au