At the 50th annual Westernationals, Jodi Thorstensen was recognised with the coveted Crow Cams Best Engineered Award.
The Award came as part of a big weekend for Thorstensen and her crew, marking her comeback to racing 12 months on from a damaging accident at the same event the year before.
"The 2021 Westernationals event was surely a highlight for us and the biggest weekend for this car to date – we got the car all back together for the event after the accident the year before, ran its first high eight second pass on the anniversary of the accident, and received the Crow Cams Best Engineered Award all on the same day," Thorstensen explained.
"We were just so happy to have the car back on track, the award was a really nice extra surprise!
"So much hard work and dedication went into getting the car to where it is now and back on the track and I am so happy for everyone that has helped me achieve this in some way that all of their efforts have been recognised.
"The Crow Cams Best Engineered Award certainly means a lot to me and the timing was just perfect. I would like to thank Crow Cams and ANDRA for the award – a lot of good work goes into so many of these cars by so many different people that it is really nice to have an award that recognises the achievement and effort of everyone involved."
Thorstensen's racing is a real passion project and one that carries on the memory of her late husband, Craig Thorstensen.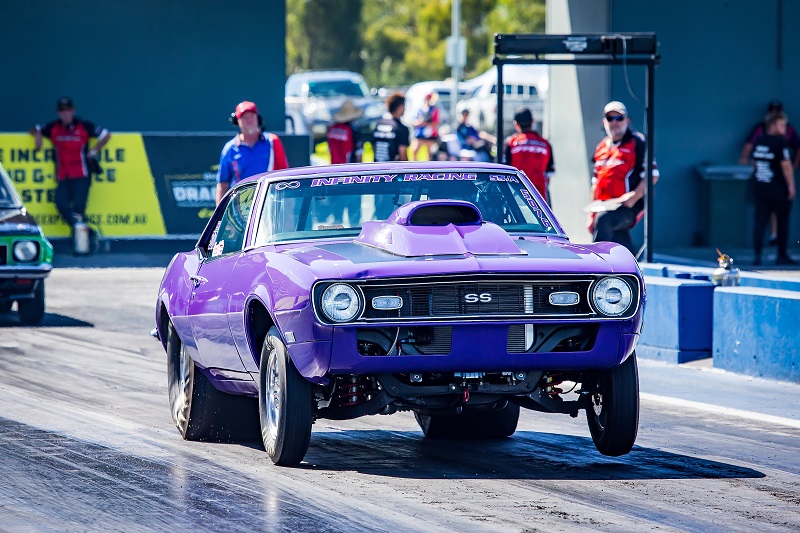 "The car was my husband's and he passed away two years ago, before I started racing. Racing was a passion that we shared together and so it is extra special to me to be able to race the car and to have been able to do so much with it already," she explained.
"I had only just started racing at the beginning of the last season. We had a few engine troubles straight up and missed a few meetings. We just started to get back into it and then the accident happened and that was the end of that for that season.
"I would like to thank Geoff and Lauren at Black Magic Race Cars who have played a key part in helping me get back to the track, Jeff my mechanic from Chev Power; Jeff from Street Built; Real Restorations Panel and Paint; Lloyd who crews for me; my son Matt who flies over from Queensland every time I race to crew for me; my three other sons for all of their support and for being excited for me; and anyone else that has helped in any way, I am so grateful.
"I would also like to thank Liz from WADRA for nominating me for the Crow Cams Best Engineered Award and the Perth Motorplex and all of the staff and volunteers for creating such a great place to race."
Crow Cams has long been an enthusiastic supporter of ANDRA drag racing. From driving on the street to racing at the strip, Crow Cams' valve train technology has you covered with world class performance and reliability.
The Crow Cams product range includes Next Gen Camshafts, Next Gen Stainless Roller Rockers, Next Gen Race Pushrods, Crow Cams Billet Timing Chain Sets, Crow Cam Followers and Crow Cams Hot Rod Camshafts. Also included are Crow Cams Valve Springs and Retainers, Ford XR6 Turbo Camshaft packages, Next Gen LS V8 Cams, Modular Ford V8 camshafts, Next Gen blower camshafts and more.
For more information about Crow Cams, visit www.crowcams.com.au
The 2019/2021/2021 extended Summit Racing Equipment Sportsman Series recently concluded with the ANDRA Grand Final at Mildura's Sunset Strip. For a full listing of event results and championship points, please click here (results) and here (points tallies).
Dates for the 2021/2022 Summit Racing Equipment Sportsman Series will be released shortly.
For more information, visit www.andra.com.au