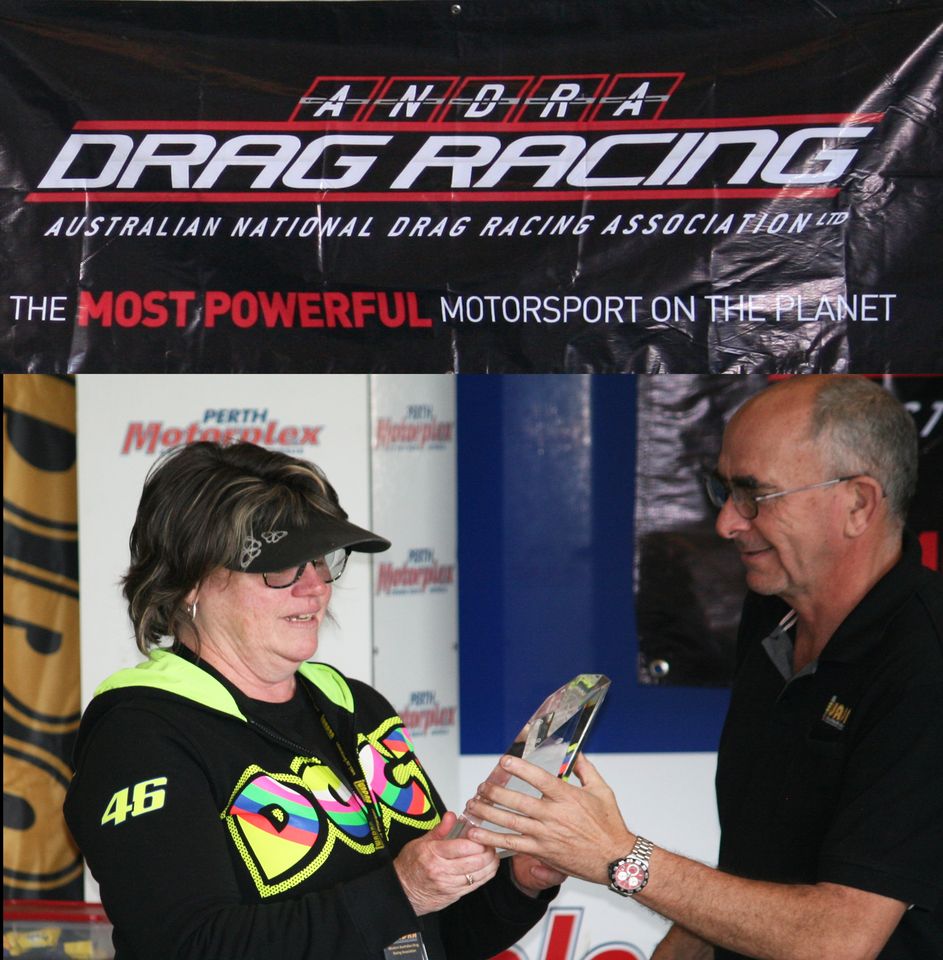 Long-time West Australian volunteer Liz Johns has been an integral part of the operations of the Western Australian Drag Racing Association for more than 20 years and was recently recognised as part of a select group of Gallagher Volunteer of the Year award recipients.
Johns was caught completely by surprise when the presentation of her award was made at the Perth Motorplex on October 3.
"It was a complete surprise because when I asked (ANDRA Business Manager) Jackie Mills about it on behalf of the club representatives, she told me that due to COVID-19 it wouldn't be awarded this year and I believed her and moved on!" Johns laughed.
"While I have previously nominated other volunteers for ANDRA awards over the years, I absolutely never expected to receive one myself.
"It means a lot to me to receive an award like this that is voted on by my peers.
"I want to thank all the great people that are part of the Western Australian Drag Racing Association Inc who voted, and the cheeky lot that kept this a secret from me!
"I would also like to acknowledge Gallagher for their continued support of ANDRA and in particular for supporting the acknowledgement of volunteers within the organisation with awards like this.
"Our organisation is primarily made up of volunteers and to be acknowledged for the work we do on behalf of them is greatly appreciated.
"As I said during my acceptance of the award, I volunteer because I love it, not to receive awards, but it is lovely to be recognised for my contribution to the sport and in particular at this level."
An ANDRA WA Divisional Council delegate since 2015, Vice President of the Western Australian Drag Racing Association (WADRA – formerly Westside Drag Racing Association) and also a bracket marshall, Johns is admired for her tireless fundraising efforts and her passion for the sport and its people. While she is not a drag racer in the traditional sense, Johns has also played an integral supporting role for a number of race teams over the years and has even faced the tree once or twice herself. To learn more about Johns, please click here.
Gallagher is the official insurance broker of the Australian National Drag Racing Association and offers competitive, no obligation quotes on everything from your race trailers, to your business, to your race track. For more than 90 years, Gallagher's tailored insurance, risk management and consulting solutions have helped businesses, communities and people face their futures with confidence. For more information, visit www.ajg.com.au
To learn more about drag racing in Western Australia, please visit www.andra.com.au or www.wadra.com.au
For more from ANDRA, please visit www.andra.com.au