The final round of the 2017/2018 Summit Racing Equipment Sportsman Series has concluded with celebrations at Adelaide International Raceway with both event and championship winners crowned.
Taking out the ultimate honours for their classes after an intense season of competition were Graeme Spencer (Super Gas), Bradley Bishop (Summit Racing Equipment Junior Dragster), Danny Rickard (Modified Bike), Harry Harris (DENSO Super Street), Peter Tzokas (Super Sedan), Matt Czerny (Modified), Jason Keily (Supercharged Outlaws), Jason Arbery (Top Sportsman), Tony Frost (Competition Bike), Jim Ioannidis (Super Stock) and Craig Geddes (Competition). Each of the racers received a prestigious Gold Christmas Tree for their efforts. The champions will also receive a custom champion's jacket along with a cash payment thanks to Summit Racing Equipment.
At the same time, Warren Bull (Super Gas), Jackson Perri (Summit Racing Equipment Junior Dragster), Bryan Finn (Modified Bike), Graeme Cooper (DENSO Super Street), Alex Gkroidis (Super Sedan), Sergio Bonetti (Modified), Justin Russell (Supercharged Outlaws), Chris Theo (Top Sportsman), Robert Cassar (Competition Bike), Tom Dimitropoulos (Super Stock) and Shane Baxter (Competition) each took home a Silver Christmas Tree as the title runner-ups in their brackets.
Frost and Arbery had their hands full at the presentations, claiming the event victories for their brackets over Cassar and Paul Russo respectively, while Crow Cams Best Engineered Award Winner Steve Norman joined them in the winners' circle after taking out the SuperComp bracket over Geddes. For Arbery, the accolades didn't end there either, with the South Australian receiving the prestigious John Storm Memorial Trophy to his great surprise.
Arbery headed to this weekend's event as one of five racers in contention for the main honours in his class. After clinching the title in the early rounds, he went all the way to the final against Russo, the Top Sportsman recipient of the Top Qualifier Medallion-presented by The Tile Co-The Shower People and KC Tools. Earlier, he had defeated championship rival Vlado Turic in round two before taking on Glenn Henley in the semi-final. Russo had enjoyed a bye in the first round before dispatching Bruno Romeo and title contender Chris Theo (semis) on his way the final.
"I am lost for words, I really am, this is a total suprpise, an honour, and it is going to take a while for this to sink in," Arbery said after receiving the John Storm Memorial Award.
"I have to thank my family, first and foremost, my eldest son had his baseball grand final back home today and they won, so we are a pretty happy family at the moment.
"A huge thanks to the boys, it is a tough gig for everyone out there, it was really tight, really tough racing. A big thank you to Paul for a great final, and thanks to everyone involved in putting these shows together."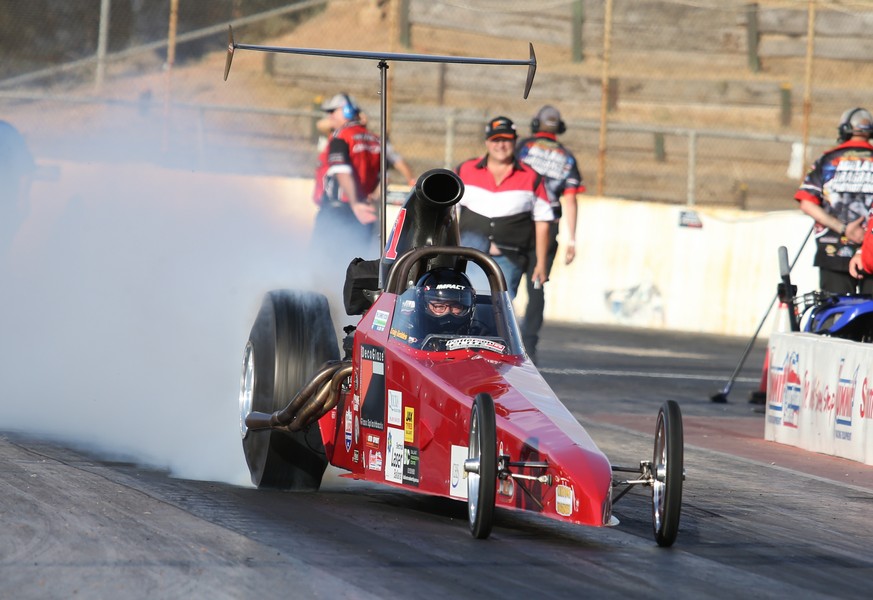 The SuperComp bracket this weekend brought together those contending for the Competition and Super Stock Australian Championships, with five racers in the running for the Competition honours and three in the box seat for the Super Stock title at the beginning of the event.
Geddes would claim the Competition title for the third consecutive time while going all the way to the final against Norman, who would clinch the event victory and also the Crow Cams Best Engineered Award. Geddes previously faced off against Tom Dimitropoulos and Hugo Di Gianvincenzo before he took on Daniel Camilleri in the semi-finals. Norman meanwhile won against Andrew Dyson, Super Stock championship winner and SuperComp Top Qualifier Ioannidis, and Alex Panagiotidis on his way to the final.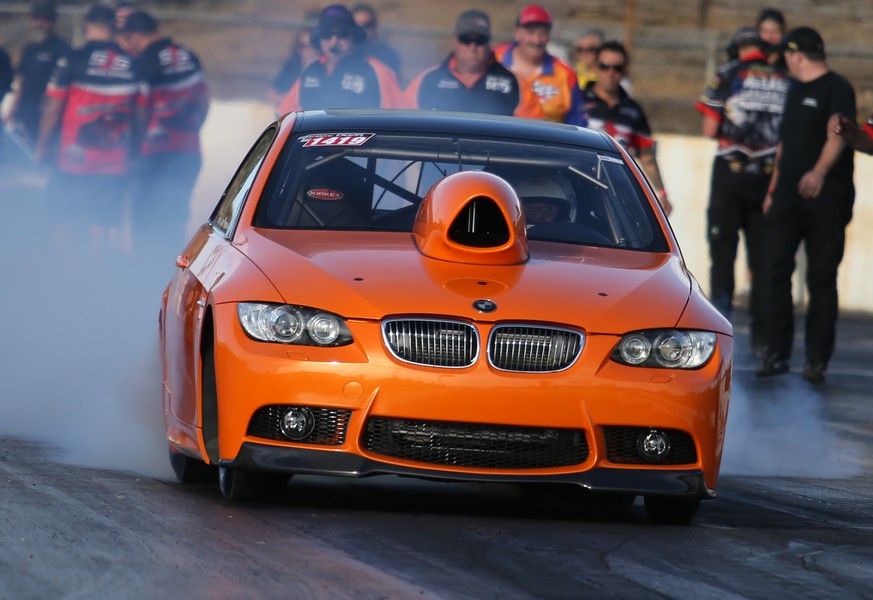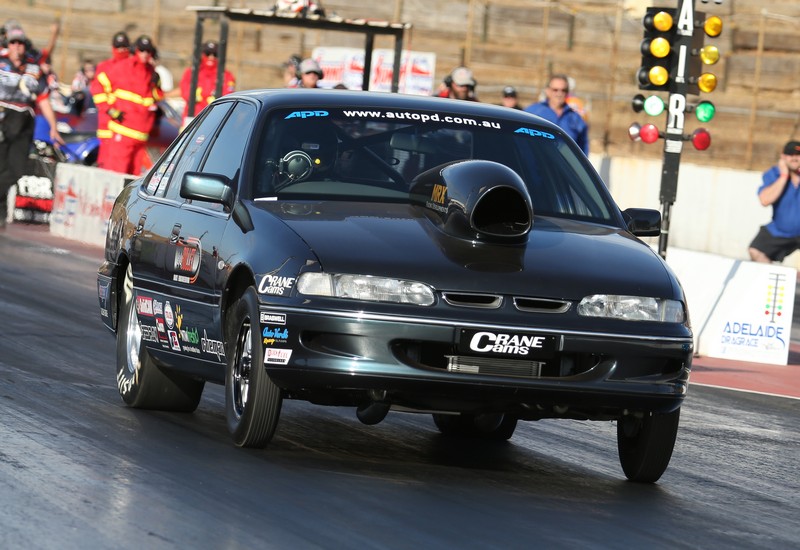 "Thank you to Pete Pisalidis and all of the track staff for doing a great job in testing conditions, the ANDRA staff, my sponsors and my crew – I can't thank them enough, they are the best pit crew ever!" Ioannidis said.
"The Holden Commodore has done a stellar job this season, we have top qualified number one pretty much all of the events bar one. We will continue along, we will charge the batteries now, and I can guarantee we will be back swinging in a couple of years, so look out!
In Competition Bike, the Australian title battle came all the way down to the end with the two contenders, Frost and Cassar, facing off against each other in the final. Frost had a bye in the semis after earlier dispatching Jason MacFarlane in the opening round, while Cassar had taken on and defeated Jim Hanlon and Gavin Dohnt before eventually taking the runner-up honours in both the event and the Australian title chase. Frost had also earlier taken out the Top Qualifier honours.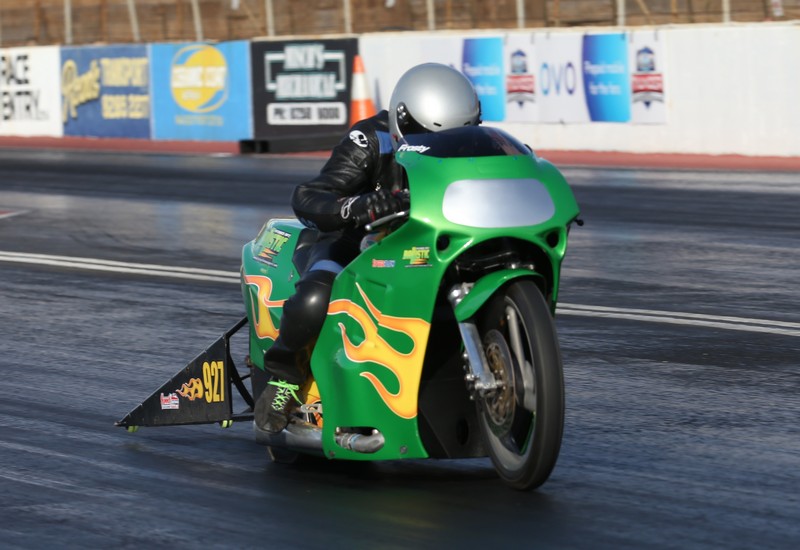 "Thanks to all of the crew, it has been a long day! Also a special thanks to my wife, I usually forget to say thank you to her but we have a fairly big bill to come in from the damage this weekend and we will be eating baked beans for the next few months!" Frost said.
"To everyone that helped me this weekend, it really showed what we have got this weekend and all of the support we had when racers saw the engine out of the bike was really uplifting We got through the final and we had a damaged gearbox for all the runs today, but we enjoyed it and we hope to be out there again soon."
The Supercharged Outlaws battle was another that came down to its last race of the season, with Keily and Russell racing for the event victory and the championship in the final round of the event for the bracket. Eventual winner Keily had earlier beaten Mark Zauch (round one), Longest Distance Travelled Award winner Alan Mahnkoph and Peter Datson, while Russell had taken victory over Warren Leonard before enjoying a bye ahead of a semi-final run against Mike Evans. Adam Murrihy had claimed the Top Qualifier honours earlier in the day.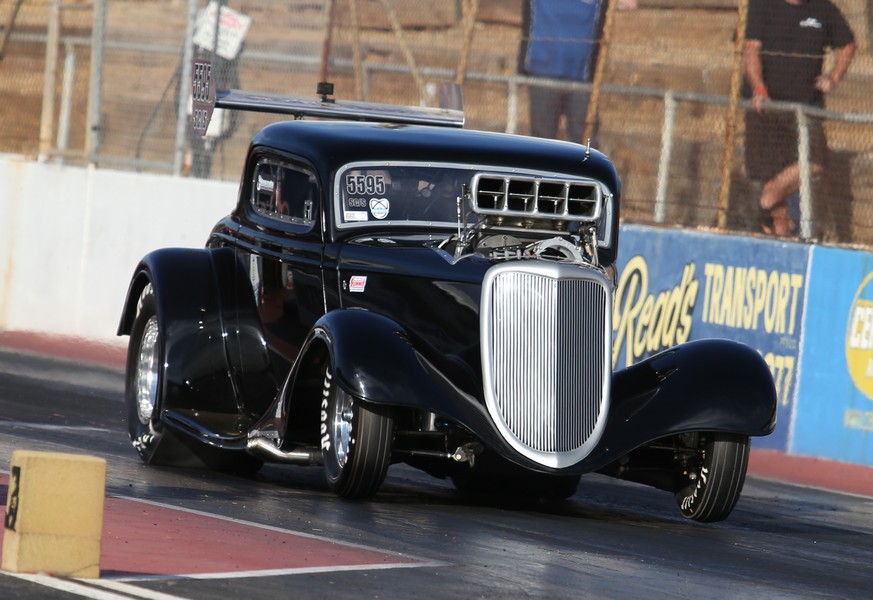 In the Modified bracket, Czerny broke through for a maiden championship just weeks after his first ever Modified event win. It was a nervous day for the Victorian, who after a first round lose to Matt Forbes had a long wait on the sidelines to see if he would walk away with the title. Neil Dyson and Kenny Stewart advanced the furthest from the field to be matched for the final before racing was brought to a close this evening, while Simon Barlow had laid claim to the Top Qualifier Medallion earlier in the piece.
"We feel over the moon, ecstatic, surprised, relief, joy…we went out early today, we were a little rushed first round and the car ran a mile off, but with the conditions here it is a credit that they got as far as they did. It was nerve-wracking, at no point did I expect to be sitting on the wall with my guys watching eliminations, but in the end the cards went our way and we walk away with the Gold Christmas tree," Czerny said.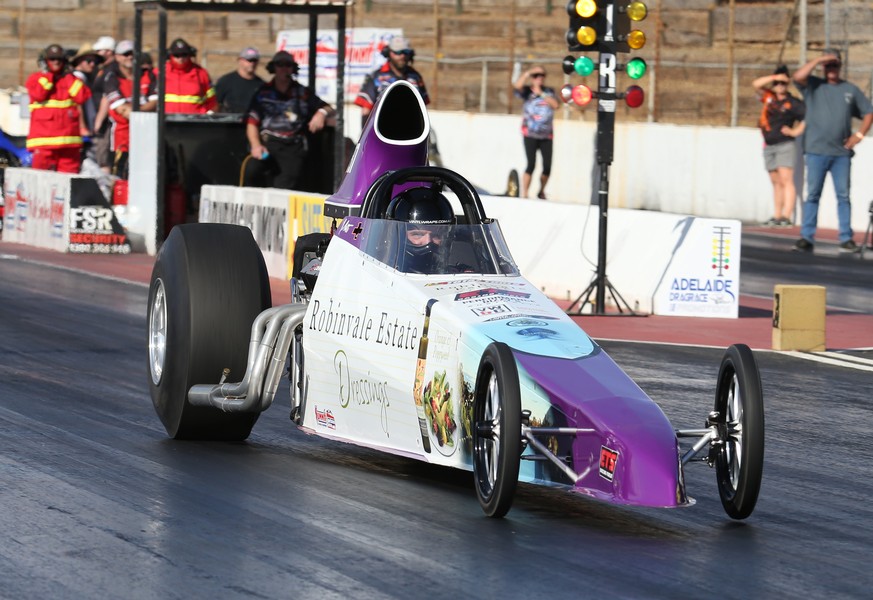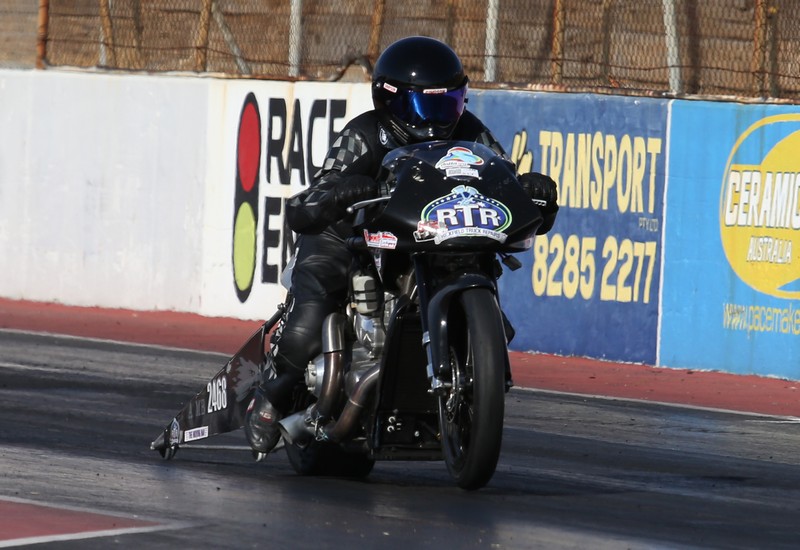 Modified Bike saw the ultimate victory go to Top Qualifier Rickard, who would have faced Derryn McGregor in the finals if they had proceeded. In what was a very competitive bracket this weekend, with seven racers in contention at the beginning of the on-track action, Rickard had earlier dispatched Edgell Mallis (round one), and Shane Walker (semis) while McGregor had faced off against Dan Dycer, Jake Hamilton-Moderate and Michael Cristoforo.
In Super Gas, Graeme Spencer was able to secure the Summit Racing Equipment Sportsman Series Australian Championship ahead of fellow first-round loss-getter Warren Bull. Spencer was beaten in the opening salvo by Charlie Saraceno, who went on to lose against Michael DeRose (who had earlier dispatched Bull) in the semi-final. De Rose was matched with Top Qualifier Colin Griffin for the final.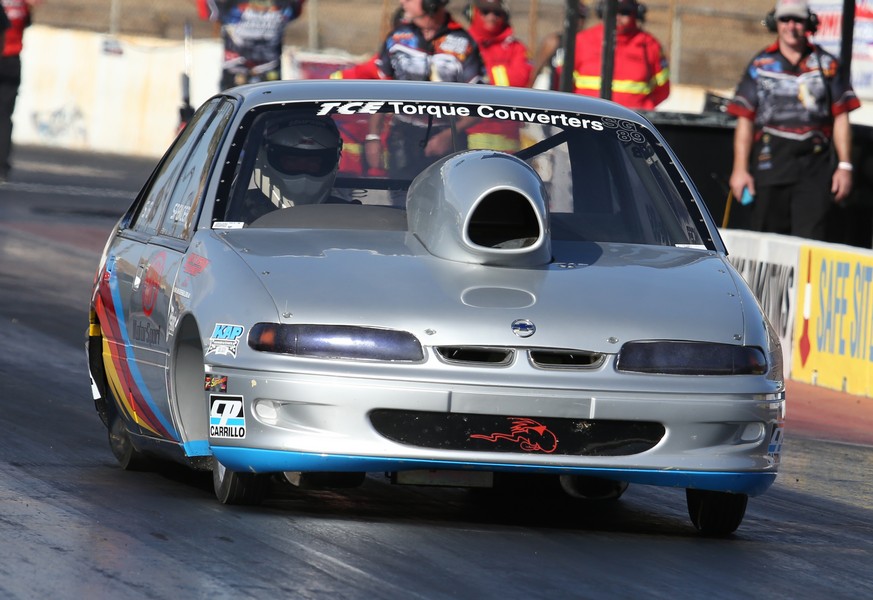 The Super Sedan, DENSO Super Street and Summit Racing Equipment Junior Dragster brackets would all proceed as far as to have semi-final match-ups prepared but would be unable to go any further before curfew intervened. Receiving the Top Qualifier Medallions for these brackets were Leon Davies, Robyn Phillis and champion Bradley Bishop respectively.
While no event trophies were handed out for the juniors this time around, every single one of the 25-strong Summit Racing Equipment Junior Dragster field did receive a special nod this weekend. Each driver was presented with a 2018 Grand Finals Summit Racing Equipment Junior Dragster Entrant Medallion, with thanks to Mark Hunt and Huntsman Racing.
ANDRA thanks Adelaide Drag Race Promotions as well as all of the volunteers and sponsors for an outstanding race track and a well-run event.
For results from this weekend's final round of the 17/18 Summit Racing Equipment Sportsman Series round at Adelaide International Raceway, please click here
IMAGES: ABOVE (TOP DOWN – JASON ARBERY, CRAIG GEDDES, STEVE NORMAN, JIM IOANNIDIS, JASON KEILY, MATT CZERNY, DANNY RICKARD, GRAEME SPENCER – ALL IMAGES BY OUTLAW IMAGES
IMAGES BELOW – PETER TZOKAS, BRADLEY BISHOP – BOTH BY OUTLAW IMAGES. HARRY HARRIS, IMAGE BY CARA BERTOLI