Eight years ago, Shane Walker decided to move from his home in Tasmania to Victoria so that he could chase a national ANDRA championship.
In March of this year, that commitment paid off with the 58-year-old Service Advisor being named as the 2019/2020/2021 Summit Racing Equipment Sportsman Series Modified Bike Australian Champion in a title battle that came all the way down to the final pass of the season.
How did you get into racing and what has kept you coming back?
My first race was in Tassie way back in 1995, on my street Harley. My first season was the 1996/97 season in Tassie on a 500cc Honda.
I had organised a Street Harley class in conjunction with Heavy Duty Magazine at Tarmak in Tassie as I was their Tassie rep at the time. At the last round for the season the winners and placings were all decided so I entered for a bit of fun on my Heritage and won! And I have been broke ever since!
I am very competitive by nature, but winning isn't everything. The challenge of improving myself and the bike technically is something I enjoy but it is the people I enjoy the most. I can hand on heart honestly say I would really struggle, and did during the COVID-19 lockdowns, if I couldn't see our 'racing family' regularly, whether at the races or socially.
What was your favourite event of the 2019/2020/2021 season and why?
That is a really tough question. Coming out of COVID-19 with the event at Portland while carrying an injured shoulder to win and finally get my name on the Phil Parker Memorial Trophy would of topped any of my seasons, but I have to say the National Championship win at the ANDRA Grand Final just pips it mainly due to what I gave up to chase it eight years ago.
It was so unexpected as I had pretty much given up on achieving a title and cut back to more local events, convincing myself it wasn't my destiny as yes it was mathematically possible for me to win going in, but an awful lot of planets had to align and a whole lot of luck had to fall my way.
Now that some time has passed, has it sunk in that you are the National Champion? What does it mean to you to have achieved the title?
It took until the following Friday for me to come down from the high. My wife Monika and I had a few days away planned and on the Friday when we were back at home I woke up really flat and remember saying to Mon, 'I guess the adrenaline has just subsided.' It is really only now just starting to sink in.
I have previously finished as high as third, had the points cap work against me when I had a big lead and in Sydney snoozed in the second round when it was there for the taking and ironically handing it to Gavin (Dohnt) who was sitting and holding his breath. Even with the win at Portland this year putting me back within reach of Gavin and Levi (Addison), I couldn't really see either of them faltering in the first round for two meetings in a row, and then there was Finny (Bryan Finn) to contend with in the final who was on equal points with me, and we all know his capabilities.
The guys and girls that race in Modified Bike in the Summit Racing Equipment Sportsman Series are very, very good racers and could hold their own anywhere in the world in the DYO format. To be the best, you have to beat the best and if that takes a big dose of luck on the day, I will take it!
Only having been lucky enough to meet my wife Monika means more to me than this title, and if I never win another race, I will still retire satisfied.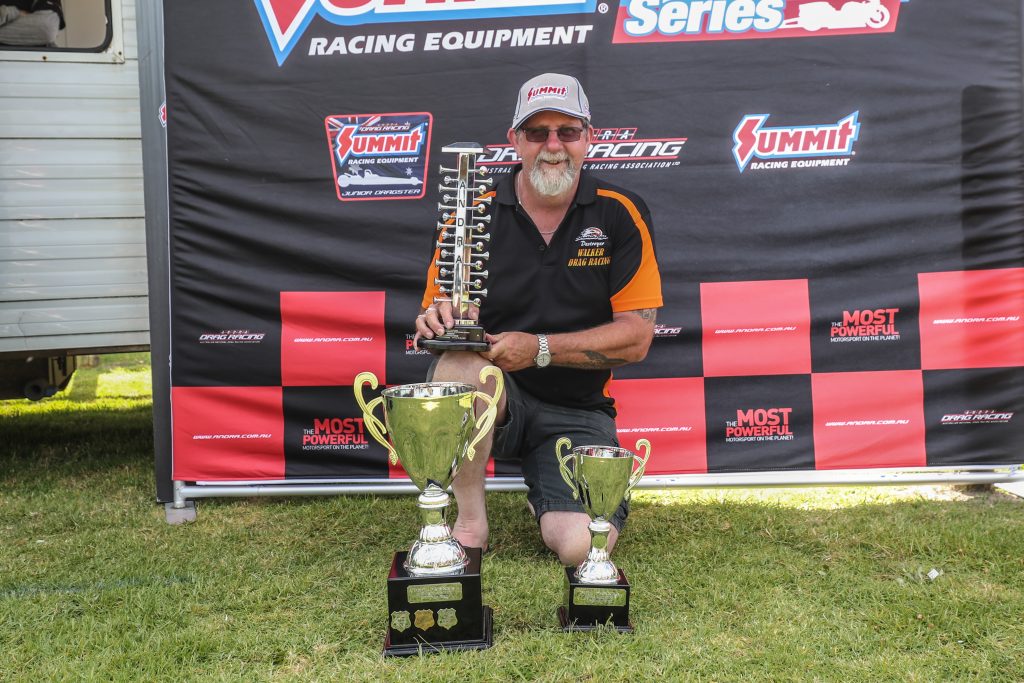 What was the highlight of your season aside from taking out the title?
It definitely has to be winning the Phil Parker Memorial at Portland's South Coast 660. Phil and I became mates at the 1997 Nationals and he travelled to Tassie at my request to compete at events I organised (along with other great friends). I flew to Sydney to crew for him from Tassie on occasions and even came over to Geelong to work for him to help out for a week. Then we shared a house when I moved to Victoria to give chasing a national title a shot until I could get on my feet. I miss him dearly.
What are your plans for the upcoming season?
I believe the Number One plate holder should make a concerted effort to attend as many rounds the following year as they can, work and finances permitting. I absolutely intend to defend the title next season and I will be going to Darwin and then Alice Springs and I would dearly love to do at least one Perth round as well as more local events such as Portland, Mildura (which is my winning-est track) and Calder and Adelaide when they come back online.
Why do you choose to compete in Modified Bike?
I competed in Top Fuel Motorcycle at selected events over a couple of seasons back in the mid-2000s, but from Tassie it was just too expensive and I didn't have the budget to run with the big boys. I find that Modified Bike is so challenging – you have to know your bike so well, read the weather, and read your competitors in regard to how they are doing on the day, and try and get Lady luck to smile on you. I am too old and too close to retirement to go throwing money at another class so for me, I can race for a few years yet in Modified Bike and still afford a life after work, hopefully.
What is unique about your racing program?
I was the first to run a full slider clutch in a Harley Destroyer in Australia, the first to win a National event with one and now I am the first to win a National Championship with one. That didn't happen without help from smarter people than me and a very steep learning curve. I would like to go quicker – wouldn't we all – but stepping up to Competition Bike would involve spending heaps and that would reduce my budget to actually travel to events.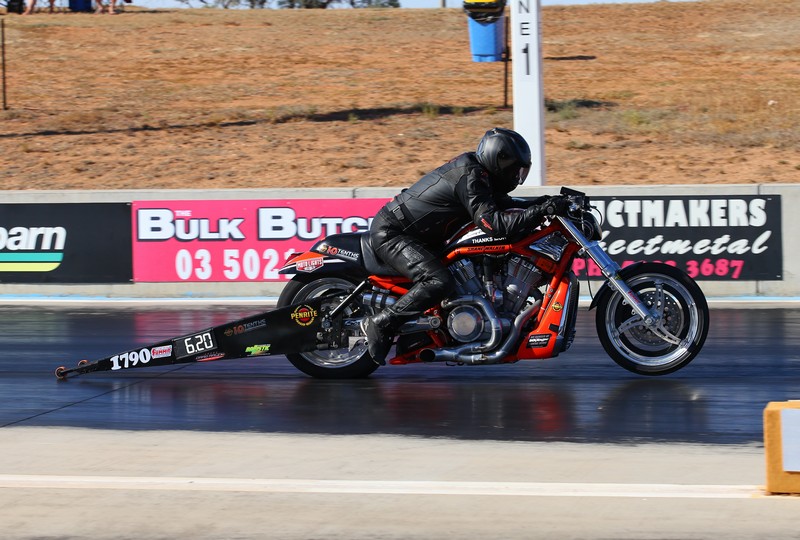 Who would you like to thank for the roles they have played in your title season?
At the top of the list has to be my wife Monika. In the five-odd years since we met not once has she ever been anything but supportive of my racing, even when we had some really big challenges. Her participation in and enthusiasm for what has become "OUR" racing keeps me enthused.
I would also like to mention the lifelong friends I have made over the years, many of which I am still pitting with or competing against. They make the social aspect of our racing very important to me and it was fantastic to have them present at Mildura for our win.
And of course, I must say thank you to my long-term major sponsor Penrite Oils for all their support and to Jordan's Speed and Custom for all his work on the "Mistress" and for answering my panicked calls on race weekends! And also Motor Lights Australia and Burson Auto Parts (in particular their Geelong branch) for their ongoing support.
Thanks must also go to my work mates and my employer, Peter Stevens Motorcycles Geelong, for allowing me to juggle time off when required.
Finally, there are so many people over the years that without their help or support I wouldn't have had the opportunity to get to the point of competing for a National title, never mind winning one, so thanks one and all.
For a full list of ANDRA Champions, please click here.
For the final points tally for the 2019/2020/2021 Summit Racing Equipment Sportsman Series, please click here.