West Aussie racer Martin Mirco recently secured back-to-back Super Sedan titles in the Summit Racing Equipment Sportsman Series.
The 47-year-old has been racing since 1999, starting out going to Sunday street meets at the old Ravenswood Raceway in his 1957 Chev before in 2005 he decided to start competing in a 1968 Camaro as part of the Fast Friday series at the Perth Motorplex in 2008. In 2010, he purchased his 565" big block Chev powered 1968 Chev Camaro that he races today and has been running in Super Sedan ever since.
How did your love of drag racing get started?
I first went to the drags at Ravenswood raceway when I was about 14 years old, and then I went a lot more regularly when I got my license and could make my own way down there. Then from when the Perth Motorplex was built a lot closer to home, I rarely missed an event as a spectator, and then decided that actually racing a car would be more fun than spectating. So, I bought my first Camaro in 2005 with the intention to go racing with it and the rest is history.
What was your favourite event of the 2019/2020/2021 season and why?
My favourite event was the recent grand final in Mildura. Not only for winning the championship again but just being able to travel interstate on a road trip again was great fun, especially after the last 12 months I've had with work and also the whole COVID-19 thing. I certainly needed a well-earned break. On the racing side of things, we ran some PB 60ft times during the event and of course won the championship in the third round of racing. Travelling across the Nullarbor again with a couple of good friends, one of which had never driven across before, was great and catching up with a heap of drag racing friends from South Australia that I haven't seen for 12 months was also great fun.
Now that some time has passed, has it sunk in that you are the National Champion? What does it mean to you to have achieved the title?
It is a long drive home from Mildura so there was plenty of time for it to sink in on the drive home. To win back-to-back championships was certainly a goal that I had set myself before the season started, so it is a great feeling to reach that goal.
For me this is just as special as my first championship. That first title was won at my home track, the Perth Motorplex so I had a bit of home ground advantage there, but the second championship was won on the road, so it was a great feeling to be able to win it again at a different track in a different state. Both times though I was sitting second in the points going into the grand final and so had to go more rounds than the points leader to take out both championships.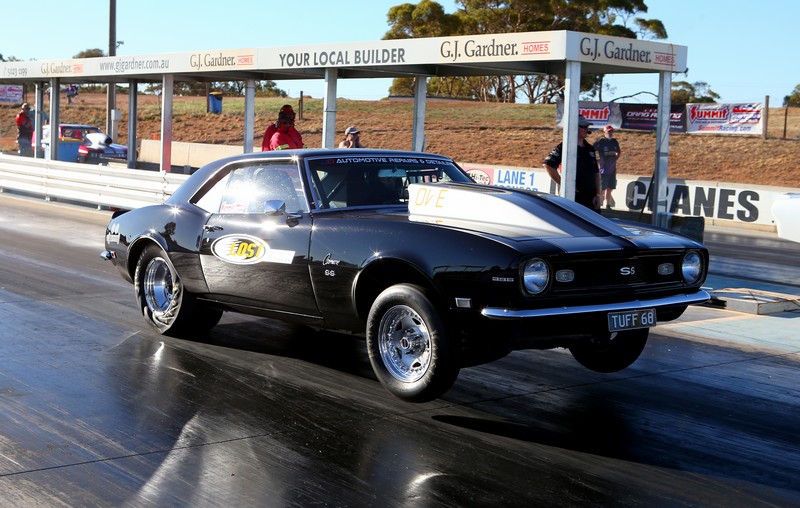 What was the highlight of your season aside from taking out the title?
Aside from winning the title, the highlight of my season would have to be winning round one in Alice Springs. After damaging the engine less than three weeks prior to the event, we almost didn't go to Alice Springs. A quick decision to swap out the engine from my street car followed and we arrived in Alice Springs with a pretty much untested engine and no data to go on. So, it was an awesome start to the season to take out the win under those circumstances.
What are your plans for the upcoming season?
My plan for next season is the same as last season, and that is to defend the championship again! I love the fun we have at the track with family and friends. I have met some great friends through racing both at home at the Perth Motorplex and from other states when we travel for ANDRA's Summit Racing Equipment Sportsman Series. The road trips are awesome fun – for us, getting to and from the events around Australia is half of the fun! On the track, drag racing really is an addiction and I still get a rush every time I go down the track which keeps me coming back.
Why do you choose to compete in the Super Sedan category?
Super Sedan is a tough class to race in and I enjoy the competitiveness. I also enjoy the friendly rivalry on the track and the comradery and fun that we have with fellow racers off the track. Like all racers, we want to keep going faster, but to commit to racing season after season you basically need to race within your budget, so we have no plans at this stage to change brackets.
Who would you like to thank for the roles they have played in your title season?
I would like to thank my wife Laura, my daughters Ella and Jenna, the Caroscio family in Adelaide, Brett Stevens, ANDRA, Summit Racing Equipment, Kingsley and all of his crew in Mildura, and everyone at home at the Motorplex. I also must thank Michael from One Residential, Mark from Lost Racing Products, Tony from WA Bolts, Jason from JD Automotive Repairs & Detailing, WADRA, Dimoff Transmissions, AllFast Converters, Tony from Comp Engines in Adelaide, A1 Hi Performance and also my crew for all of their support. In Mildura I had Michael and Joey helping me out, and then there is also Jason and Ray who have been with me for more than 10 years and also Simon, Mick, Paul and Rob who have all helped me out during the season. Thank you also to George Tipoukidis who looks after my trailer for me between events on the East Coast, and thank you to all of the other Super Sedan racers. It has been great fun travelling around and everyone is always ready to help.
For a full list of ANDRA Champions, please click here.
For the final points tally for the 2019/2020/2021 Summit Racing Equipment Sportsman Series, please click here.