Colin Griffin recently claimed his third Super Gas Summit Racing Equipment Sportsman Series Championship at the ANDRA Grand Finals in his 1983 Toyota Celica which he built himself at home in his garage.
The 58-year-old fitter and turner has been racing since 1987 after starting out with a street car before quickly catching the racing bug and moving up to the Super Gas bracket.
What was your favourite event of the 2019/2020/2021 season and why?
I didn't have a favourite event to be honest, I enjoyed them all – even the ones I lost early. When COVID-19 hit and we lived through that 16-week harsh lock down, I thought we wouldn't be getting back to racing any time soon. It really surprised me that we were able to go race at Portland in January and I was really grateful to be racing again.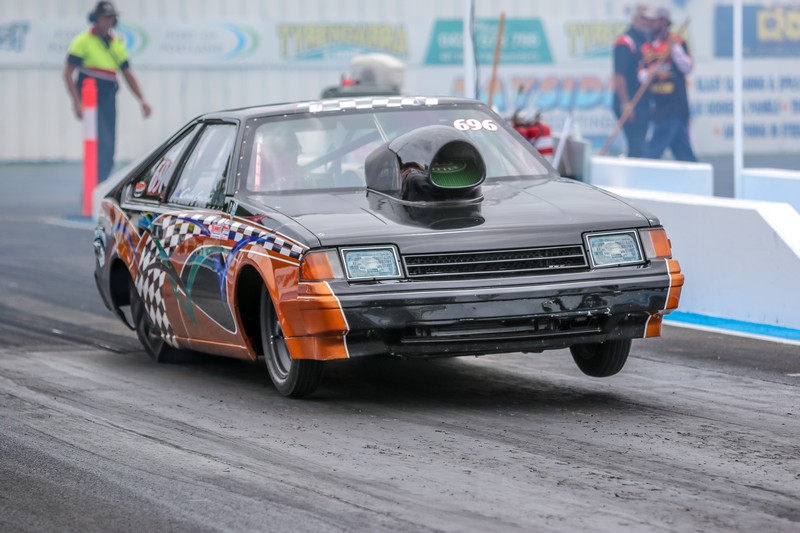 Now that some time has passed, has it sunk in that you are the National Champion? What does it mean to you to have achieved the title?
It was such a long season, I guess it will be known as the COVID season! When we were at Mildura (in March of 2020), we were told to go home and then locked down. At that point I was in a pretty good position points wise and had we have gone to the final then, I couldn't lose.
Then the season was extended, but the points cap wasn't raised which meant I couldn't gain any points, but others could. I sort of felt I was disadvantaged but I just had to put that aside and concentrate on getting it done.
After the first round in Mildura at the ANDRA Grand Finals, all the guys and gals that could catch me had lost, so I knew I couldn't lose. So, when the car broke in the semis and I lost that round, it wasn't so bad as we knew we had won the title and that was what we went there for.
Winning for a third time is awesome. 1998 – when I won my first title – seems so long ago. Back then you only got handed a trophy and that was it. Now with the support of Summit Racing Equipment you get so much more like vouchers for event wins and end of season prize money which is awesome, so thank you Summit Racing Equipment.
After being runner-up in the previous season it was great too to go one extra step up higher, and it was definitely special to secure the title three times – I had been trying for this third one for a long time, so it was really good to get it done.
What was the highlight of your season aside from taking out the title?
I guess winning three (completed) events in a row was a highlight. The car was running great, I was driving well and making good finish line decisions. I felt very fortunate to get those three wins and actually I also won the last two from the previous season, so it was really five in a row.
What are your plans for the upcoming season?
Our plans are to just continue competing. Four-time champ certainly sounds good, but I know all the other competitors will be trying not to let that happen!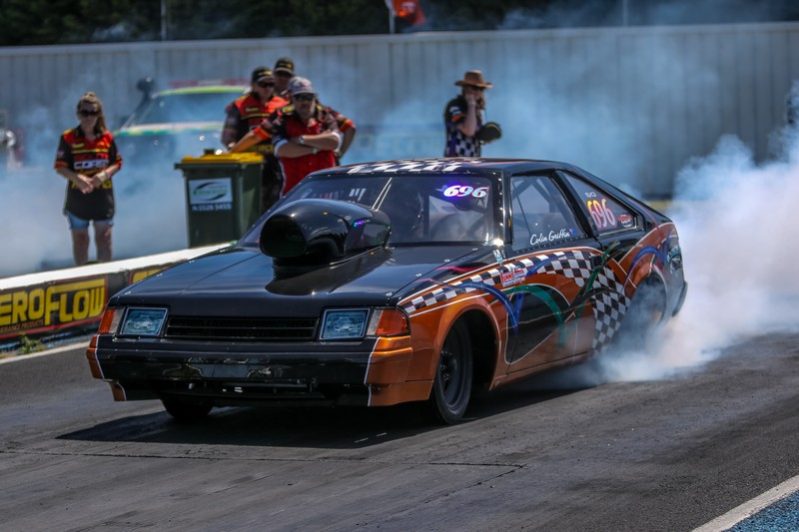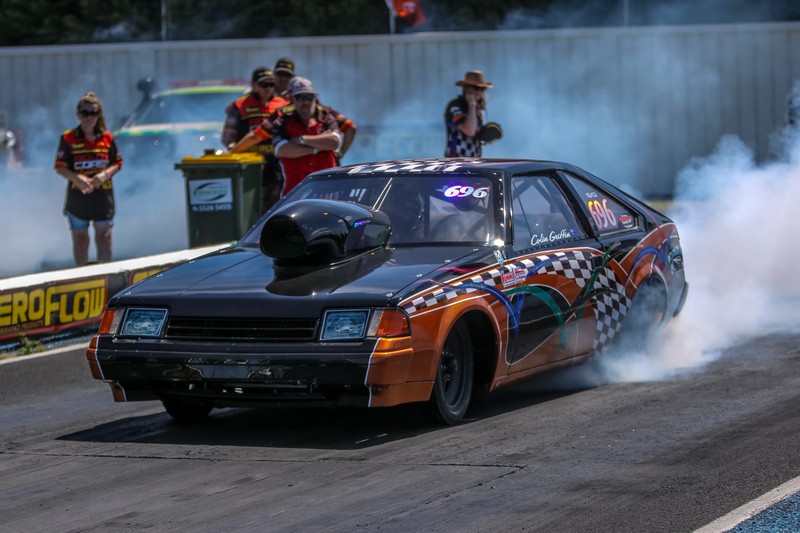 Why do you choose to compete in the Super Gas category?
I built my car 27 years ago as a Super Gas car and it is all I have ever wanted to do. I really enjoy the pro start, fixed index and heads up racing, even though it is hard and seems to be the Achilles heel for some competitors.
I run a 1983 Toyota Celica which I built the car at home in the garage with a 572" BBF/powerglide. With me in it weighs 2500 pounds so it is one of the heavier car in the class. I'm always messing with something in or on the car to try and make it better. I am going to have to get a new converter, as that's what broke at the grand finals.
Super Gas has a lot of great racers and they are not only great competitors, but also our friends. I love the competition and catching up with everyone at the track.
Back when I started racing Super Gas in 1994 with this same car, at first, I struggled to compete with the competition and I just thought, 'man, this isn't going to beat me.' I worked on the car and I worked on myself, always trying different things to get better.
Back when I started you didn't get much help, you just got whipped on. But nowadays we all get along and everyone helps each other. If I see someone struggling, I will go over and try and point them in the right direction as I would rather see a competitor being able to have a go, rather than quitting because they couldn't get their head around the pro start or getting their car to run the number.
I can run dial-in racing or Super Sedan or Top Sportsman, but I only really want to run in Super Gas – I enjoy the challenge and the bracket has a good bunch of racers; I really enjoy racing in the bracket. We enjoy it and we have good fun, and I am already looking forward to next season.
Who would you like to thank for the roles they have played in your title season?
I have no sponsors to thank, but I have to say thank you to my wife Anne – she is always there supporting me. As I mentioned before I would also like to thank Summit Racing Equipment for supporting our series, and also all of the tracks and volunteers, and ANDRA for sticking with the series.
For a full list of ANDRA Champions, please click here.
For the final points tally for the 2019/2020/2021 Summit Racing Equipment Sportsman Series, please click here.