Accountant Christine Steffens had her hands very full at the ANDRA Grand Finals, walking away with not only her third Summit Racing Equipment Sportsman Series Supercharged Outlaws National Championship, but also the prestigious John Storm Memorial Trophy.
In a campaign that started out as a holiday, Steffens dominated in her rear engine slip joint dragster with a Lockyer Engine Reconditioners Big Block Chev 509 engine with no less than five event victories and two runner-up results across the extended season.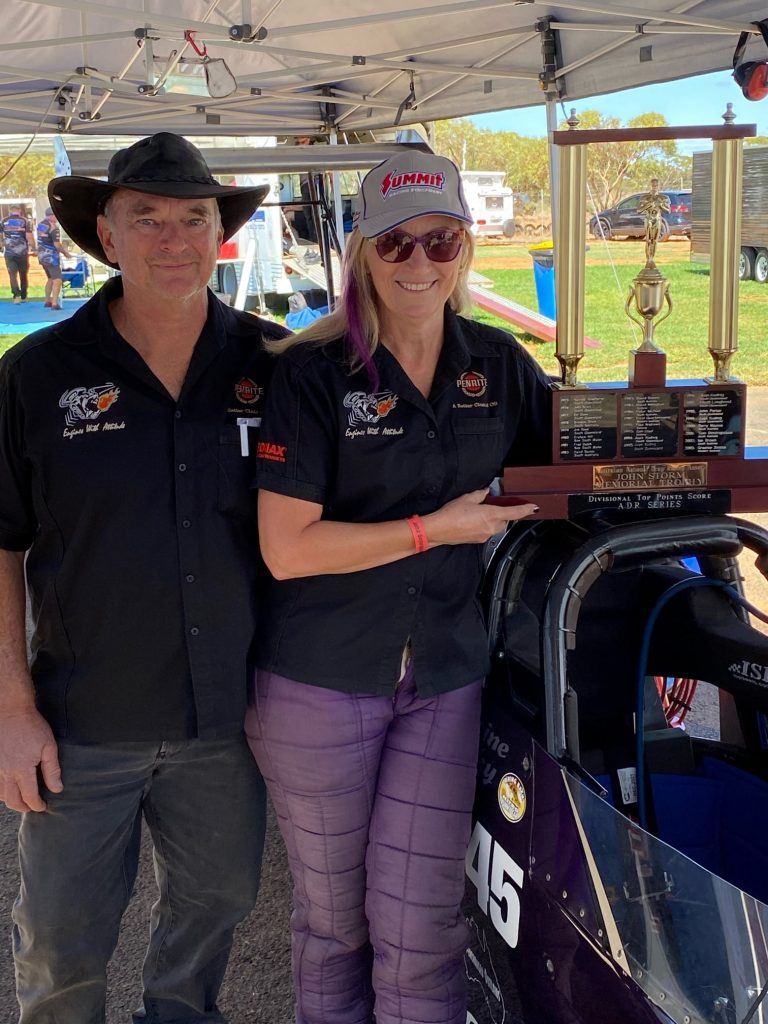 How did your love of drag racing begin?
I have always been a part of a motorsport family with my Dad competing in circuit racing from as early as I can remember, including in what was then known as The James Hardie Ferodo Bathurst 1000 back in the late 70s and early 80s. But as an adult, some friends took us to a drag racing event one Saturday and Ricky and I looked at each other and said, "let's give this a shot."  Drag racing is a sport you can get involved in even if you are driving your weekly shopping car, and that's where we started back in the late 1980s in the all girls Powder Puff bracket for me and the Street bracket for him.
What was your favourite event of the 2019/2020/2021 season and why?
I actually don't have a favourite event as they have all played a different step in our drag racing journey.
Now that some time has passed, has it sunk in that you are the National Champion? What does it mean to you to have achieved the title?
We have been so busy since we got home from Mildura that I don't think we have had time for anything to sink in.  I suppose it will but right now after such a long season and with so many other things on our plate, including Ricky's brother sadly passing away just before Portland and trying to keep my accounting clients going with all the COVID-19 restrictions, it has been hard to celebrate anything.
Doina Day gave me a bottle of champagne on the day at Mildura and I had not even had time to open it in that first week back, so when I had to take some time out and go to my niece's first birthday I took it with me to finally have a celebratory drink – thanks Doina, it was a lovely drop!
Given that this journey started as a holiday trip for one of the crew with Ricky driving and us just bringing the car along, to claim the title was a surprise.  I hadn't really competed in championship racing since 2012 and had not raced with a Handicap pro tree at all before the opening event of the season at Alice Springs way back in 2019, so when the boys suggested the trip and I asked them what we would do if I went okay at Alice Springs and Darwin, they laughed at me! Talk about having low expectations! I suppose actually winning this championship means there is still some life in the old girl yet (both car and driver)!
How does this title compare to your previous championship wins?
The first win was fantastic as it was a double of winning the Championship and also the Winternationals event in my first full season in Supercharged Outlaws, but I will always remember my second win as I wanted it so badly. My dad was dying from Non-Hodgkin's Lymphoma and he was having treatment when the presentation night was on in Sydney for the first championship win, so he couldn't attend. He told me I would just have to do it again and he would be there for it. It was a nail biter and I had to sit in the stands and rely on another racer being beaten to actually get the Championship that time and Dad made it to the 2010 presentation night and even made it out to the race track to watch me run one last time, so I think it will always be my most special one.  But, they are all fantastic and they all have pride of place in a specially built cabinet in our house.
What was the highlight of your season aside from taking out the title?
It has to be winning the John Storm Memorial Trophy. Over all our years racing when we have spoken to the current and previous generations of drag Racers (some who actually knew the man), The John Storm Memorial Trophy has always been seen as a tribute for a person who helped create what we have today and a real honour for the racer who of all the 11 classes of Group 2, 3 and 4 continually achieved in their chosen class for the season. For the Championship there is the 300-point cap so with 10 rounds of racing any number of competitors can be in the running for the championship at the Grand Final, but if you as a racer have consistently achieved well in your chosen class/bracket, this is the ultimate award.  The names on the trophy before mine are a testament to that and to what some of those racers went on to achieve.
I also must say it was awesome to race another female in the finals at the Perth Motorplex's Westernationals in February. Jodie Mellit is a tough competitor, and it is only the second time since I started racing in Supercharged Outlaws back in 2008 that I have lined up beside another female, with Doina Day being the first at the Nationals in Sydney in 2010. One of the great things about this sport is that gender has no bearing on the track and we are all equal.
What are your plans for the upcoming season?
We lost an axle on the trailer on the way home from Mildura and the dragster needs some TLC and an engine refresh, so I think we might be sitting out for the next 12 months at least at this stage. But we will see what happens!
Why do you choose to compete in the Supercharged Outlaws category?
Ricky always wanted to do the Supercharged engine thing for us to play with and initially we were going to share the dragster drive, but then he got a drive in the Nitro Freak Top Fuel Funny Car of Rodney Bailey, so I said I wasn't sharing the Dragster!
We have raced in other brackets including Modified, Super Sedan, Super Street and Super Gas (just once) but I really love the Dragster, I think because the power is pushing you down the track with the engine behind you. I can still vividly remember my first burnout in the Modified Dragster and how amazing it was, and it is like that every single time I get privilege of firing up to go down that race track. The only thing I would love to have been able to do would be to drive a faster dragster, perhaps something like the Funny Car I used to drive only without the body and of course a bit longer in the chassis.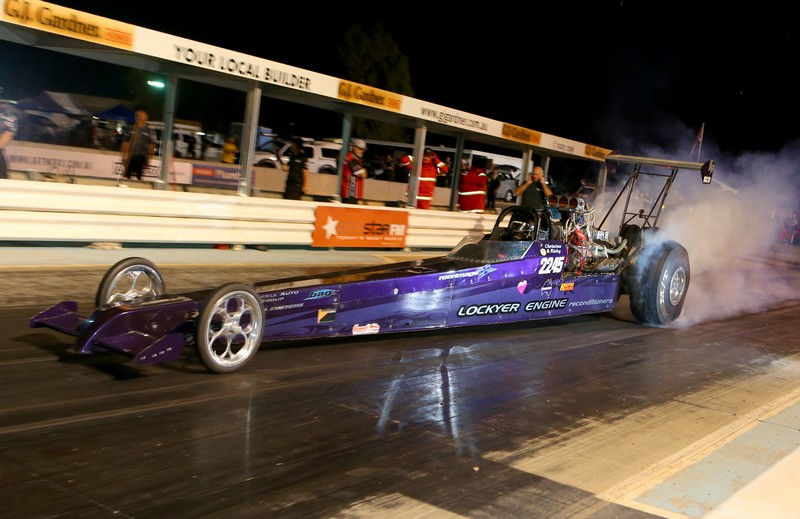 Who would you like to thank for the roles they have played in your title season?
I have to thank Ricky for being so supportive and doing all the thousands of kilometres in the truck to get us to all those beautiful race tracks so that I could have the opportunity to race.  Also, I must say thank you to all of our crew who helped over this extended season as it was a tall ask at times, so thank you to Slim, Beanie, Steve, Jason and Peter.
I also appreciate the support of Lockyer Engine Reconditioners which is Ricky's business and that of all of his very patient customers who understood when he had to take the time off to be the Truck Driver.
Thanks also must go to Janae at Chris Mills performance who sorted our Slicks issue and made it happen, to the gearbox gurus Paul Rogers Snr and Paul Rogers Jnr and Tony Harrington, to Summit Racing Equipment for believing in the sport and supporting the drag racing product especially during the last 12 months that have been horrendous for lots of businesses, and to Craig from Decoglaze Glass Splashbacks Central Victoria for his support of the Top Qualifier Medallion for us all.
I also want to thank all of my clients – I get some strange looks from my fellow drag racers when people find out what I do for a living when they only know me through this sport, but my clients are all big supporters.
What do you love about racing and what keeps you coming back?  
Over our racing career we have met some amazing people and had some awesome experiences. How many people can say they have done a Top Fuel Funny Car burnout in the rain in New Zealand?! (It wasn't raining when we started the burnout, you can ask Anthony Begley who was in the other lane!) We have travelled all over Australia, seen some amazing countryside and raced at some amazing facilities that are run by passionate staff/volunteers who along with the grass roots racers are the backbone of this sport. The people and the fun we have is what keeps us coming back.
For a full list of ANDRA Champions, please click here.
For the final points tally for the 2019/2020/2021 Summit Racing Equipment Sportsman Series, please click here.