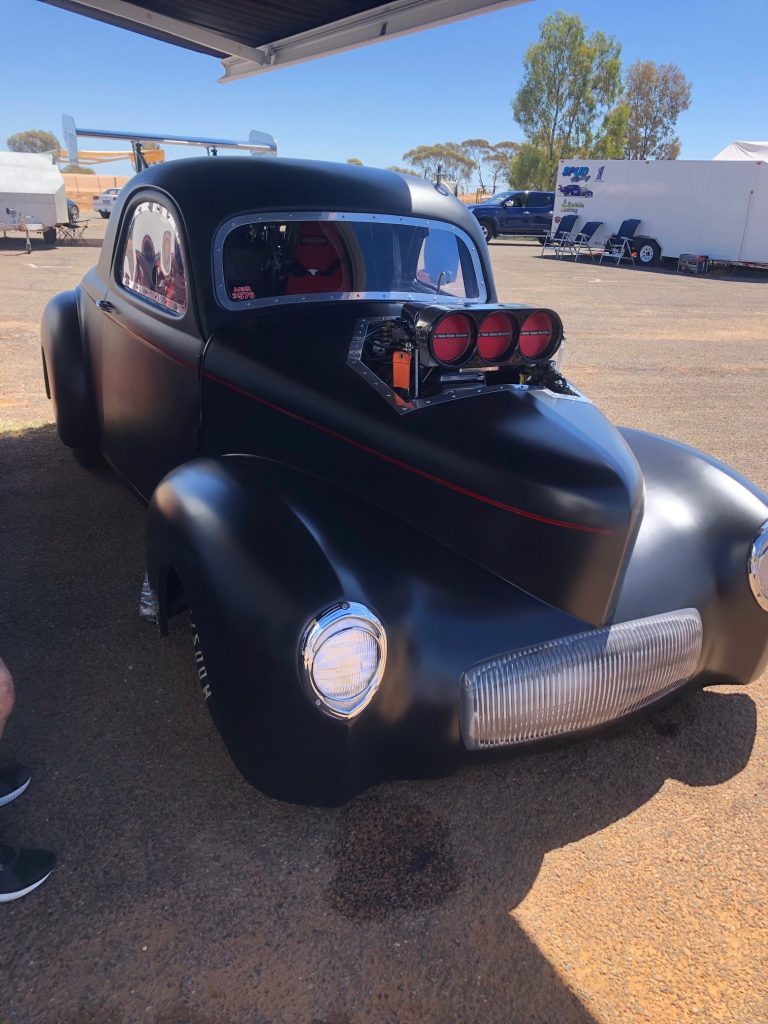 At this weekend's South Coast 660, Julian Carafa will make his long-awaited Supercharged Outlaws debut after COVID-19 thwarted plans to make the step-up last year.
The January 23 and 24 event at South Coast Raceway will not only mark a return to competition for Carafa but also for the extended 19/20/21 Summit Racing Equipment Sportsman Series.
"The last South Coast 660 was one of my final races in the Top Sportsman class, before changing the combination and moving the Willys up to Supercharged Outlaws," explained the racer from Plenty in Victoria.
"As it happened, this coincided with the COVID-19 outbreak, so we used 2020 and took our time during lockdown to thoroughly rebuild and reinforce the car and change it over to the new blown engine.
"We recently completed two Test and Tune events at Mildura and Portland and are now looking forward to this weekend's South Coast 660 for my official racing debut with the new blown engine – a Littlefield 1671 supercharger on a Keith Black 526."
At last year's event, Carafa and his team were recognised with the Vinyl Wraps and Graphics Best Presented Award.
"We qualified well but broke out in the first round, which was disappointing, however my team and I were thrilled to win the Best Presented award for that meet. This award is a fantastic acknowledgement of the pride we take in representing not only the cars we drive, but also the sport of drag racing," he said.
"With the new engine combination, it will be a whole new ball game for us so our goals this weekend are to just enjoy the new challenge of racing in Supercharged Outlaws and to continue getting the car up to spec as we look to do as much racing this year as COVID restrictions allow.
"As the first official ANDRA racing event since lockdown, I am looking forward to everyone involved enjoying a fun weekend getting back to doing what we love.
"It will be great to see everyone and be in amongst it all again after such a long lay-off due to COVID – plus South Coast Raceway is a fantastic track and I think it is a great place to kick off the Summit Racing Equipment Sportsman Series.
"As we get ready for this weekend, I would like to thank my crew – Melissa, Julius and Stefan – for their dedication and support. I would also like to thank Pat Coletti, Benny Mickle, Shaun Lynch, Pro Trans Sydney and Dandy Engines for their expertise and craftsmanship."
The South Coast 660 will be held at South Coast Raceway across Saturday January 23 and Sunday January 24 and will host SRESS racing for the Summit Racing Equipment Junior Dragster, Modified Bike, Super Street, Super Sedan, Modified, Top Sportsman, Competition Bike, Super Stock, Competition, Supercharged Outlaws and Super Gas brackets. For further details, visit www.southcoastraceway.com.au
The event will mark round 10 of the 19/20/21 Summit Racing Equipment Sportsman Series season which has been extended in the face of COVID-19 to not only deliver successful completion of the current competition, but also a record prize pool thanks to Summit Racing Equipment. The performance powerhouse has announced it will offer 50 percent extra end of season prize money for a total prize pool of more than $100k including $10k for the prestigious John Storm Memorial, creating the biggest prize pool in Australian Drag Racing history. For more details, please click here.
For more information, visit www.andra.com.au