The Cannuli brothers, John and Paul, have each qualified first in Top Alcohol and Top Doorslammer at the Australian Nationals.
Back at Calder Park for the first time in 15 years, a big crowd was on hand to welcome back the ANDRA Drag Racing Series and witness both Cannuli's, Aaron Tremayne, Chris Matheson and Scott White lead their respective fields into eliminations on Sunday.
John Cannuli needed his very last pass to secure the number one in Top Alcohol with a 6.043 elapsed time at 187.90 mph to bump Gary Busch from top spot and claim top qualfier in his first ever visit to Calder.
"It's tricky out there, " said Cannuli. "The second qualifier the car took the cones out at half-track so we just changed everything around and we're number one.
"With our form, the way we've run the last season and a half we're the most consistent car out there.
"But coming to a track we've never raced before. It was out first time, we tried to do some testing during the week but the weather played a big part so we couldn't do much testing.
"We're trying to run a 5.40 (second pass) on (an estimated) 5.70 track."
Busch qualified second with a 6.102 second pass from Jason Maggs, Craig Russo, Chris Hargrave and Brian Lockman.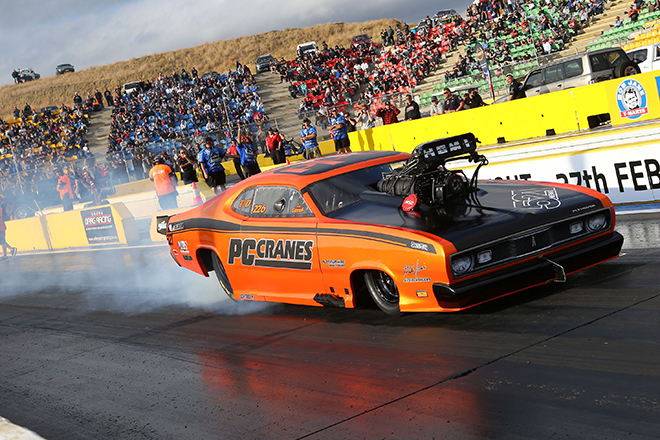 Top Doorslammer was wild and unpredictable as John Zappia thrilled the crowd with some trademark drive jobs on a pair of snaky runs while Peter Kapiris made a bid for longest burnout as he entertained his home crowd.
Over just two sessions when all competitors agreed to call it a night as the temperature cooled, Paul Cannuli was left smiling with his first ever-top qualifier thanks to a first up 6.064 ET at 240.20 mph to keep Zappia at bay with a 6.070 ET at 225.20 mph on his second run.
"It feels good but as you know, anything can happen," said Cannuli.
"I was off (the throttle) early today, at about 1200 foot so we probably would have run a high 5.90 (second pass). But you don't know.
"The car is capable of going into the fives tomorrow and I think we'll see some fives on race day."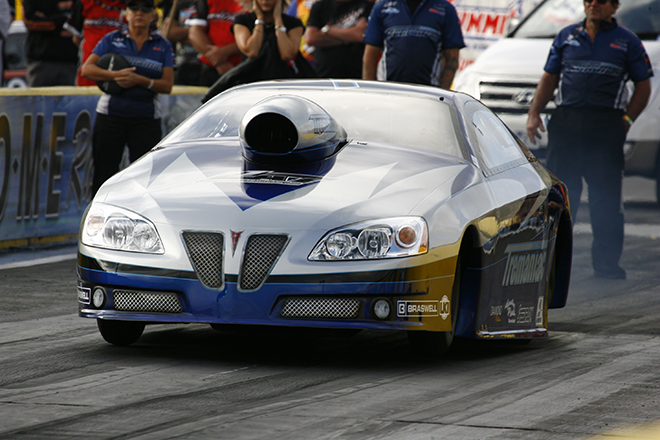 Five-time Champion Aaron Tremayne returned to the Pro Stock summit top qualifying or the first time since the Benaraby Nationals in October 2014.
Once he moved into first position on his second qualifier he never looked back even though the conditions were expected to be slower in the third and final session.
Tremayne improved on his earlier 7.048-second pass to record a 7.001 ET at 197.68 mph from Nino Cavallo, Tyronne Tremayne, Lee Bektash, Bill Perdikaris, Bill Kotsias, Jason Grima and Jodi Racco.
"It's been a while since I've been top qualifier, I always seem to be at the top – top three or four – but to get the number one spot off (Bektash) is really good.
"The track conditions were a bit tricky – that last run I actually thought it would be worse and it was actually better, surprising everyone. A few people made some good runs.
"I think there is probably a six (second pass) in there tomorrow if the air gets a little better."
Chris Soldatos, Bruce Leake and Gerry Parente all find themselves on the outside of the eight by qualifying in positions 9, 10 and 11 respectively.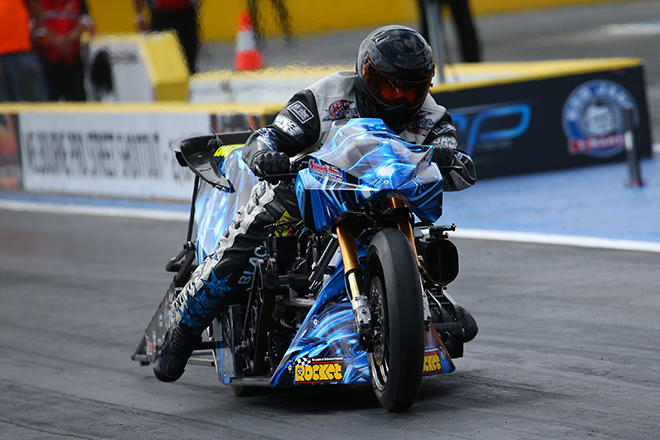 Like Top Doorslammer, Top Fuel Motorcycle also completed just two qualifiers with Chris Matheson coming out on top in a duel with Chris Porter.
Matheson was the only rider to get his bike into the six-second zone with a 6.662 ET at 179.73 mph to Porter's 8.421 ET at 148.27 mph. Graham Morrell qualified third and Phil Parker is fourth.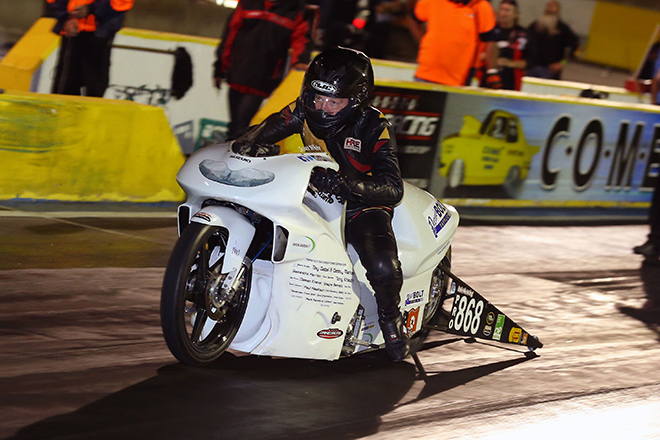 Following on from winning his first ANDRA Gold Christmas Tree last November, Scott White has picked up where he left off by qualifying claiming pole position in Pro Stock Motorcycle.
White and Glenn Wooster took turns at the top over three qualifiers but White's 7.361 ET at 179.14 mph gave him the number one position from Wooster's 7.400 ET at 181.25 mph. Corey Buttigieg qualified third from Ryan Learmonth and Locky Ireland.
Also on the card were the dual combo of ANDRA Drag Racing Series Top Fuel Champion Damien Harris and Wayne Newby making an exhibition pass to thrill the crowd.
It didn't go to plan for Harris as his blower popped violently on the burnout but Newby made a respectable five-second pass lifting off the throttle at approximately 1000-feet. The team will make two more passes on Sunday.
Australian Nationals eliminations commence from 9am on Sunday morning and continue to approximately 6:30pm.
To watch the live stream from 12:45pm AEDT please visit www.andra.com.au. *Note: live stream not available in Victoria.
For final qualifying orders from Day 1 of the Australian Nationals please click here.
Images: Grant Stephens / Drag News Australia (top, second, fourth, fifth), Dave Hope (middle)