Team Bray Racing felt the heat at the weekend's Westernationals (Perth, March 4-5) in more ways than one, but that hasn't stopped them from feeling positive as they leave the venue to prepare for a busy month ahead.
The Gulf Western Oil supported outfit headed to the Perth Motorplex full of hope and vigour, with Ben's birthday falling during the event and Victor preparing to try out a new type of converter.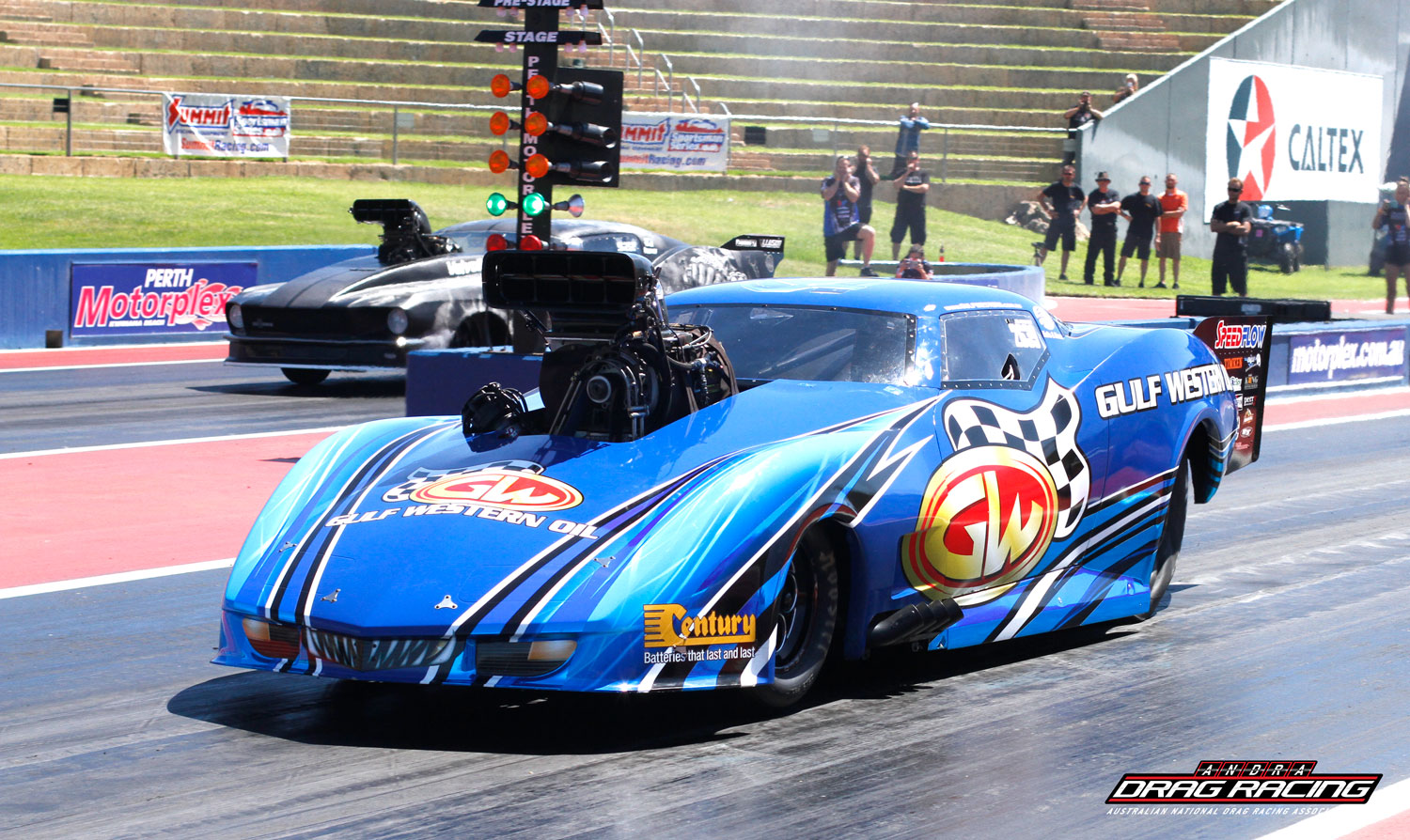 For Ben, the weekend got off to a solid start in exceptionally hot conditions, with consistent runs seeing him qualify fourth in the highly competitive Top Doorslammer field with a 5.944s run at 395.47 miles per hour.
For Victor, it was more challenging from the get-go with the new converter in his Gulf Western Oil 'Slammer adding an element of the unknown to the team's approach and set-up even before a dropped valve in the second qualifier saw all hands on deck to rebuild the engine in time for the final qualifier – scheduled for later that evening.
In a huge effort that would leave them all perspiring, the team managed to get the car ready in time however it would all be for naught with the venue's curfew coming into effect to postpone Q3 just as the cars towed out to the staging lanes.
Held at 11.00am on the Sunday instead in immensely hot conditions, smoked tyres at the sixty foot mark saw Victor unfortunately miss the eliminations field by just one spot with his time from the first qualifying session.
All of the attentions of the team turned towards Ben's efforts at that point, with the now 33 year old facing off against Paul Cannnuli who with a hole shot was able to get one over 'the kid' to take the round one victory and see the Brays' Westernationals campaign come to a close.
Nevertheless, the Gulf Western Oil Team Bray Racing outfit is feeling positive as it looks to a busy month ahead supported by new lessons learned.
"While things didn't exactly go to plan for either of us, we come away from the weekend with a lot of really great data in my car especially with the new converter and that is going to play a huge part in setting us up for coming events," Victor explained.
"It has been a busy week for the team and that will continue with a week-long trip back to Brisbane for the truck and lots of work to do to get both cars ready for the Summit Racing Equipment Championship Grand Final at Adelaide International Raceway at the end of this month, before we put the cars on-show the very next week at the Australian Automotive Aftermarket Expo with valued sponsor Gulf Western Oil and Century Batteries.
"There is no rest for the wicked as they say, and you can rest assured that we will be using all the knowledge gained from our Perth outing at the weekend to make sure we can put on a ripping performance in Adelaide in a few weeks' time."
Team Bray Racing will hit the track at Adelaide International Raceway across 31 March to 1 April. The team will then travel to Melbourne to attend the Australian Automotive Aftermarket Expo at the Melbourne Convention Centre across April 6 – 8 in support of valued sponsors Gulf Western Oil and Century Batteries.
Gulf Western Oil is the largest Australian-owned manufacturer of lubricants in Australia with OEM approved formulations and is ISO 9001 quality endorsed. It has a comprehensive distributor network throughout Australia, India, Vietnam, China, PNG, New Zealand, Fiji, Tahiti, Kiribati & Samoa, offering an extensive range of products including diesel engine oils, petrol engine oils, hydraulic oils, gear lubricants, transmission fluids, grease, aerosols, coolants and cleaners.
For more information on Gulf Western Oil, visit www.gulfwestern.com.au. For more on Team Bray, visit www.teambrayracing.com.
Fans wishing to follow Team Bray can also follow them on Facebook at www.facebook.com/teambrayracing, or interact with the team on instagram (#gulfwesternoil).
images by John Baremans/ANDRA