In his final year racing in the Summit Racing Equipment Junior Dragster bracket, 17-year-old Bradley Bishop was able to secure the Summit Racing Equipment Sportsman Series Australian title.
The racer from Orangeville (NSW) says that two weeks after the final round, the big win is finally sinking in.
"I guess it has sunk in, it has always been such a huge deal and we have been chasing it for a few years now," Bishop said.
"While the title might say we were the best of the season, I don't see myself as any better than anyone else, anything can happen when it comes to racing and luck plays a huge side to it – I guess when it is your time, it is your time and I am very grateful for the outcome.
"There is no doubt that we gave ourselves the best shot that we could at taking it out, and that is all you can do. We have done a lot of travelling and put in a lot of hard work to get to this point, so there is a big sense of relief that it has finally paid off in the end.
"I know my sponsor, dad's wallet, was certainly happy with the result, it made everything he has done for me worth it!" laughed Bishop.
With several years in the Summit Racing Equipment Junior Dragster bracket, Bishop has some fond memories to take with him as he looks ahead to the future.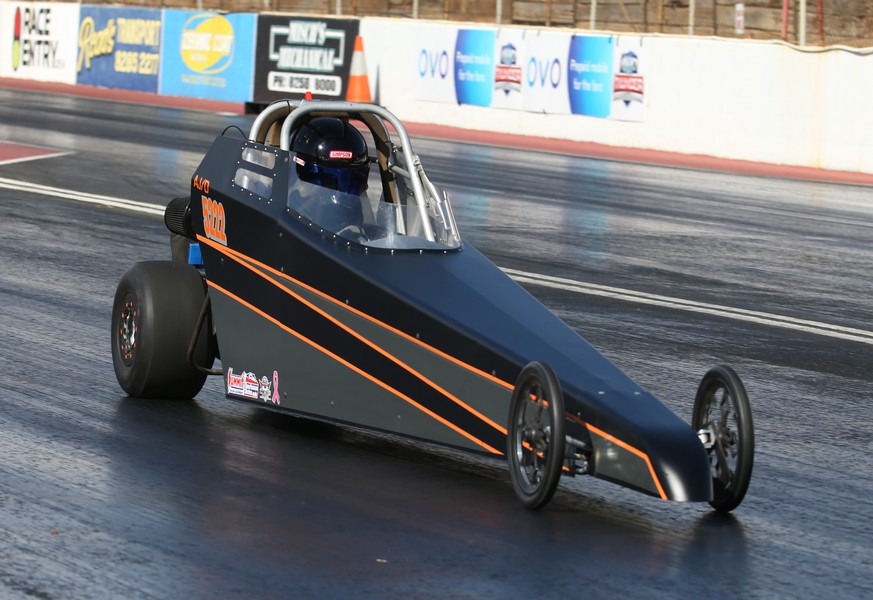 "The best parts have been the laughs and the good times we have had in the pits. At the end of the day we are all there to get one thing – be that the round or the championship win – but Dad and I are pleased to have never had any issues with any other racer in the pits, and have been able to just have fun all the way through," Bishop said.
"We always were pleased to be able to help everyone out and try to make their weekend's as enjoyable as ours along the way too.
"There were certainly some downs as well, but this year went really well and I was happy to not go out in the first round of eliminations at any event. My worst event for the season was the final, where I went red by 0.001 of a second – I am still not sure what to think about that, whether I should look on it as not so bad as it was such a small margin that I red lit by, or badly because it was so close to a perfect light!
"Sitting on the sidelines after that red light was a bit hard at the Grand Finals – I wasn't feeling the title pressure in the weeks leading up to the event or even once we were underway in Adelaide, but once it was out of my control like that it kicked in a bit. I had to sit back and tell myself that whatever happens, happens, and I was really happy to see the luck fall my way.
"It was really rewarding to pick up the trophy at the end of the night, and to see how many people were happy about our win."
Now, time as a crew member with another up and coming young racer as well as university life beckons for the year 12 student.
"I am not sure at this stage what will come next for us as far as racing – I am ageing out of the Juniors bracket and heading to university, so at this stage I won't be chasing the points in the coming season and it may be a few years before we are back giving it another crack in another bracket. I can say for sure though that we will definitely be back!
"In the meantime, I am going to be lending a hand to the Berias family at some events as crew – Jake Berias is a gun little racer and will be one to watch in the next season of Summit Racing Equipment Junior Dragster. He has a great car and is very comfortable in it, so I am looking forward to seeing how he goes and helping him out with my 10 years of JD experience."
For more on the results from the ANDRA Grand Finals and the 2017/2018 Summit Racing Equipment Sportsman Series Championship, please click here.
IMAGES BY MARK CUFFE – DRAGSSA.COM (TOP) AND OUTLAW IMAGES