Photo by Roger Richards/Competition Plus
June 19, 2017: In the highly explosive, high horsepower sport of drag racing, anything can happen. Just ask Perth Top Fuel Harley racer Benny Stevens who was ready to give it his all at Round 7 of the Mickey Thompson Top Fuel Harley Series at NHRA's Thunder Nationals.
But as we know, it's a fine line between gobs of nitro horsepower and making that all-important connection with the track.
Stevens adventure started on Friday with a one shot qualifier. This was his first pass on the Top Fuel Harley of Mike Bahnmaier, having landed only just days prior to the event.
The challenge was on with 16 riders attempting to get into the eight-bike field for Sunday. In addition, Stevens was on a bike he'd never sat on, no testing and stiff competition from some very quick and seasoned riders.
But for those who know Stevens and his history, then you know the combination of his laid back nature and positive mental attitude meant he was in with a chance.
"The bike was a completely different ride," said Stevens. "It felt great, but as that was the first time riding it, it reacted a lot different to mine, which isn't bad…
"It's just controlling weight, power, and distribution and the distribution side we could not get sorted in three laps. But hey, that's what challenges are right?! Smack that throttle and hang on is the only thing to do!
Benny explained his first qualifier on social media, "Hey guys n girls, quick update. The first pass, she blew the tyre off the bike 20 feet out from the start time. We just overpowered the track and clutch and coasted through the beams in 25 seconds.
"Bike feels great and is an angry bitch of a thing. We'll make a few changes tomorrow, hopefully, she sails down the track."
The following day (June 17) featured two qualifiers.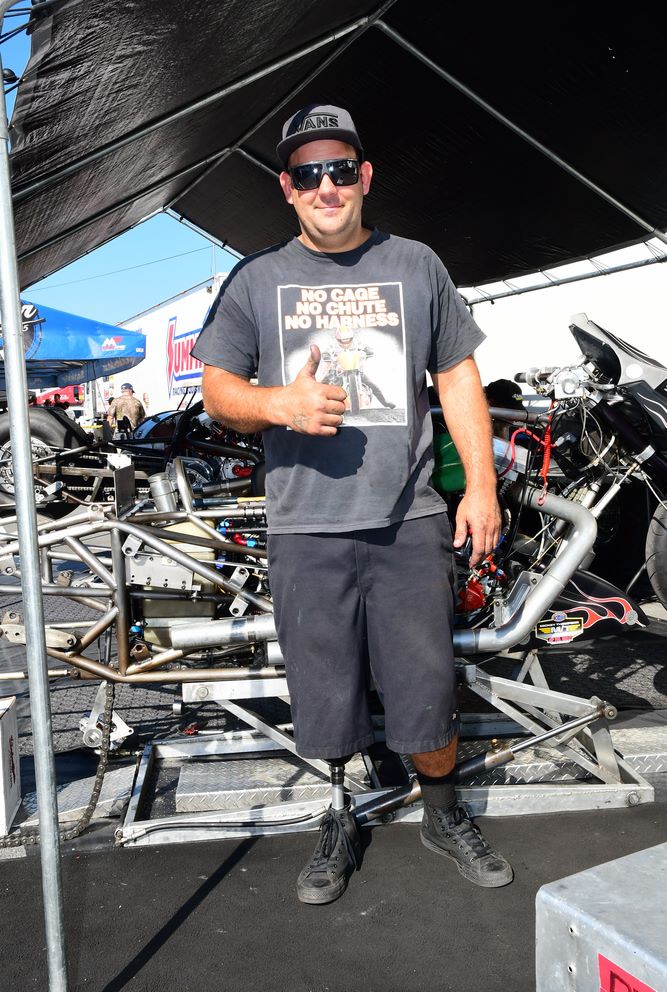 Photo by Roger Richards/Competition Plus
"Well as hard as we tried, unfortunately, it was not our weekend over here. We finished 14th out of 16," Stevens said on Facebook.
"The bike had bullshit power, but that's no good when we can't put that down to the track.
"Today she paddled the tyre hard to 150-200 ft, and I gave it another shot recording a 7.803 that had me in 11th at the end of the session.
"Then the 3rd qualifier she blew the tyre off again. I short shifted trying to reload and ran an 8.35 ET.
"It was just a case of getting the power to the ground. In saying that, after short shifting, I still lifted the front tyre and carried it for a bit.
"Thank you to Mike, and all his crew, absolute legends! And to Terry, Jennifer, and everyone else that made this happen.
"All the guys over here were great, got to chat with most of them, and it was a great event to be apart of. The crew – team I was with was the best part of the adventure. Absolutely, legendary friendly people. Could not have asked for anything more!
"Until next time…. where my little bro will be with me, my good luck omen," finished Stevens.
No doubt it was an eye opening experience for Stevens and you can bet that next time, things will be a lot different. Stevens picked up quite a bit of media coverage and was a fan favourite with the Bristol crowd.
For NHRA Top Fuel Harley Event Results – CLICK HERE
Like & Follow Hooligan Motorsport on Facebook
[END]