Three-time and reigning Summit Racing Equipment Sportsman Series Modified Australian Champion Craig Baker may be only one round into his title defence, but he is already gathering the ingredients for a winning campaign.
Baker got his 2022/2023 Summit Racing Equipment Sportsman Series season off to a strong start with a first-round win at the Alice Springs Inland Dragway's Desert Nationals across July 23 and 24.
Now, he is preparing for the rest of the season, including round three at the Sunset Strip Nationals which will be hosted by the Sunraysia Drag Racing Association in Mildura across September 17 and 18.
For Baker, getting his 2022/2023 season off to the best start possible up North was crucial to his plans for the year, but he had his work cut out for him with a lot of local competition.
"After starting off the 2021/22 Summit Racing Equipment Sportsman Series with a win at Darwin's Hidden Valley, we knew how important it was to get those early points on the board," Baker said.
"With lower than expected entries in Modified, ANDRA reverted to the three round format and we quickly realised that we would have our work cut out for us.
"Both Josie and Dan Hodgins are pretty tough local competitors and have the home track advantage. Each headed to the event with new combinations and with five qualifying passes to get things sorted, they were right on the money coming into eliminations.
"Chris Moore from Darwin was equally as tough – he has got a beautiful looking car there, and after squaring off against him in the final at Darwin last year I knew I had my work cut out for me with him.
"Even after getting the wins in the first two races of the round robin, the final place wasn't sealed and I needed that third win to be assured a place in the final.
"We did it with a 0.003 light and ran pretty close to our dial-in against a hard charging Dan Hodgins. The final was another great race against Josie, and she threw everything at us. She's really starting to get a handle on the little Barra powered altered and will no doubt be grabbing some wins in the future – but this time it was our day.
"As much as it is great to get the Silver Tree and secure the early points, it is also equally as important to me to reward my family and crew for the help and sacrifices they make so that I can do all this. So I was glad to get that win for them."
The Alice Springs Inland Dragway facility is a favourite of Baker's.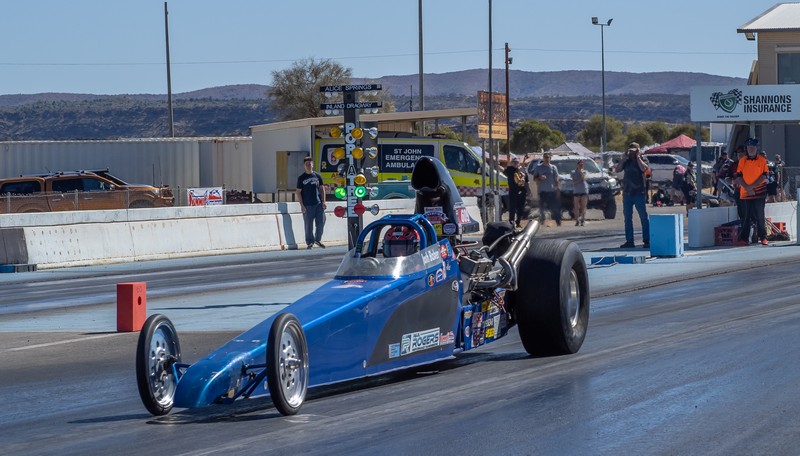 "The Alice Springs track has to be one of the best racing surfaces in the country. It probably takes a round or two of full-on Comp cars to bring the track around, but after that you can just sit back and enjoy the ride," he said.
"There's plenty of run-off, it is really well run with Ray Treasure and Tim Reidy doing their thing, and all of the track volunteers do a fantastic job. We can't wait to get back up there again next year.
"And even though the destination is what it is all about, sometimes it is the adventure and memories made along the way that can be just as special. Travelling with our extended family of Chris, Nicole, Costa and grandson Leo has created memories that we'll all treasure forever and I encourage anyone who is able, to bite the bullet and go on a racing holiday."
Moving forward, Baker is thinking strategically as he looks to challenge for his fourth national ANDRA title.
"Going forward from the Desert Nationals, we intend to run as many of the local championship rounds as possible and get as close to the 300-point cap as we can so that we are in the running at the end of the season," Baker said.
"With the early points on the board, it gives us a great start.
"We've had mixed success at the Sunset Strip in Mildura. It's really one of those tracks where things can be a little unpredictable – and usually due to the weather conditions. The track crew do an amazing job up there, but they can be fighting as much as the racers against the elements for consistency. We're really hoping for another good result, but we never take anything for granted and will be taking things one round at a time."
The early points on the board are helping Baker feel confident as he looks down the barrel of the rest of the season.
"Having a win always makes you feel good about yourself. It is a kind of re-assurance in your ability and proving that you're still able to do this," he said.
"When you commit to travel and race as many of the championship rounds as you can, you hope that it'll all be worth it.
"To me, an event win is how well you've gone on the day, but a championship win shows how well you've gone for the entire season."
Chasing a championship is no small commitment let alone travelling to the opposite end of the country, so understandably Baker has a long list of people he would like to acknowledge for the roles they play in his recent racing pursuits.
"Any trip away racing is a pretty big commitment and none of us can do it without the support of those around us. Having my sons Josh and Tim along for the ride made for a very special trip, but most of all its those that stay home to make sure everything keeps running as normal that are often forgotten," Baker said.
"I really want to thank my beautiful wife Audrey for the ongoing support of my passion and for making sure that the wheels keep turning at home.
"I also couldn't keep doing this without support from the likes of Paul Rogers at Paul Rogers Performance Transmissions and Shane Baxter at Lakeside Automotive for all that he has done for me over the last year to keep me on track.
"I have also recently changed jobs, and it has meant the world to me that my new employer, Interpack, have supported my racing and allowed the time off to do all of this."
Round three of the 2022 Summit Racing Equipment Sportsman Series will be held at Mildura's Sunset Strip across September 17 and 18. For event information, go to www.sunsetstrip.org.au
For more from ANDRA, go to www.andra.com.au