Richie Crampton and Steve Harker aren't the only Aussies winning overseas. WA ex-pat and Westside Drag Racing Association life-member Vic Corlett recently enjoyed success in the Nostalgia Super Stock bracket at Texas Motorplex as part of the Mega Mopar Action Series.
The Mega Mopar Action series is a 10 event Mopar-only series run by Mopar Action Magazine.
Nostalgia Super Stock (NSS) is a footbrake index-style bracket with body/engine and modification limits aimed at representing the A/FX and Super Stock racers of the 60's. There are four FX indexes ranging from 9.00 to 9.75 seconds (1/4 mile), and seven (0.50sec spaced) NSS indexes ranging from 10.00 to 13.00 seconds.
"My big block Mopar 67 Dodge Dart two door sedan runs on the C/NSS of 11.00 seconds," says Corlett.
"The March 28th opening round of the series had seven vehicles qualify for the bracket. My two qualifying passes of 10.992 at 121 mph and 10.989 at 121 mph were slightly under the index – even with 20 gallons of gas and 100lb of weight bars bumping me to the bottom of qualifying.
"For the first round I added an additional 37lb of weight. My C/NSS opponent red it so I ran it out the back door running 11.065 at 121 mph with a .068 RT. The semis pitted me against a B/NSS (10.50) racer, and I had removed that 37lb from the trunk. I cut a better .047 light and gave it a quick pedal in the traps for an 11.048 at 116 mph win. In the final I was again up against a B/NSS (10.50) racer but unfortunately for him he was shutoff by the startline crew (small ATF leak). I soloed for the win with a .071 RT and 11.049 at 122 mph out the back door."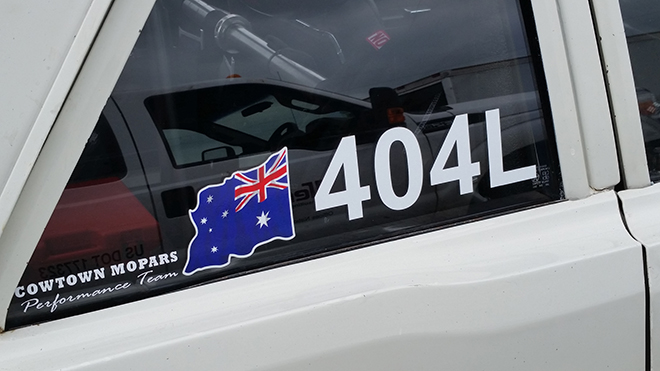 The Dart is run in street trim (apart from full slicks) including full exhaust out of the tailpipes. Race weight is a hefty at 3770lb but Vic says it's all steel and all motor.
"It's a basic old-school combo, 440 Mopar out to 493 cubes, Edelbrock heads and dual plane intake, 850 Mighty Demon carb using 93 octane pump gas – yep, best we can get in Texas, 727 manual valve bodied auto with 4500 stall, 4.10 spooled Dana 60 with Strange axles, 29.5 x 10.5 Hoosiers on Weld Rodlites, Caltrac bars and monoleaf springs, 10-point cage with Simpson harness.
"The car is street licensed and I drive it to the local burger joint on the occasional weekend during summer – it's still wearing the original 67 factory paint job. The car was purchased on eBay for $12k a couple of years ago; the original builder Shane Darrow formulated a bullet proof and very consistent combination.
Corlett was the runner-up in the Pro Muscle Championship last year and is currently equal second. This year he will run three or four meets (Nostalgia Super Stock) with the Southwest Heritage Racing Association in Texas and Louisiana.
"I run a 10 meeting bracket series with the TMCCC (Texas Muscle Car Club Challenge) running 7.0's on the 1/8th mile (Pro Muscle – 7.0 to 7.64) at four or five tracks in Texas and Oklahoma.
"The closest track is 1.5 hours away, a couple are more than 4 hours away and I have run at seven different tracks to date."
To follow Vic's progress and the Texas Muscle Car Club Challenge please visit http://www.tmccc.org/