Another large contingent of Aussies were in action at the 52nd Annual Auto Club NHRA World Finals in Pomona over the weekend.
Top Fuel
Richie Crampton advanced to the second round while Wayne Newby was eliminated in Round 1 following solid qualifying runs for both teams.
Crampton qualified in 9th position with a 3.733 at 320.66 mph and going on to defeat Brittany Force in the first eliminator. Crampton reacted quickest and never trailed crossing the stripe in 3.771 seconds at 316.52 mph from Force on a tyre smoking 5.890 at 111.78 mph.
A red light in Round 2 ended Crampton's weekend against J.R. Todd in what was Morgan Lucas Racing's swansong.
MLR has announced its exit from Top Fuel leaving Crampton without a ride. The South Aussie posted the following statement on his Facebook page:
"Last night we received the news Morgan Lucas Racing would close at the end of the season.
"While I'm obviously very disappointed the team will not continue, I am also extremely thankful and forever grateful to Morgan, Katie, Forrest and Charlotte Lucas for the incredible opportunity they gave me, allowing a kid from Australia to realize his dreams of driving the world's fastest race cars in the biggest drag racing series on earth.
"Three seasons, eight final rounds, seven national event wins (including the 60th Anniversary US Nationals), three consecutive top 10 finishes in points (including third in 2015), and the Road to the Future Award – results dreams are made of.
All of that could not have been achieved without the hard work and dedication of the finest team in the NHRA, and to each and every member of MLR both at the track and back at the shop, I thank you from the bottom of my heart.
"To MLR's partners who supported my journey, Lucas Oil, MAVTV, Protect The Harvest, Toyota USA, Mac Tools, GEICO, and Lincoln Electric, you have not only have been valuable and loyal commercial supporters of our team, but I have also been very lucky to forge lifetime friendships with many people in your organisations, for which I sincerely thank you all.
"To our fans, I would like to say "thank you" for your incredible welcome and continued support over the past three years – you have made me feel like I belong in the NHRA, and you are what is so special about this 2016 NHRA Mello Yello Drag Racing Series.
"The news is obviously still fresh and while situations quickly evolve in this sport, as yet I do not have any plans in place for the future, but I am confident that both me and my team-mates will be back next season in some capacity.
"For now, I will turn my attention to finishing the year off at Pomona this weekend on a strong note before marrying my fiancé Steph next Saturday, and celebrating the occasion with our families and friends."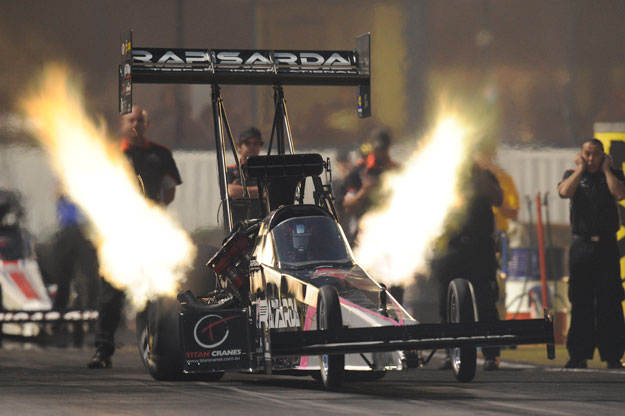 Out of 11th position with a personal best 3.766 at a team best speed of 326.79 mph, Newby faced Steve Torrence in Round 1 gaining the early advantage off the line however that quickly evaporated. Torrence powered past Newby soon after leaving the start line and never looked back for the win on a 3.739 at 324.12 mph to a 3.779 at 324.44 mph.
Fuel Funny Car
Anthony Begley's debut at Pomona was a rough one with his first ever pass on the famed strip as body would not latch properly prior to the run and the chutes then failed to deploy on a 4.30 second pass.
Begley got the car stopped before the sand telling NHRA.com; "It's my first time down the track, and it couldn't have been more exciting, I think. It was really good," said Begley, who sat out Q2. "The boys had a little drama with the latch. It must have bent on the line; so typical, when everything happens, it happens at once."
Begley would go on to qualify in 20th position and missing the field with a 4.145 at 286.50 mph.
Driving for Peter and Helen Russo, Jon Capps set multiple personal bests to eventually end up with a 4.053 at 307.44 mph to sit on the bump spot heading into the final qualifier. Capps couldn't improve and was eventually knocked out of the field by John Bojec to sit in 17th place.
Pro Stock Motorcycle
Two-time ANDRA Pro Stock Motorcycle Champion Luke Crowley made his return to the NHRA 12 months after making his debut. Crowley improved to run 7.021 at 191.97 mph; his best pass of the weekend and good enough for 20th position in a highly competitive 23-bike field.
Top Alcohol
Harker Motorsports and John Lindberg teamed up again qualifying 3rd after three qualifiers with a 5.478 at 262.85 mph.
Lindberg came through Round 1 with a 5.49 at 258.07 mph from a tyre shaking Sean Bellemeur. Round 2 started well with the reaction advantage but the tyres shook and even though he mustered a 5.668 at 261.47 mph it wasn't enough to defeat Steve Gasparrelli on a 5.534 at 265.01 mph.
The team posted the following message on their Facebook page; "Our luck came to and end in Round 2 the car shook and even though Johann got the light and did a good job peddling he was unable to run down the other car. Thanks Johann for looking after the car like it was your own and you are great driver. It was a tough year for the team but ended well, bring on 2017!"
Super Gas
Matt Forbes advanced to Round 3, his best ever showing at an NHRA event, where he was eventually upended by Randy Balough.
To get to Round 3 Forbes defeated Jason Kenny on a double breakout 9.896 to a 9.889 but that's where his good fortune ran out as a red light against Balough put him on the trailer.
On his Facebook page Forbes said; "This could have been a great race if I didn't get in my own way!
"I pulled .008 from my delay as I knew I had to give Randy Balough a tough run and came up -.005 on the red side. Randy is a good guy and very experienced racer, he is still in at 4 cars and on his very next pass he was .002 leaving second!
"Buddy and Karen gave me a great race car and it will find the winners circle in no time. The Sunset 565 SR20 performed perfectly as expected."
Image credits: NHRA.com