There were contrasting results in Top Fuel as Wayne Newby reached the semis while Richie Crampton bowed out in Round 1 of the NHRA Carolina Nationals at zMax Dragway. Shane Tucker improved despite an early exit in Charlotte while Niki Zakrzewski was a semi finalist in the Manufacturers Cup over the weekend.
Top Fuel
Wayne Newby has powered his Rapisarda Autosport International dragster to a semi final spot at the NHRA Carolina Nationals.
Earlier in the weekend Newby qualified 12th with a 3.802 setting up a daunting match up with 2013 NHRA Top Fuel champ Shawn Langdon.
Langdon led up to the 330 foot mark but lost traction as Newby put the RAI dragster straight down the centre on a clean pass for his first ever NHRA round win, 3.982 at 246.71mph to 4.121 at 263.36mph.
With lane choice in Round 2 against Steve Torrence, Newby had the reaction advantage but found himself trailing by the 1/8 mile marker. Fortunately Torrence went silent and Newby drove around him to win by .0228 seconds, 3.849 at 316.90mph to 3.843 at 280.25mph.
In the semi final Doug Kalitta got the jump and with an underperforming car held on from Newby who was with him initially until cylinders began dropping out. Kalitta eliminated the Aussies with a 3.879 at 311.13mph to 4.096 at 225.41mph.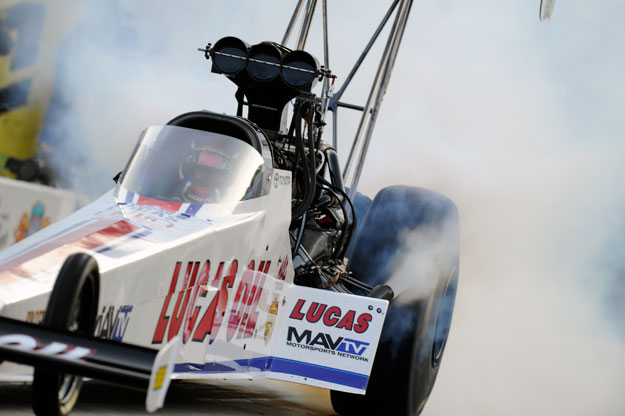 In other news, Richie Crampton described his current mood as "desperate" Sunday after a first-round exit, the first of six playoff races in the Countdown to the Championship.
"I desperately want to get this Lucas Oil dragster back to its winning ways," Crampton said. "It's so frustrating when you do everything the same way we did a year ago when we won five races and finished third in the national rankings only this time through we can't get the results we want.
"This happens to every team, but that doesn't make it feel any better when it happens to you. The thing I hang my hat on is the fact we have the same group of hard-working guys wrenching on this thing as we did when we were running at the top of the charts, so I know we'll get it turned around very soon."
The weekend started extremely well for Crampton as he was the No. 1 qualifier after the first timed session on Friday afternoon with a pass of 3.770 at 318.84 mph. He later improved to a 3.744 at 320.51 mph and posted a third 3.7-second pass in Q3, eventually qualifying eighth overall.
But on race day his car was too hopped up, and it barely made it off the starting line before he started to smoke the tires.
"It shuddered right at the hit and then started spinning the tires," Crampton said. "We're not sure why, but we'll examine all the data and try to figure it out. It's a quick turn this week as we race again in St. Louis starting Friday, so we'll be busy.
"I saw the other car streaking away from me and there was no point trying to get back on the gas and potentially blow something up. I decided to save the parts and live to fight another day."
In the end, opponent Leah Pritchett posted a 3.840 at 310.20 mph, well ahead of Crampton's resigned 7.051 at 97.33 mph.
"Seeing her win with a beatable 3.840 added some sting to the loss, but there's nothing we can do at this point," Crampton said. "It was a pretty shocking first round with Tony Schumacher, Shawn Langdon, and JR Todd all losing as well. That may help us a bit, but we'd much rather win our races to gain ground."
Crampton won't have long to wait for redemption as the fourth annual AAA Insurance NHRA Midwest Nationals takes place Sept. 23-25 at Gateway Motorsports Park in St. Louis.
Pro Stock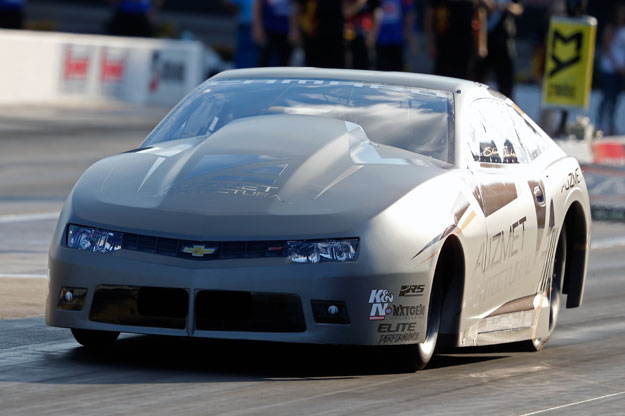 Shane Tucker saved his best for last this weekend at the Ninth annual NHRA Carolina Nationals.
Tucker made it into the raceday field when he qualified No. 15 at zMAX Dragway to stage against current Pro Stock points leader Jason Line.
At the finish line, Tucker clocked in with his fastest pass of the weekend with a 6.715-seconds at 207.46 mph but was unable to hold off Line's 6.639, 208.94.
Although his raceday resulted in a first round runner-up, Tucker was still smiling back in the pits afterwards because he knows they are headed in the right direction.
"I think we made some really good strides forward," he said.
"It's funny, the setup we had in the car in the first round was the same we had in it two years ago. We just kind of went in a circle and now we're back with what we started with – we're back to the basics.
"If you look at the graph of our run, if we can get it worked out at the front half of the track, we'll be fast. I think I'm a lot more confident going into the Dallas race next month."
Manufactures Cup – Pro Open
Australian Modified Bike and Competition Bike racer Niki Zakrzewski reached the semi finals of the Nitrous Express Pro Open class in the Man Cup MTC Engineering Nationals at Rockingham Dragway.
Niki Z qualified third with a 6.76 making her one of the quickest women on two wheels in the world. Despite a slower reaction time in Round 1, Niki Z clocked a 6.831 at 188.33mph to defeat Kevin Clarke on a 7.583 at 169.53mph.
Reaction times would decide the semi final as Zakrzewski lost on a holeshot even after going quicker with a 6.821 at 190.06 mph to Tommy Saxon's 6.873 at 174.77mph. Saxon reacted far quicker at the line with a .052 light while the Aussie stayed put with a .270 reaction.
Image credits: NHRA.com