A large Aussie contingent gathered to take on the best in Las Vegas at the 17th Annual Toyota Nationals.
Top Fuel
Wayne Newby qualified 12th with a 3.817 and would meet Tony Schumacher for the very first time in Round 1.
The Sarge had the start line advantage but soon went up in smoke as the tyres spun hard. Newby hit the front and despite dropping cylinders held on to win with a 3.836 at 313.88 mph from Schumacher's ugly 9.603 at 74,72 mph.
Round 2 was another first time match up with defending Champion Antron Brown out to secure his third NHRA World Championship and the first back-to-back World Championship by a Top Fuel driver in seven years.
Newby trailed from the hit and ran into cylinder trouble again to end the overseas odyssey for Rapisarda Autosport on a 3.896 at 273.11 mph. to Brown's 3.771 at 322.11 mph.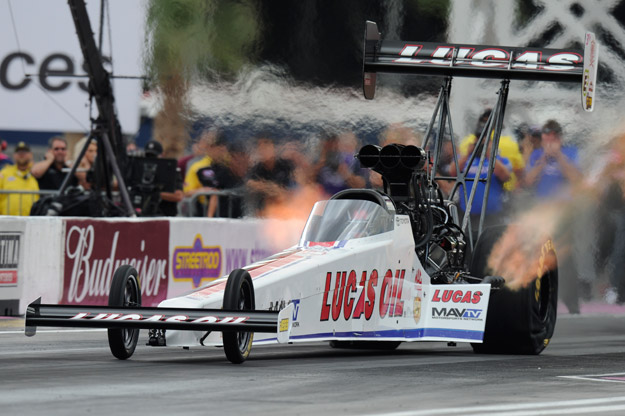 Richie Crampton qualified one position ahead of Wayne Newby with a 3.772 but Steve Torrence in Round 1 cut his race day short.
Although Crampton had a slight reaction advantage Torrence reeled him in immediately off the start line to win by approximately 16 feet on a 3.730 at 327.74 mph from Crampton with a 3.766 second pass at 317.19 mph.
Fuel Funny Car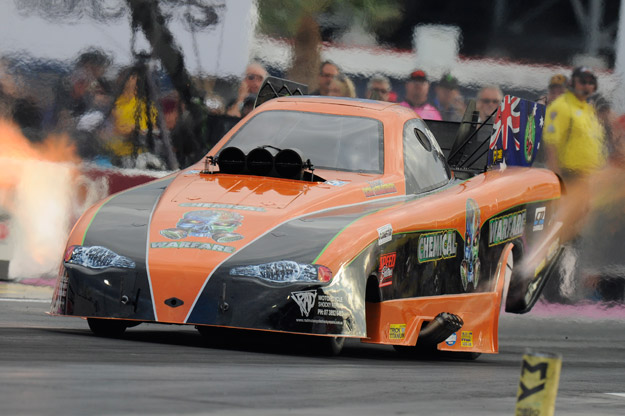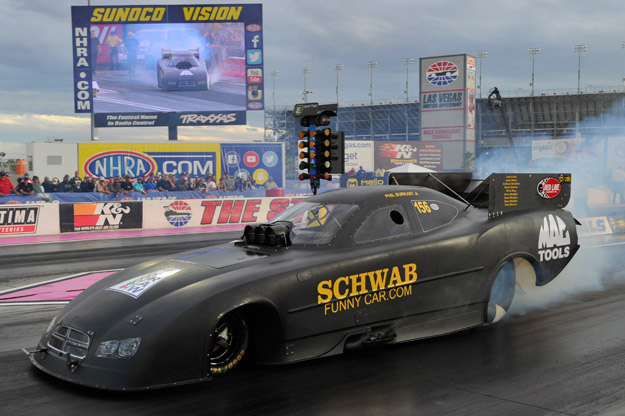 There was a lot of fun but not much success for Anthony Begley or the Schwab Funny Car team driver Phil Burkhart with both missing the field in 23rd and 24th respectively. Begley's best run came on a 5.024 at 152.14 mph and Burkhart could only muster an 8.750 in the Schwab team's return 11 years on from their last outing in 2005 at Sonoma.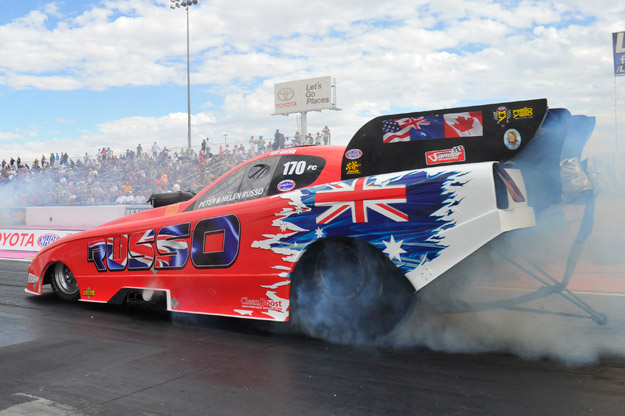 The Russo Racing Charger driven by Jeff Arend on the other hand qualified in 16th with a 4.045 at 302.55 mph in the quickest Fuel Funny Car field in NHRA history.
Up against #1 qualifier Jack Beckman in Round 1, Arend gave it everything he had as flames erupted from under the car on a 5.805 at 98.91 mph as Beckman completed a 3.890 second pass at 326.95 mph for the win.
Pro Stock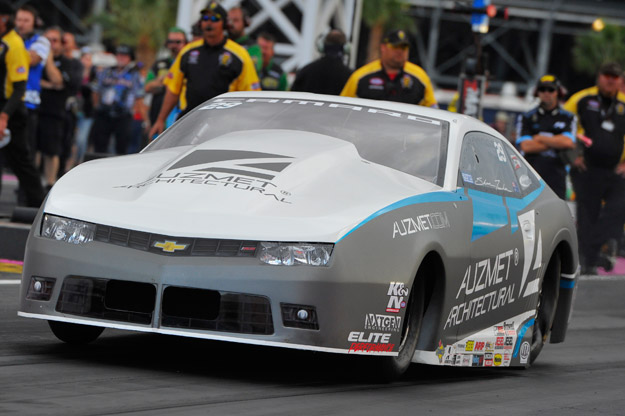 Shane Tucker qualified in 15th position running a 6.745 second pass at 204.23 mph to set up a first ever meeting with Drew Skillman in Round 1.
Tucker had a great .016 reaction time to lead out of the gates but Skillman had taken the lead by quarter track. Skillman would win by a MOV of 0.0237 seconds with a 6.702 at 206.01 mph from Tucker on a 6.750 at 204.70 mph.
Top Alcohol Funny Car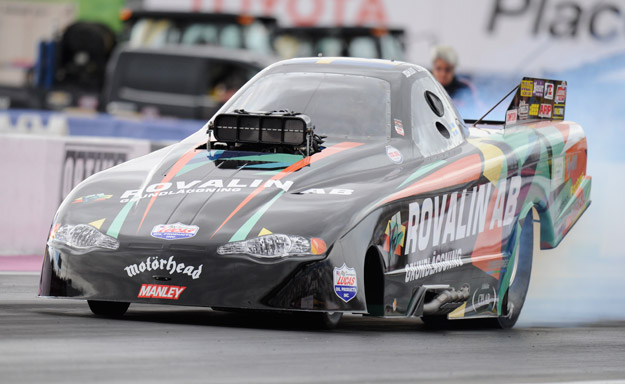 Driving for Harker Motorsports, Johan Lindberg recorded a 5.647 at 255.15 mph to qualify 13th and take on Doug Gordon in the first eliminator.
Lindberg didn't disappoint reacting quickest and always pulling away for the win on a 5.597 at 250 mph to hand the Top Alcohol Funny Car Championship to brother Jonnie Lindberg.
It would end in Round 2 for Harker Motorsports as Lindberg was out in front against Terry Ruckman but couldn't hold on as Ruckman passed him for good at half track to win on a 5.612 at 262.59 mph to a 5.635 at 259.26 mph.
Competition Eliminator
Qualifying 25th out of 27 drivers, Mathew Leonard walked the line to get the jump on his first round opponent Jeff Lane. Unfortunately he pushed too hard with a -0.021 red light.
"Today could have gone a little bit better but I pushed the tree against the number 4 driver in the world and red by -0.021 of a second," said Leonard on the NitroRat Racing Facebook page.
"I was going to run it to the finish line but we broke a lash cap on the number 8 intake valve. The engine is clean and serviced but will have to wait till next year now. There is a double divisional meeting this week in Vegas but it's back to the grind stone to pay for this habit
"To my family, crew, Strasburgs, B&J trans, CleanBoost lubricants, MacCools, Gabel Realtors, Aeromotive, thank you very much for making this happen."
Super Gas
Two-time Australian Super Gas and current Modified Champion Matt Forbes was paired with Mike Federer in Round 1 on Friday following three hits in qualifying.
Federer took the win with a 10.063 (the index was adjusted for altitude to 10.05).
"I had to cover my red lights from time runs and added .010 to my delay," he Forbes via his Facebook page.
"It was a good drag race and we were both sizing each other up at the finish line. I took .005 at the stripe to be .011 under the index. Basically Mike dropped a .003 light on me and was .013 above for a 16 thou total package.
"Now that we have 4 runs in this car we have some good data and hope to have a bit better luck next weekend."
Image credits: NHRA.com