Richie Crampton and Russo Motorsports exit in the first round at Las Vegas.
Top Fuel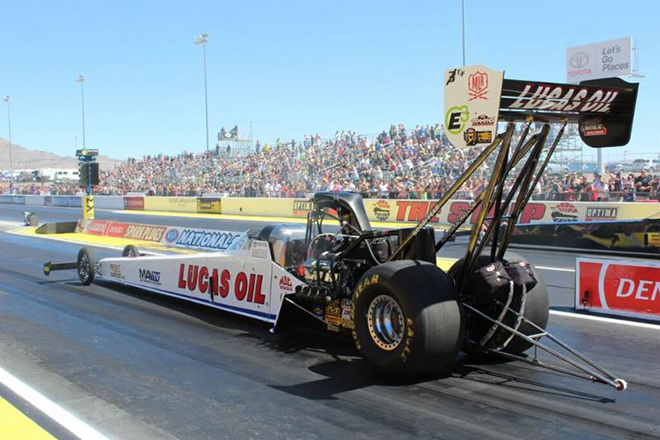 The Top Fuel class in the NHRA Mello Yello Drag Racing Series has seen an upheaval early in the 2016 season.
Lucas Oil driver Richie Crampton, for example, came into the Denso Spark Plugs NHRA Nationals this weekend at The Strip at Las Vegas Motor Speedway ninth in the points standings after finishing third in 2015.
The top three in points last year, in fact, were all outside the top seven after three races in 2016. Crampton's first-round exit in Vegas continued that trend, though he knows his Morgan Lucas Racing team can turn things around quickly.
"We're way, way better than it appears right now," Crampton said. "The whole top 10, top 12 of Top Fuel has been turned upside down from last season. When (Tony) Schumacher, this Lucas Oil car, and Antron (Brown) are at the bottom of the top 10, that's a pretty good indication that we're all kinda in test mode, trying to figure out some new stuff to continue to get better and better. If we just keep on as we are, we don't learn anything. I've got faith."
Crampton smoked the tires early in his matchup with Troy Buff, and though he tried to pedal the car, Buff's run of 4.967 seconds at 191.97 mph was enough to beat Crampton's 7.447-second pass at 103.83 mph.
"We were first pair up in a midday start, which is a little later than we would normally run," Crampton said. "But nonetheless, we knew we had a warm racetrack and a lot of Sportsman racers ran out it earlier today. All that being said, we just had a malfunction once again. It's kinda been the thorn in our side this season.
"I did all I could to try and get the thing to recover, but when they smoke the tires that early like that, it's tough."
Crampton and the Lucas Oil team will test Monday in Las Vegas, preparing for the NHRA Four-Wide Nationals in Charlotte on April 22-24.
"We were planning on running here Monday anyway," Crampton said. "We've got to continue to push ahead and work through whatever this little problem is."
Funny Car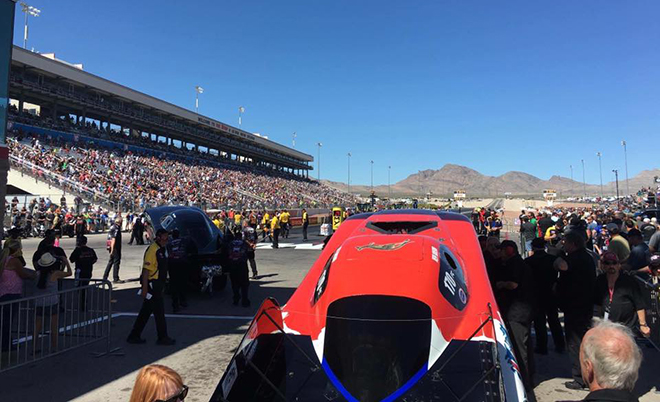 Aussie Nitro Funny Car owners Peter and Helen Russo qualified 14th with Jeff Arend in the cockpit on a 4.169 ET at 287.66 mph.
That set up a first round pairing with John Force Racing's Robert Hight. Arend was to the right of the groove for most of this pass while Hight took it straight down the track for the win with a 3.989 at 322.27 mph from a 4.786 at 170.79 mph.