Richie Crampton and Rapisarda Autosport with Larry Dixon behind the wheel both went down fighting in close Round 1 encounters at the 32nd annual Dodge NHRA Nationals this past weekend.
So many times in drag racing, the final result comes down to thousandths of a second, and no one is feeling that sting more than Richie Crampton, whose 3.778-second pass at 319.98 mph was barely eclipsed by Dom Lagana's 3.774 at 323.97 mph in the first round of the 32nd annual Dodge NHRA Nationals.
"I had a bit of trouble getting the car to inch into the stage beams," Crampton said.
"It just wouldn't move, and when it finally went from 'pre-stage' to 'stage' the light came down almost instantly. It was probably the quickest tree I've seen all year.
"The tyres did try to wad up early in the run because the track was so tight and good, but I kept my foot in it and we got through that danger area. The race was on and Dom got there first. It was close, but I'm kicking myself that I didn't have a better reaction time. He got me by .022-second there, and if that had been turned the other way, then we would have easily won the race."
It was an odd weekend all the way around with Friday's opening two rounds of qualifying completely washed out by rain. Saturday was only marginally better with just one round completed. That put Crampton and his Lucas Oil mates in the bottom half of the field, but they still had designs on going rounds today.
"We have a good car and Aaron (Brooks, crew chief) and the guys gave us a great chance to win there," Crampton said. "When you have weather like this over a long weekend, it really becomes a test for the crew but our guys answered the call. I'm proud of them for that hard work.
"It'll be good to have a weekend off after doing three in a row. I think we all need a day of rest and some time with our families, and then we'll get right back after it and start prepping for Dallas."
Aside from Crampton, fellow championship contenders Tony Schumacher and JR Todd also were knocked out in the first round.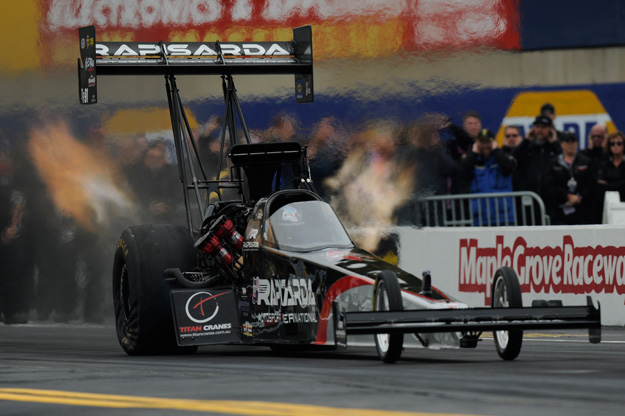 Rapisarda Autosport International continued their run on American soil with three-time NHRA Top Fuel champ Larry Dixon at the wheel following Wayne Newby's return to Australia for business commitments.
Dixon powered to 5th in qualifying with a 3.791 at 325.77mph. In Round 1 he matched up with Brittany Force, out reacting the Monster Energy Dragster .052 to .075 however Force chased Dixon down and passed him for the lead at half track to win by .0094 seconds (approximately 5 feet).
The NHRA tour takes a quick break before resuming the Countdown to the Championship with the 31st annual AAA Texas NHRA Fallnationals, Oct. 13-16, at Texas Motorplex near Dallas.
Image credits: Geiger Media Global (top), NHRA.com (middle)