A four-time winner in 2015, Crampton ran into one misfortune after another during the AAA Insurance Midwest Nationals this weekend at Gateway Motorsports Park, with the final bit of bad luck coming in Sunday's first round of eliminations.
Crampton hazed the tyres during his race with Shawn Langdon, and though he pedaled the Morgan Lucas Racing dragster, Langdon got the win light.
"It's been a unique race weekend," Crampton said. "Losing Q1 after being underweight put us to the front of the pack for the Friday night session, and then losing that run kinda hurt. Of course, not getting an ET slip out of Q4 (due to a timing system error) and probably losing what was our opportunity to be in the top half of the field definitely contributed to a very unique weekend."
Crampton's pass in the final qualifying session would have been his quickest of the weekend and moved him out of the bottom half of the field. Instead, he qualified No. 10 and had to race past champion Langdon in the first round.
Langdon then made a brilliant pass 3.753 seconds at 329.26 mph, while Crampton's recovering 4.228-second run at 226.92 mph just wasn't enough.
"Nonetheless, (the bad luck) is not why we didn't win today," Crampton said. "We just missed it a little bit. We've got to try and do better and try and finish out this Countdown. We've had a great season, but this is when it really matters, so it's time to put the hammer down."
Crampton came into the race fifth in the Top Fuel standings, with St. Louis the second of six races in the Countdown to the Championship. The painful weekend really hurts as Crampton was looking forward to this particulary after participating in a special pre-Countdown media tour here.
"I've definitely got a real soft spot for this place after coming here last week for the media tour," Crampton said. "I got to see a little more of St. Louis and meet the great fans and media here. It was a good time. This was definitely on the list of ones I wanted to win, and I know a lot of the guys on the team also wanted to win. We'll have to wait until next year for this place."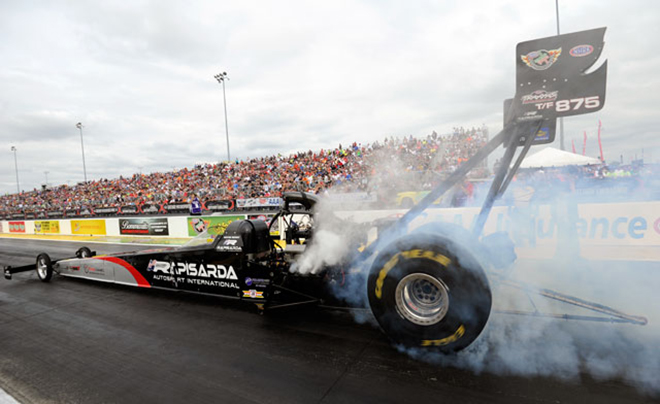 Rapisarda Autosport International were also in action as Wayne Newby qualified for his second start at an NHRA Mello Yello Drag Racing Series event.
Newby qualified 12th thanks to a 3.832 second pass at 308.85 mph to set up a rematch with Doug Kalitta in Round 1. Kalitta had previously eliminated Newby at the Lucas Oil Nationals in Brainerd.
Both drivers recorded identical 3.777 elapsed times however Kalitta had the reaction advantage – .059 to .068 – to earn a .0093 margin of victory at the finish line.
Although ending in defeat, that effort not only represented Newby's quickest NHRA pass but also his fastest with a speed of 323.43 mph.