The Aussies swapped roles this week in St Louis with Richie Crampton making the semi finals while Wayne Newby exited in Round 1.
Richie Crampton gained ground in NHRA's Countdown to the Championship playoffs with his third semi final finish this year at the 5th annual AAA Insurance NHRA Midwest Nationals at Gateway Motorsports Park just outside the St. Louis.
Crampton and the Lucas Oil team moved up two slots in Top Fuel championship points from 10th to eighth by way of the seventh semifinal finish of his short three-year career.
Crampton started Sunday's race day from the No. 1 qualifying position (3.733 seconds, 323.50 mph), his second No. 1 spot of the 2016 NHRA Mello Yello Drag Racing Series.
In the opening two rounds of eliminations, Crampton dispatched Kebin Kinsley and fellow championship contender Brittany Force.
In the semi finals, Crampton was defeated by eventual event winner Shawn Langdon, 3.844 at 317.79 mph to 3.784 at 322.27.
"It was a good weekend," Crampton said. "This was just one of those racing weekends where you come up a little short and we got beat."
Even though the race wins haven't been as frequent this season as they were for him in 2015 — he had five last year compared to none so far this season — Crampton is encouraged by the Lucas Oil team's recent strides in performance.
"It's been a rough year but today's semi final helps," Crampton said. "I'm a little more confident now and happy with the direction we've got this thing going. I think we are only going to continue to refine it for the last few races and try and resurrect what we can out of the championship points.
"Again, it was a good weekend and the guys did a great job. I just wish we could have gone a little bit further."
Crampton will compete in the third round of the NHRA Countdown to the Championship playoffs next weekend in Reading, Pa., the 32nd annual Dodge NHRA Nationals at Maple Grove Raceway, Sept. 29-Oct. 2.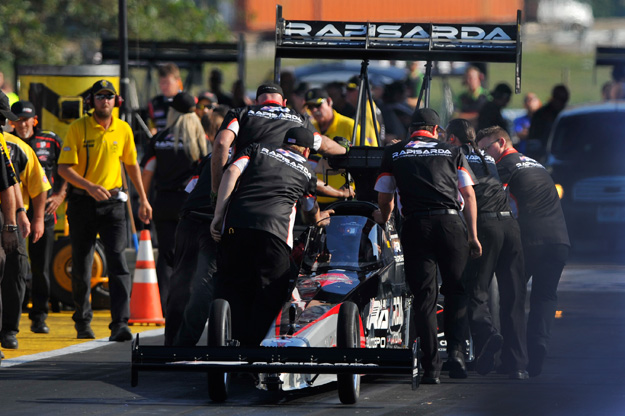 Rapisarda Autosport and Wayne Newby competed in their third consecutive NHRA event continuing their semi final form from the Carolina Nationals into qualifying.
Following problems in Q1, Newby recorded his quickest pass so far on the most recent forays Stateside in 2016 with a 3.801 at 318.69mph in Q2 to move into the number 4 spot and eventually end up in 9th position.
Up against Leah Pritchett for the very first time in eliminations in Round 1, Newby had the start line advantage but smoked the tyres as Pritchett herself started to spin the tyres around 300 feet, pedalling the FireAde dragster to the win.
Image credits: NHRA.com