Several Australians were in action over the weekend at the 62nd Annual Chevrolet Performance U.S. Nationals at Lucas Oil Raceway in Indianapolis.
Top Fuel
Rapisarda Autosport International's 2016 U.S. Nationals campaign ended in heartbreak when NHRA veteran Terry McMillen bumped them from the field by .002 sec. in final qualifying.
"It was a disappointing way to end our weekend," said team driver Wayne Newby. On our first run of the day the car spun the tyres off the line then smoked the tyres 1.5 seconds into the run, after a quick pedal we ran a 4.46/480 km/h and were in16th place.
"In the final session we watched McMillen go down the track and run a 3.89 to bump our car out of the field. We were confident of running faster and regaining our spot however our chances disappeared when we dropped a cylinder early in the run."
Tyre smoke had been an unfortunate theme all weekend with the first qualifier on Friday also ending in wheel spin at the hit.
"The team gave it their best shot," according to team owner Santo Rapisarda.
"We knew it was going to be a challenge to come over and race at Indy. I'm proud of my boys Santo Jnr and Santino and all the team. We learnt a lot over the weekend and the team can hold their heads high."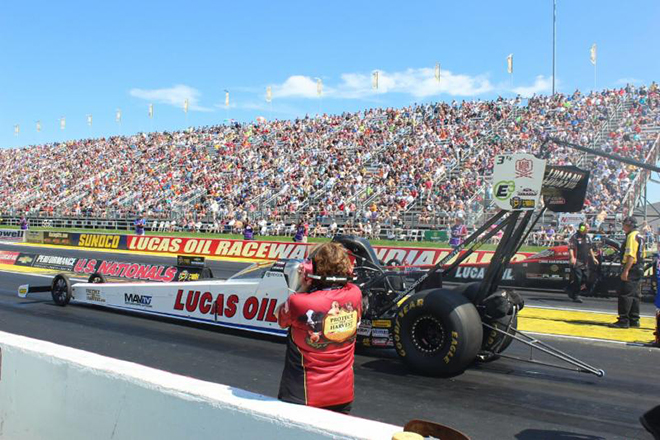 Meanwhile 2014 U.S. Nationals winner Richie Crampton has qualified 11th and will face Doug Kalitta in Round 1 on Tuesday Australian time.
"Race day is just going to be race day," Crampton said. "We wanted to qualify a little better than that, of course, but we have been to the winner's circle here a couple of times with MLR, so as an organization, I think both of our cars have a crack at it tomorrow."
Crampton has shown the ability to put up big numbers at Lucas Oil Raceway, earning bonus points in two of the five qualifying sessions. His best pass was 3.772 seconds at 319.52 mph, which earned him a bonus point as the third-quickest driver in the second session. His 3.777-second pass at 324.90 mph in Q4 also earned him a bonus point.
"The car's been good, and we've been quick in a couple of sessions," Crampton said. "We just had some unfortunate delays on the starting line, which plagued a couple of the runs, and that's just how it is."
Image credits: John Doig (Wayne Newby, top), Geiger Media Global (Richie Crampton, second)
Pro Stock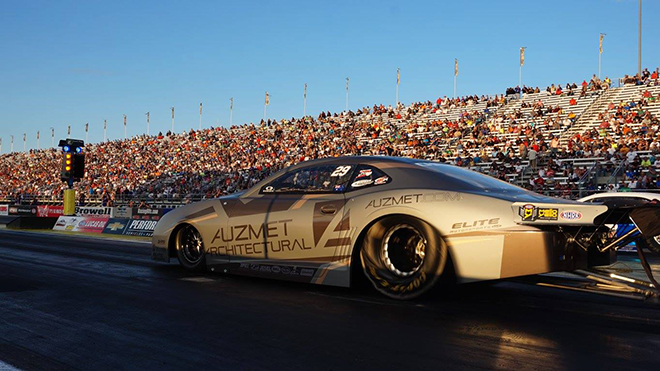 In his long awaited return to racing, Shane Tucker found himself on the bump spot going into the final two rounds of qualifying.
Through the first three rounds Tucker recorded a 6.701 at 206.35mph, 6.805 at 206.16mph and a 6.714 at 206.80mph.
Unfortunately the fourth session did not go to plan with problems following the burnout. As he staged and the rpms increased the car jolted forward and came to a stop.
With pressure mounting to get into the show on the fifth and final hit out, Tucker recorded a 6.752 at 207.02mph to finish in 19th but the Aussie gave it a good shake up after an extended time out of the seat.
Image credit: Shane Tucker Facebook
Competition Eliminator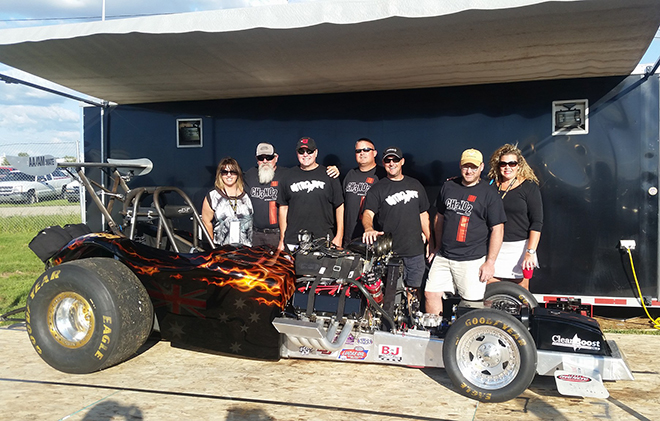 Mathew Leonard completed a series of personal bests to reach the second round in a stacked 51-car Comp Eliminator field.
Following an early shut off shake down in qualifying on Thursday, Leonard recorded his first PB of the weekend with a 6.731 at 201.58mph. On Friday he blew that effort out of the water with a 6.629 second pass at 204.54mph securing 40th position.
Round 1 eliminations saw another round of firsts as the ex-pat South Aussie defeated Doug Engles with another personal best 6.557 at 207.18mph including a best ever reaction time and a first 60ft time under one second on alcohol with a 0.996.
Continuing his good form, Leonard set yet another personal best in Round 2 on a 6.537 at 207.66mph, but heartbreakingly it was not enough to take the win from number two qualifier Jason Coan.
"We gave it our best shot. We ran another personal best ET and mph and just fell short by four hundredths," said Leonard.
"What a race event! The crew was awesome every day, Andrew and Amy continue to cook up a feast – I am not having a problem making weight for the class.
"Totally stoked on how it all went down – Warren, Jane, Mike, Scott, Andrew, Amy, Natalie, Alison, Mum, Dad and of course Lisa and Gemma, I can't thank you enough. Bloody proud of what we have achieved – time for a beer, or a dozen."
Image credit: NitroRat Racing Facebook