Qualifying in the ANDRA Drag Racing Series got underway today at the 2015 Fuchs Winternationals at Willowbank Raceway.
A big crowd under sunny skies was on hand to see Top Fuel, Top Alcohol, Top Doorslammer, Top Fuel Motorcycle, Pro Stock and Pro Stock Motorcycle make their first passes in anger for the weekend.
The Fuchs Winternationals always produces big moments and that moment came when Gary Phillips, chasing his 17th national Top Alcohol championship, experienced a scary accident when his Lucas Oil Funny Car took a hard left turn at the hit of the throttle when oil got under the rear wheels.
Pointing at almost a full 90-degree angle, Phillips mounted the wall, sending the body into the air, before coming back onto the track hosing fuel and eventually coming to rest down track. Phillips was looked over by medical staff at the scene and given the all clear.
As unfortunate as that incident was, it seemingly opens the door for John Cannuli in the title chase if he can reach the semi finals and Phillips does not qualify in a repeat of the 2014 Australian Nationals. At that event last November Steven Ham needed to reach the final to win the championship. But Phillips isn't conceding defeat just yet and may return with a back up car on Saturday.
"We had a broken oil line, and the oil got under the tyre," said Phillips. "When that happens, you're not steering the car … you are just along for the ride. I'm fine."
Cannuli himself got out of the groove and brushed the right wall in his qualifier but he'll live to fight another day with two more sessions scheduled for Saturday. For now Steven Reed sits in number one thanks to a 5.541 second pass followed by Jon Sting on a 5.573 and Jamie Noonan with a run of 5.654 seconds.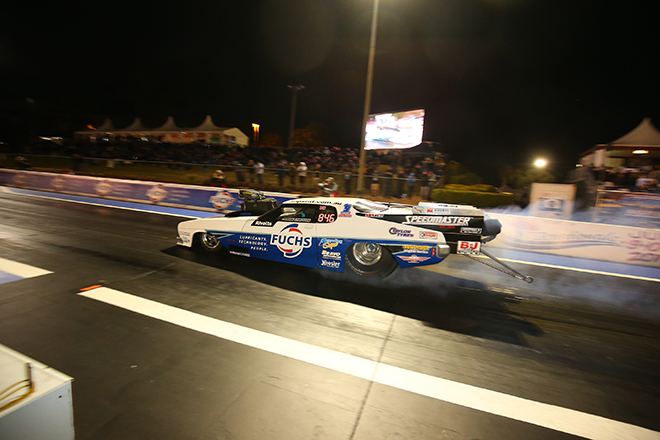 Ben Bray finally made his return to ANDRA Drag Racing with a solid 5.973 effort to hold onto first position for most of Top Doorslammer until John Zappia set a new Willowbank Raceway personal best with a 5.730 at 253.37 mph.
That run headlined a tough session for most teams with only Marty Dack entering the sub six-second zone with a 5.980 second pass.
"It was pretty good, it could have been a bit quicker off the start, said Zappia. "It sort of pulled us a little bit off the start and at the top of low gear it started to spin the wheels and shake a little bit and I peddled it and punched second gear and carried on.
"Probably short shifted a little, but it was a pretty good run. It went pretty well went down the middle – got a bit too close to the wall in the braking area. Just you know having that first pass, especially in the dark it can be pretty hairy for the first one, I usually like to have my first pass during the day, but tomorrow should be good – we got (today) out of the way and the pressure is off.
"Tomorrow we'll start fine tuning it. Obviously the track should be better tomorrow 'cause it was a bit slippery for some and we nearly over did it in first gear but it was real close to being a 5.68 run. It's there we've just gotta fine tune it to this track. We'll be in the left lane tomorrow; we'll see how that goes.
"Now that I'm qualified, it's all going to plan like last year where we started with a senior six and just improved and improved during the day. That's the plan."
The highlight of Pro Stock Q1 was a side-by-side 6.933 and 6.949 from the Tremayne brothers to put Aaron number one and Tyronne number two. Nino Cavallo was close behind with a 6.965 and Emilio Spinozzi running a 6.992.
For the Tremayne's it was a big step forward as they look to match Lee Bektash who ran his record 6.877 at the Australian Nationals last November.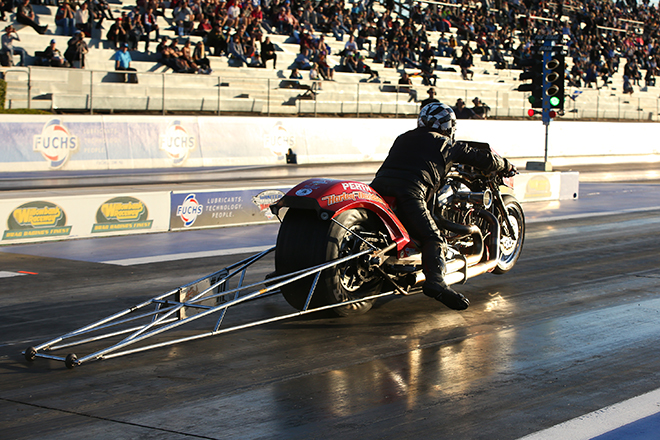 Mark Drew leads Top Fuel Motorcycle into day three on a 6.556 second pass that looked far quicker from the sidelines while Gavin Spann, winner of the 2014 Australian Nationals, occupies 2nd with a 6.991 ET.
Chris Porter, racing just one week after a high speed tumble at the Winters Warm Up started strong on his run but soon diverted toward the centreline getting off the throttle early. Phil Parker was unable to make a representative pass and American Darian Guillory shutdown at the startline.
Brad Lemberg set the standard on the first run in Pro Stock Motorcycle with a 7.285 elapsed time at 172.02 mph while Luke Crowley hop, skipped and jumped on debut of his new Suzuki.
Locky Ireland, Scott White and Ryan Learmonth all hit the 7.50-second zone with Lemberg's ET holding until the final pass when championship leader Maurice Allen recorded a 7.279 at 182.35 mph to lead PSM into day three.
Top Fuel Q1 was uneventful as most teams struggled and none were able to make a representative pass. More often than not it was over by 100 feet when the tyres spun resulting in early shut down.
Qualifying continues tomorrow from approximately 1pm. To view Q1 results please click here.