When Top Sportsman racer Leon Davies arrived at Alice Springs Inland Dragway he was smiling as much as any other Summit Racing Equipment Sportsman Series competitor, but little did he know what was to come.
Davies was in the pits on Friday night, turning his motor over to get some fuel out of the system, when a fire erupted in his engine bay. After some frantic moments, teams began running from all over the pits with fire extinguishers in hand to put out the blaze.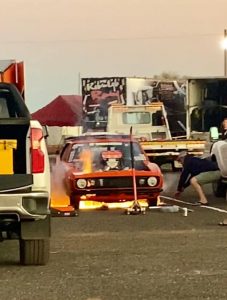 As the flames were doused, Davies was left with a race car that was far from being in racing condition.
"It was pretty bloody scary," he said. "When we drove from Darwin to Alice Springs, I capped my fuel tank to keep any moisture out. What happened was the fuel tank expanded and pushed fuel through the return lines in the methanol injection, and it filled my motor with methanol. I pulled the plugs out to get the methanol out of the engine, and as we were bumping it over on the starter motor something has caused a spark and boof, she was on fire.
"We are not sure what caused the spark, maybe it was a solenoid or the ring gear. The starter motor was a sealed unit."
Once the situation calmed down, Davies needed to reflect on the damage. Not only was there plenty of melted wires, but the extinguisher powder had gone through just about everything.
"We spent countless hours on Saturday trying to clean everything up because of the grit in the powder. I was actually surprised it did not burn more than it did. It must be that good PPG paint I used!
"We had the rocker cover off so that was a worry, and everyone recommended I try to get as much oil through the motor as possible to try and clear it out as the powder can be corrosive."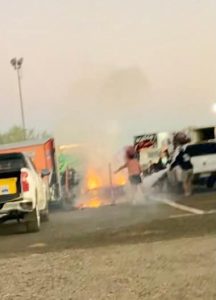 By Sunday morning, the Camaro was running again in time for the final sessions of Top Sportsman qualifying. As the points leader following his Top End Nationals win, Davies wanted to keep his championship in good shape.
"I took it for a drive down the return road and it seemed fine," he said. "I'd lost most of my gauges but I still had an oil pressure warning light and I got a temp gauge to work. We did two qualifiers and the car was running reasonable numbers, but we went out in the first round to Vlado Turic after we had a little issue with the gear change. It was certainly strange to go from such a high in Darwin to a low in a matter of days."
Davies has now returned home to Port Lincoln in South Australia, where he said he was planning on pulling down the motor to get it checked for any damage the team might have missed at the track.
"We won't make it to Benaraby but we are hoping to make it to Mildura in September," he said. "I would like to thank everybody who offered us help at Alice Springs. That's drag racing, highs and lows, but the way everybody pitched in was amazing."
The 2021/2022 Summit Racing Equipment Sportsman Series continues at Benaraby Raceway for back-to-back rounds in the one weekend, August 28 and 29. For more information, visit www.andra.com.au or www.benarabydragway.com