As the ANDRA Grand Finals burst into life at the Perth Motorplex this weekend (April 6/7), Adrian McGrotty has been formally announced as the 18/19 Summit Racing Equipment Sportsman Series Super Gas Champion.
With no Super Gas competitors entering this weekend's event, McGrotty's title win comes courtesy of his performance across the rest of the season while 2017 Super Gas champion Colin Griffin has been heralded as the title runner-up.
The Mill Park (Victoria) resident's season included two event wins and a runner-up result.
"My season started at Mildura for the Sunset Strip Nationals and with three rounds of qualifying run within six thousandths of a second, I had a nice and consistent car," McGrotty said.
"I made it through to the final against Warren Smith, and it was a double break-out with my 6.29s being closer than his 5.83s on the 6.30s index to net us the victory.
"We then headed to Portland for the South Coast Nationals and I was able to top qualify before taking another event win, this time from Jason Wilson.
"In between those two events we had also raced at Swan Hill Dragway for the MDRC and VDRC fun day and I ran a personal best of 8.95s."
While all had been going very successfully to this point, no great journey is without its ups and downs.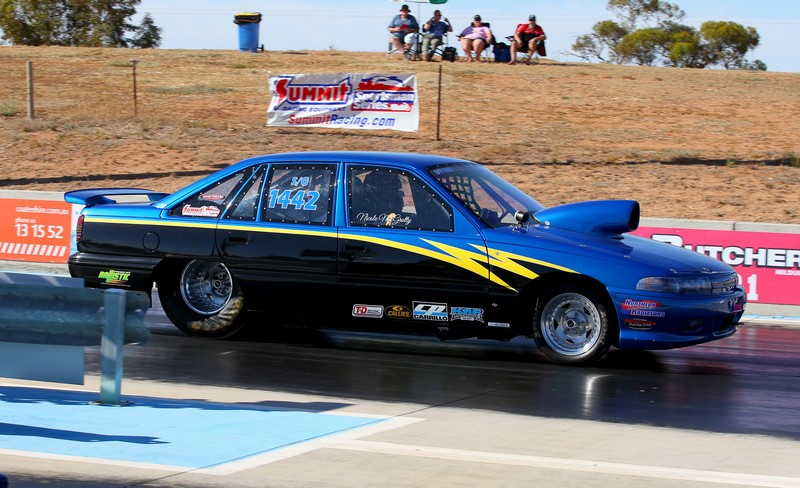 "Everything had been going great, and then some routine maintenance found metal in the oil. A screw head had broken off of the throttle stop blade and gone into the engine," McGrotty explained.
"After making some repairs, further disaster struck when a valve broke and caused some major damage. At that point it looked like I was done for the rest of the season, there was nothing I could do.
"Then, something great happened. Paul Turner rung me the next day and offered me his spare engine to use, which was greatly appreciated.
"After a quick thrash to get it into the car, we headed for a test and after making a pass, it was clear we had some work to do. After making some tuning adjustments, I attempted to make another pass only to break the brake pedal in the car!
"With the next Summit Racing Equipment Sportsman Series round in Portland only a week away, it was a hugely busy week but luckily for me I have some good people on my side.
"The brake pedal came out and was given to my dad for welding, we undertook a converter change, and the diff centre was pulled out and went to Andrew Waka from Supa Trik Differentials for a ratio change.
"We got the car all back together and went to Portland for the South Coast 660 event – to be honest, just being there after all we had been through was a big achievement. After qualifying with a 6.32s pass I was a little heavy on the brakes in the first round and was pipped by eight thousandths of a second! Even so, we still remained in the points lead and things were looking up again."
With everything now back on-track, McGrotty had a strong end to his season to take out the championship.
"We went back to Mildura's Sunset Strip for the Twilight Nationals and with an uneven field I knew I needed to qualify well. A 6.30s pass off the trailer was good for the top spot which we were very pleased with," McGrotty said.
"The pressure was on in the first round after Michael DeRose withdrew with a broken axle. After a close race with Charlie Saraceno I enjoyed a bye run in the semis before facing Colin Griffin in the final. While I ended up as the runner-up, it was still enough to clinch the top of the points ladder and the championship."
McGrotty is quick to point out that no championship occurs in a vacuum, noting he has many people to thank for their contributions to his title victory.
"I would like to thank everyone who has helped me along the way," he said.
"My wife Nicole gave me the push to keep on going, my kids Caitlin, Maddi and Zac (big chief) were always supportive, and I also need to recognise my Mum and my Dad – who was always ready to weld something back together for me – and also my long-time crew member Stan.
"Most of all this season I have to say a big thank you to Paul Turner for lending me his engine so we could keep racing, and also Andrew at Supa Trik Differentials, Rob Cassar for bringing my fuel to the track and the boys at Northern Suburbs Radiators.
"Finally I would like to thank the Mildura and Portland tracks and their volunteers who make it possible for us to race, and also Summit Racing Equipment for their support of the Summit Racing Equipment Sportsman Series."
McGrotty is one of two champions now confirmed for the 18/19 season, joining Jake Berias who was celebrated as the champion for the Summit Racing Equipment Junior Dragster bracket in February. Following the running of the ANDRA Grand Finals at the Perth Motorplex this weekend, nine further champions for the 18/19 Summit Racing Equipment Sportsman Series will be announced.
Both days of action at the Perth Motorplex this weekend will be streamed live online through the ANDRA website and Facebook page and tickets are available at the gate. For event information, visit http://www.motorplex.com.au/andra-sportsman-grand-finals/