This year marks 25 years since the Top Doorslammer category – which will be in action at this weekend's 50th annual Westernationals at the Perth Motorplex – officially became an ANDRA championship category.
In the quarter of a century which has elapsed since 1996, countless edge of your seat races and gasp-inducing performances have been delivered by a long list of Top Doorslammer pilots and their impressive racing machines at quarter-mile and eighth-mile tracks all around the country, with many US drag racing stars also coming to challenge the locals throughout the years.
The competition has always been fierce with the bracket a clear crowd favourite ever since its establishment right through to the present day.
Six national champions have been celebrated over that time and as we mark 25 years of Top Doorslammer in 2021, ANDRA caught up with some of them and asked them to reflect on the category.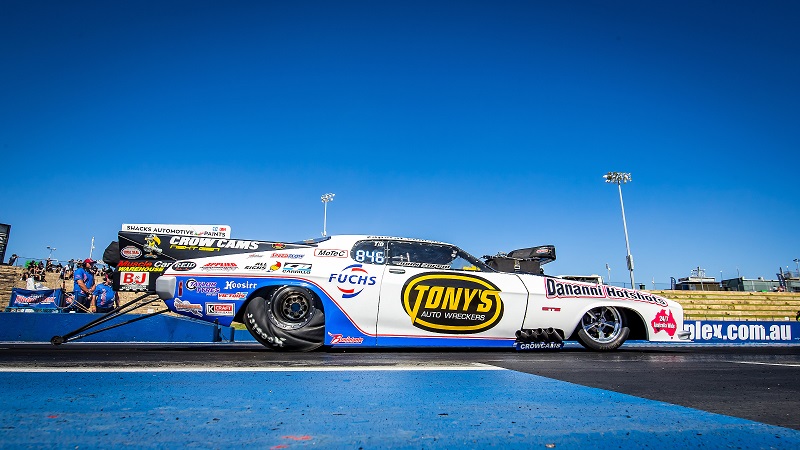 JOHN ZAPPIA: 10-TIME ANDRA TOP DOORSLAMMER CHAMPION (2017, 2016, 2015, 2014, 2013, 2012, 2011, 2010, 2009 and 2008) AND WILL CONTEST THIS WEEKEND'S WESTERNATIONALS
"I had been racing in the exhibition brackets and so on while the campaign was on to make Top Doorslammer an ANDRA championship class, but when it came in, they required a chrome moly chassis and my car had a mild steel chassis and so wasn't eligible," Zappia said.
"So, I wasn't there until about 2003, when we built a real Top Doorslammer and started to run that at the Perth Motorplex. It was at the Westernationals that we came out with that car and ran Top Doorslammer for the first time and we went 6.25sec in our first meeting out!
"Things with the category have moved along fine since it was established with stable rules for years. Then a few years ago we saw some people wanting to do things differently with high-tech electronics, auto shift and five speeds.
"I am still managing to keep my nose in front with performance regardless of all that stuff they have introduced to the class. Most of the cars here in Western Australia run the three-speed with a clutch and shift manually, so the class hasn't changed a lot here. There is some new high-tech stuff that has raised its head and a lot of people aren't happy about it, but it is what it is. That is evolution I guess, people always want to find a new way to go fast and if they can't beat you one way they are going to try and find another way to do it," he grinned.
"Looking back over all my years competing, a few performances in particular do stand out. Of course, claiming 10 ANDRA Championships in itself was a huge milestone. Running the first five second pass in 2005 will always stand out too, and then my first championship which came shortly after that in the 2007/2008 season.
"We will keep on coming back – we enjoy being at the top of the heap and are always looking for ways to improve the performance and then at the same time whenever you think about pulling out you go, oh but I don't want to let that guy win or that other guy win! I would be sitting back and going I could have done better, or I could have beaten him, so we will just keep going and then we don't have to worry about that!" he laughed.
"As long as the sponsors are still there to help us travel and get to meetings we will keep going – without the sponsors we just couldn't do what we do in the Dannani Hot Shots/Tony's Auto Wreckers Monaro. And the same goes for my volunteer crew as well – I can't thank them enough for the hours they put in and the passion they show to help me achieve our goals. When I do eventually step away, I think I will probably move into a tuning role so I will still be involved.
"Ahead of the Westernationals this year I am feeling pretty confident. Last year we struggled in qualifying, finally getting it going in the third session only to come out in the first round and have an air line blow off and cost us the race. This year we have gone over everything and made sure everything is where it needs to be as we never want to lose for little silly things like that.
"We have just had two wins in a row at the last two events here in Perth – one was a Summer Slam event and the other was a Top Comp event – and the car has been running consistent low 5.70s, so we are hoping if the weather is kind to us, we should be able to get the car back into the 5.60s and keep powering on with better performances.
"The Westernationals is definitely a special event for us. Not only is it where we debuted in Top Doorslammer 18 years ago, it is the only event in WA where we can secure a Gold ANDRA Christmas Tree.
"We have had a lot of things go wrong at the Westernationals over the years – we have won a few, but we have lost more, so we are keen on making amends and trying to just be there at the end!"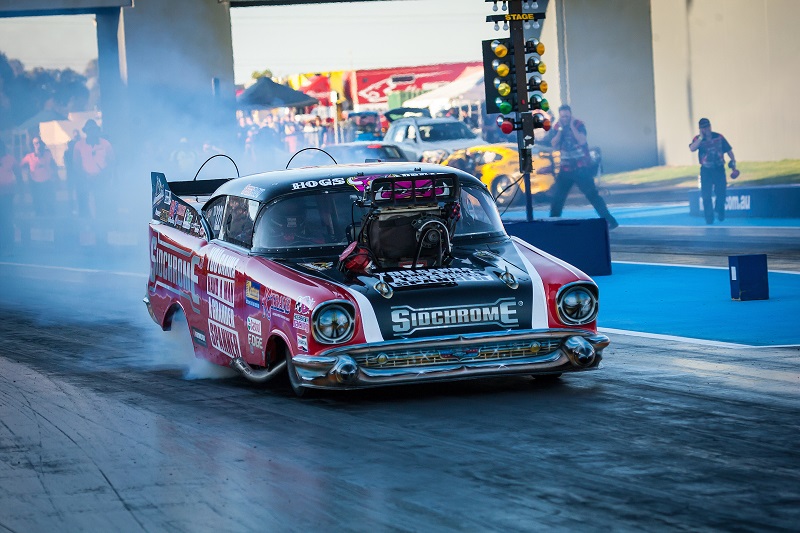 VICTOR BRAY: SIX-TIME ANDRA TOP DOORSLAMMER CHAMPION (2001, 2000, 1999, 1998, 1997 and 1996)
"It all came out of the Wild Bunch. There were a lot of us doing it at the time, it was an exhibition sort of class, but we were always dreaming of having a heads-up class one day," Bray explains.
"We had several meetings about it and there was a bit of friction about opening up a new Group One class, but we just kept on and one day it was decided there was enough of us that wanted to do it and it was turned into a class, although some great racers couldn't continue into the G1 class due to available time due to business or family commitments and increased costs and that was a real shame.
"I like to say that the class should give me and George Glasby a pat on the back for what we did in 1995 when at the Australian Nationals at Calder Park there had been some friction as to whether you could run both in Group Two and also run in the Exhibition Doorslammer class or if it had to be one or the other.
"We wanted to do both, and so did others, but there was disagreement as to what could happen. So George and me were first up and we towed out and that was that , the other teams towed back and ran the Nationals while we were no longer running at the event – it was our first year with Castrol as well so that was a bit nasty – but we feel it was a bit of an action that caused people to go 'okay, it is time' as far as establishing the class goes, so with that result it was good in a way!
"Some people will say it was easy to win back when I won and Benny (Ben Bray, Victor's son) won, but I always say – well they were all there and they could have won it and they didn't! I raced against half a dozen Americans and won championships against them. I won against Scotty Cannon who I think is basically the best Doorslammer racer of all time, and also against Johnny Rocca, John Scialpi and four or five other ones, all competitive US race teams.
"The class is still solid now, although it has probably gotten a lot more expensive and I think that is something that needs to be addressed as many people just can't afford to run. I think it is important that guys can know they can turn up and have a shot at winning. With some of the more expensive approaches coming in nowadays I think that is no longer the case and that discourages people from taking part which means there are a lot of cars sitting in garages.
"John Zappia is one who has had a fabulous run in the bracket. He was good and he was tough back when I was winning, and he is just so focused, and it shows in the number of races he has won. He is probably someone that a lot of people should base their focus on, and he is one who races off his own back – he does not have the advantage of some of those other guys, he races off his own true grit and he races so well to the rules that were made in 1996 and he still wins more than most without new technology most teams utilise.
"Reflecting back on my titles, one of the best would have had to be in 1997 when Scotty Cannon was over here – he was the best in the world then and I believe he still would be now if he didn't have a sore back. He is the best in the world on-track and when it came to his attitude.
"The 2002 Australian Nationals event is also a stand-out, but not because of my own success! It was Ben's first ever Top Doorslammer event and after all my talk telling him to not be too disheartened if he did not qualify as it was a very tough bracket and a big event, he not only qualified but won the event on debut at 17, while I failed to make the field for the first time ever!
"He told me later that night, 'that wasn't that hard,' so ever since he has had a sticker that I put on the back of his car that says, 'world's fastest smart arse!' Benny really did shock everyone – including me – with how he took to it. He won a couple of titles along the way, but he has also invested heavily in his Sport Compact and Radial stuff nowadays. He really did surprise the hell out of me and watching him has been a real highlight alongside all of the things I have gotten to do on the drag strip.
"Every team wants to race in Top Doorslammers, and everyone loves it. I think if the class can re-find itself a bit, and cut down those costs, it has a great future ahead."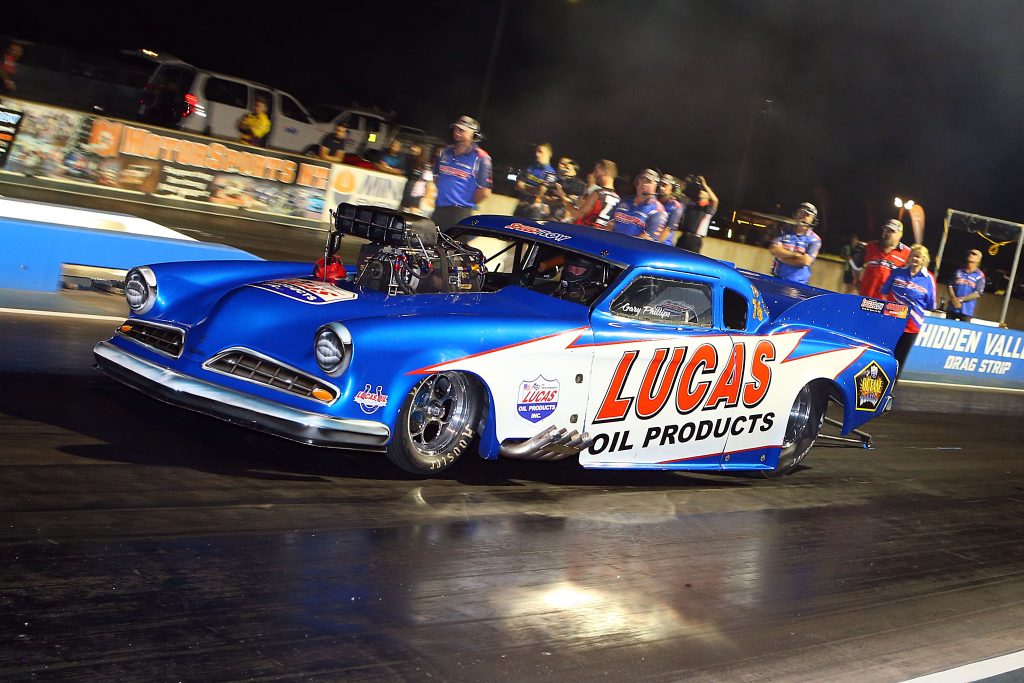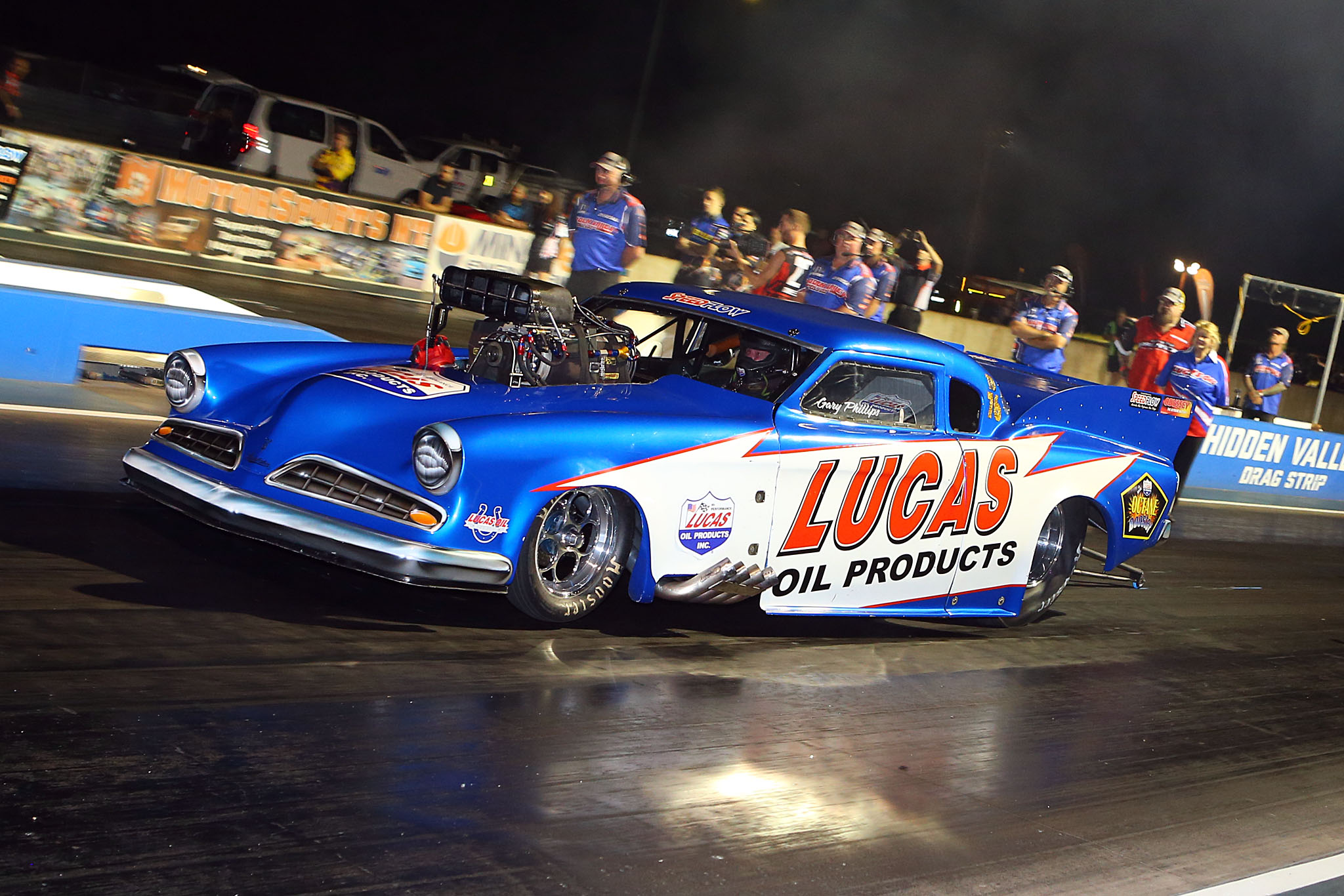 GARY PHILLIPS: 2007 ANDRA TOP DOORSLAMMER CHAMPION
"We weren't running the Studebaker when the class was introduced in 1996, but it provided the perfect opportunity along with our Top Alcohol car to extend our marketing program with Lucas Oil Products, so we started racing the bracket in 2000," Phillips said.
"The main thing that stands out to me when I reflect on the bracket's development is the increase in the performance level.
"When we started, if you could run 6.20s you were king of the kids. Now you better be able to run 5.60s or low 5.70s.
"It is a really good class, but the challenge and fun part to me as a driver/tuner is bringing the engine up to high RPM, then bumping it into stage with the clutch and shifting the transmission on the run.
"There are some really good drivers on the West Coast that still do this. In my opinion using a two-step from an idle and auto shifters has taken away most of the driver input. I am just a traditionalist that likes the challenge of the foot swap with a clutch car, which can make or break a run.
"Reflecting back on my years in the bracket, we had quite a few number one qualifiers, wins, and runner ups over the years but we always concentrated on being consistent with our runs. This is how we have always raced (and still do). It paid off with a Championship in 2007.
"Our other highlights were our first five second run, and also being the first sedan in the world over 400kmh. What we are most proud of is the ability to run at the pointy end of the field without hurting parts."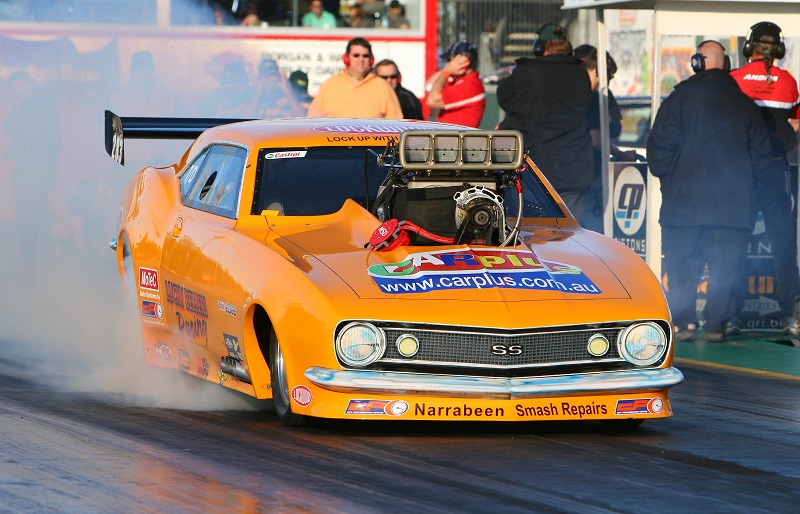 STEVE STANIC: 2006 ANDRA TOP DOORSLAMMER CHAMPION
"I was crewing for Lucky Belleri at the time Top Doorslammer became an official ANDRA Championship category and it was certainly a huge step forward for everyone who had been aspiring to get to that class. It was a tough process to go through and there was opposition from some of the other classes, but I think it has been beneficial and proven to be very successful over the years," Stanic said.
"I think they struck a pretty good formulation for the class from the start and it stayed like that for a long time because it has been so successful. Of course, lately we have seen some guys coming in throwing a lot of money around which happens in most classes, but I think the governing bodies have always tried to maintain a reasonable cap on it.
"Reflecting back on my championship year, it still holds very fond memories for me. There were a lot of tough cars and I think I was probably lucky that we got in just before John Zappia got in and started his streak. He had a few hiccups that year, but still to beat the calibre of cars that were racing at the time and racing very closely together with not a lot of disparities in times was really great.
"There were a lot more cars vying for a championship, it was so close, and so to end up at the top of the pack against those guys is definitely something I do still reflect on and that I am proud of.
"I am just humbled to have been associated with the class. It has been great fun doing it, I have met a lot of great friends and it will be interesting to see what the next few years hold."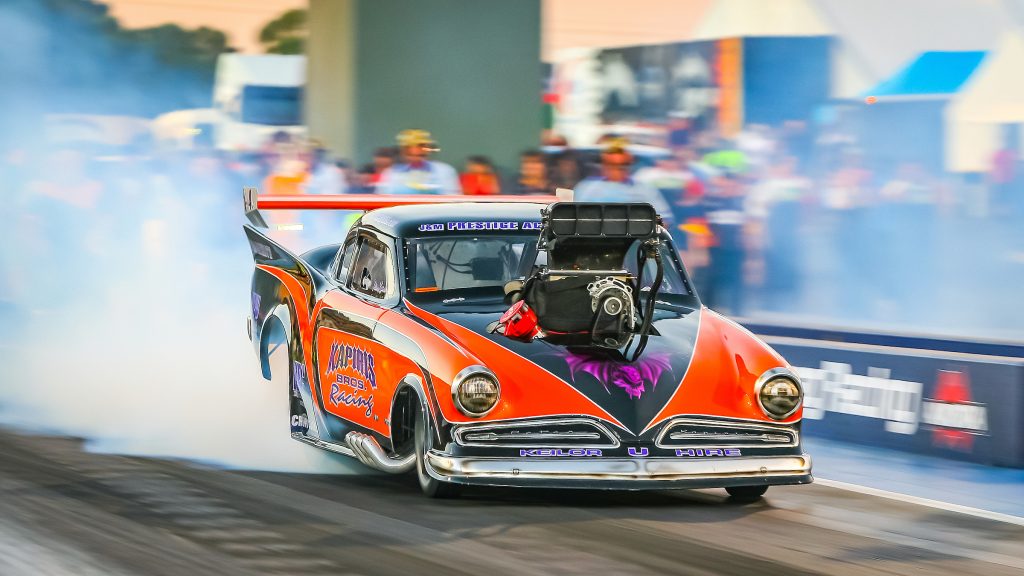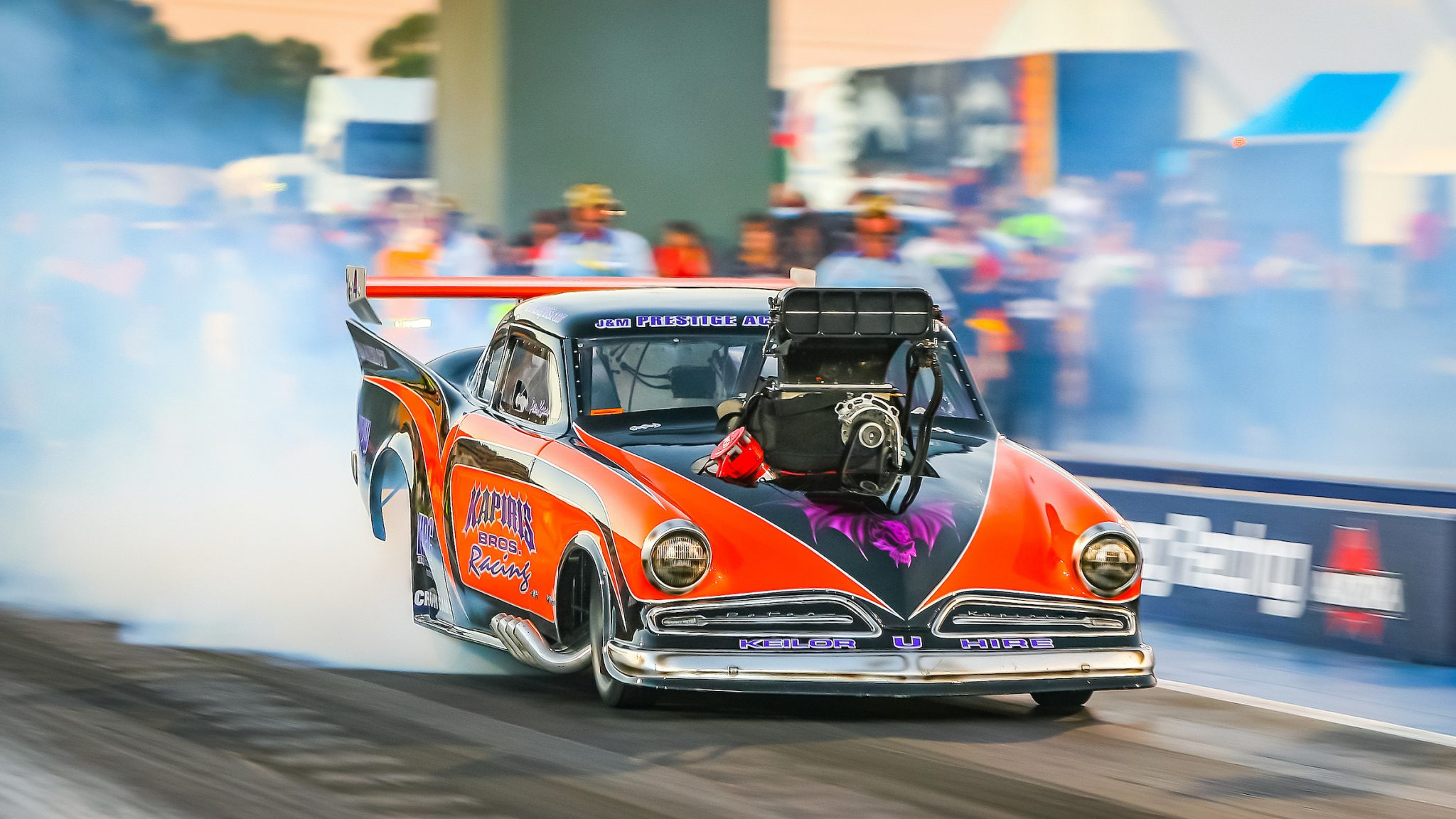 PETER KAPIRIS: 2002 ANDRA TOP DOORSLAMMER CHAMPION
"In the 90s we had been running AA BB Gas and the wild Bunch, with the likes of Victor Bray, Ben Gatt and George Glasby – just to name a few," Kapiris said.
"A few of us decided to get together and lobby ANDRA to set up Top Doorslammer as an official ANDRA Championship Class, and we have never looked back!
"Even today it is obviously the premier bracket as far as I am concerned, just going by the amount and the quality of cars you see in the category.
"The performances are always impressive too; these cars just keep on getting quicker!
"Thinking back to when I won the title, it seems like so long ago now, but it obviously was and still is a real highlight of my racing career.
"I look back now and reflect on how that year it seemed I could do no wrong – believe me, I did plenty of mistakes before and after!" he laughed.
Top Doorslammer will feature as part of an action-packed schedule for the Westernationals this Saturday and Sunday (February 27/28). For event info, go to www.motorplex.com.au
For more from ANDRA, go to www.andra.com.au