The 2021/2022 Summit Racing Equipment Sportsman Series was a come back season for Phill Paton after nearly two years away, but that didn't stop him putting together a championship winning and record-breaking performance to secure his maiden ANDRA national title in Competition Bike.
How did you get into drag racing? 
I had a passing interest in drag racing and had entered the occasional street meet at the Perth Motorplex over the years. But it wasn't until my good mate Morry Cantaralla started competing in Modified Bike and I went along as crew for a few meetings that I considered stepping in to racing. We'd previously put together a pretty serious turbo charged Suzuki GSXR streetfighter road bike that wasn't getting a lot of use, mainly because it just wasn't licence friendly. But crewing at the track got me thinking that this drag racing thing would be an opportunity to get some use out of the bike where it was safe for both myself and my licence. So, I made up some weld in swingarm extensions to tame the wheelstands a little, got it tech'd and started off from there. While it was fun to ride, that bike proved to be too inconsistent to be competitive in the super tough Modified Bike field, so it was retired to the shed while other bikes were built, developed and raced. But by then, the racing bug had gotten under my skin, so all other projects then went on hold and racing became the focus.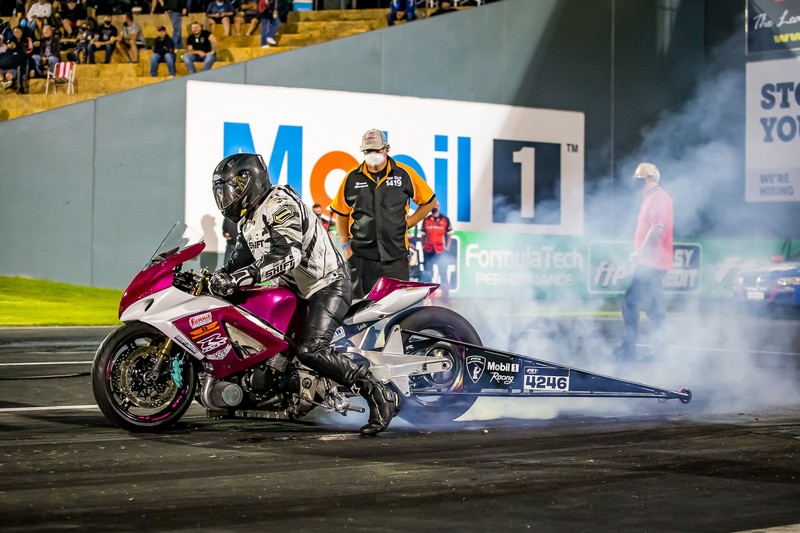 Why do you choose to compete in the Competition Bike category? Do you have plans to try other classes? 
While I enjoyed racing in Modified Bike, the current race bike went through an engine/turbo upgrade some years back which would mean the bike had the steam to be able to run numbers needed to be competitive in Competition Bike. So, the decision was made to change classes and then work out how to actually make the rest of the thing fast enough. That started the development process which of course never really stops.
At this stage I don't have any plans to run in any other bike classes, I'm happy in Competition Bike but I do plan to get my street car back on the track for some Wednesday night meetings and you never know, it may pop up in a Super Street field or a drag and drive event one day, just for kicks.
What was your favourite event of the 2021/2022 season and why?
It's hard to say which event was my favourite this season but I think I'd have to say the Grand Final meeting at the Perth Motorplex. When you combine the quality facility, the track team, all the racers coming from around the country to compete and the buzz created by Top Fuel and Top Fuel Motorcycle, the place was electric and we were running solid numbers all weekend, finishing off with a new PB in the final that also brought with it a new track record and both ends of the National record, not to mention the title!
Now that some time has passed, has it sunk in that you are the National Champion? What does it mean to you to have achieved the title?
While it is great to have picked up the title, it wasn't a target we had considered at the beginning of the season, so we are super stoked to be able to have taken it home. But it is amazing to have some recognition for the work that I, the team and everyone that supports us has put in to get the bike performing faster and safer than ever. I am sure that now the landscape is changing as far as interstate access goes, that the competition will be much tougher next season.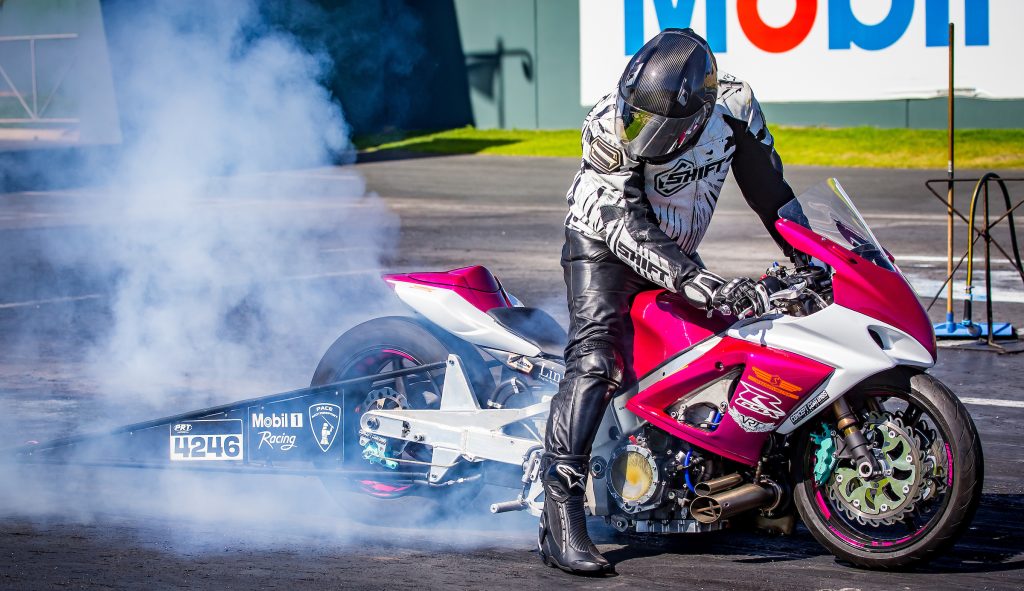 What was the highlight of your season aside from taking out the title?
The highlight for me is that we were able to reset both ends of the DD/CB quarter-mile record three times each out of three race meetings and both ends of the DD/CB eighth-mile record in Mildura with zero mechanical or reliability issues. Also racing in Mildura was another highlight, the passionate team out there made the experience a real pleasure.
What are your plans for the upcoming season?
We haven't yet decided what we'll do next season. There are a few minor development items to do to the bike over the next few months, but it'll remain mostly unchanged. As to whether we follow the national series in an effort to retain the title, I can't say because up to a few weeks ago, we'd only intended to be an occasional competitor next season. I guess we will all find out when it happens.
Who would you like to thank for the roles they have played in your title season?
This bike and our efforts would be nothing without people who support the team and what we do, Brett Ghedina from Pace Motorsport has been right behind the engine and tuning development from the very beginning and continues to provide big, reliable horsepower, all the electricals on the bike and can handle pretty much anything else that needs to be done. Niall from Straightline2Ten Panel and Paint has been painting all of my bikes for years and this bike in its Candy Apple Fuscia colour just looks amazing. Darrin McDonald assisted with the chassis and wheelie bar development and the bike handles so much safer and is far easier to ride now thanks to Darrin. Then of course, there's my team. Chief amongst those is my wife Vicki, my son Chris and Mick Hollister who has been helping me this season while his own Altered Bike is going through a substantial revamp. I also want to give a very special thanks to Gordon Crawford, I wouldn't have this title without Gordon's help. But the biggest thanks go to the unsung heroes of drag racing, the management, track staff, track and ANDRA volunteers at every facility in the country. Without them, we'd all just be bench racers, so they deserve all of our thanks and respect.