When Lisa Garbellini claimed the 2021/2022 Summit Racing Equipment Sportsman Series National Championship for Super Street, she dethroned none other than her own husband, Paul Garbellini, who was happily forced to settle for runners-up honours this year.
It is believed that this is the first time a husband and wife have each won the national championship in the same bracket, and the first time they have locked out a 1-2 result.
What does it mean to you to be the first husband and wife championship pair and how did it feel for you to not only take the title after he won it last year, but also take the title while he was the runner-up?
It is pretty amazing to be the first husband and wife 1 and 2 in a national championship. I think we always had it in the back of our minds that being 1 and 2 would be cool whichever way it happened. We didn't think too much about it at the start but once everything started to fall into place, it felt amazing. It is definitely a dream come true. I never thought I'd be able to do it, but to be able to achieve it and having Paul by my side all the way, there isn't much else I can ask for.
Now that you have one title each, are the bragging rights equal at home, or do you feel you have the edge given you not only won it this year, but beat him to it?
I think the bragging rights are pretty equal at home, but I do keep reminding him of the order this year!
What is it like for you racing alongside your husband and competing alongside each other for national titles?
I always like racing against Paul, I believe he makes me a better racer as we both push each other to be more competitive.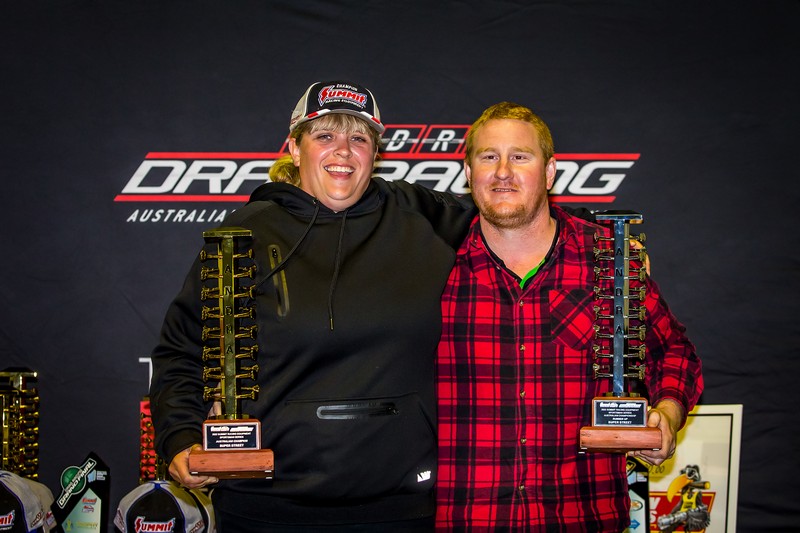 Do you think you, or Paul, can take it out again next season? Will you be attempting to do so?
We will definitely try our best next season. I think we will see how we go in Perth with the two rounds we have, and if one or both of us are in with a chance, then we will travel to get the points we need.
Now that some time has passed, has it sunk in that you are the National Champion? What does it mean to you to have achieved the title?
I still can't believe it has happened, but having number one on the car reminds me every day and puts a smile on my face every time. It is a huge achievement for me to have won it in my first year, I don't think Paul wants to take me again! It is definitely something ticked off the bucket list.
How did you get into drag racing?
Paul got me into racing in 2012. Once I brought my own V8 in 2011, he took me down to the Perth Motorplex for a Whoop Ass Wednesday, and then I slowly moved into the Fast series where in one meeting I met him in the final. We both had pretty good lights and looking at him over the finish line with the win light in my lane, got me hooked. It was the first time I was able to beat him in racing and ever since then I was hooked.
Why do you choose to compete in the Super Street category? Do you have plans to try other classes?
I choose to race in Super Street bracket because I can have a street car and drag car in one. I drive it every day and to be able to race it as is with just changing the tyres and being able to drive it home is pretty satisfying. In the distant future I'd like to race in Top Sportsman, but I am quite happy in Super Street at the moment.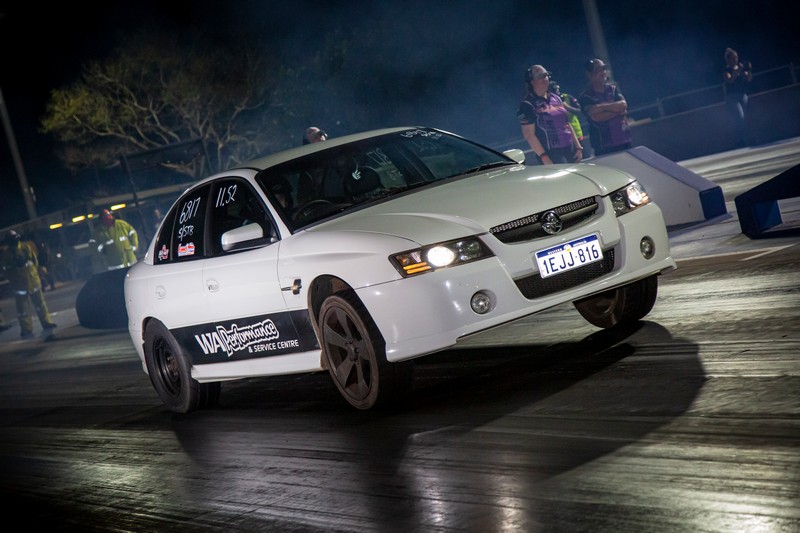 What was your favourite event of the 2021/2022 season and why?
My favourite event in the 2021/2022 season was winning my first silver Christmas tree trophy in Darwin. Once I found out that I won when I got back with tears in my eyes, I saw Paul running towards me, so I ran to him and hugged him jumping around in circles in disbelief that I had won.
What was the highlight of your season aside from taking out the title?
Being able to get 1 and 2 at the Grand Final in Perth was a big highlight for the season but also the NT rounds of the championship are so good. With being a week apart week, we make it a holiday and take in some sights up there.
What are your plans for the upcoming season?
With the upcoming season, unfortunately we won't be going to Darwin and Alice Springs again, as Paul wants to get his dragster ready, but if we do alright in the Perth rounds we may travel after, and see if we can do it again.
You and Paul are well known for driving your race car to events all over the country – please tell us about how you have managed that this season?
We drove Paul's car to Darwin and Alice Springs and with driving to many tracks around Australia he has got the packing of the car down to an art, people are actually surprised by how much we can fit in a Commodore. We only take tools and spare parts that we think we would need, giving the car a look over before we leave. The trip there and back went smoothly with Paul driving the majority of it.
Who would you like to thank for the roles they have played in your title season?
I would like to thank my husband Paul for organising my car to get taken to other tracks so I was able to race it, Gordon Crawford for transporting it, Mitch and Deb from WA Performance for the tyres to race and their continuous support throughout the season, Rocky from LSX Powertrain, the track staff from all the tracks, WADRA, ANDRA, the Rednut Racing crew and all of my family and friends for their support.