Daniel Gregorini achieved a goal so lofty he had avoided officially setting it this season when he raced through to defeat his childhood hero and ten-time champion, John Zappia, to claim the 2021/2022 Australian Drag Racing Championship for Top Doorslammer.
In the coming season, Gregorini will not only be looking to defend the title, but will also be joined on-track by his wife Lisa Gregorini as Scratch and Match Motorsport expands to be a two Doorslammer outfit.
How did you get into drag racing?
My dad used to race back in 1987 at Ravenswood when I was three years old in a HZ Premier running twelves in SS/T. From there he upgraded to a LX hatchback Torana in SS/A in 1995 running in the low ten second range and from there we worked on the car and got it into the high nine seconds where I took over in late 2001 when I turned seventeen.
Five years later and with one local championship under my belt, that was sold to step up to our current car which we debuted in January of 2009. The season just finished has been my 20th season/year in drag racing.
Why do you choose to compete in the Top Doorslammer category?
As a young kid at Ravenswood, I always loved blown cars and followed (I'm not gonna lie) John Zappia. He was every kids favourite. I did love Pro Stock cars when I was growing up too but sitting on the hill in the mid-2000s when Top Doorslammer was made a class, well nothing else tops the excitement on the hill when the likes of Zap, Fabietti, Bray and Kapiris came out and did halftrack skids. The crowd would go off and from that moment it was a dream to one day do it myself.
In 2007 I was luckily enough that when I finished my apprenticeship in Autobody Refinishing my boss at the time, Dominic Ilarda, was retiring so the opportunity arose to take over and buy his business with the support of my parents, who backed the loan with our family home. So, I purchased that business and Scratch & Match Autocolour was started, which then allowed me to work hard dark till dark, weekends and whatever else it took to build a Top Doorslammer.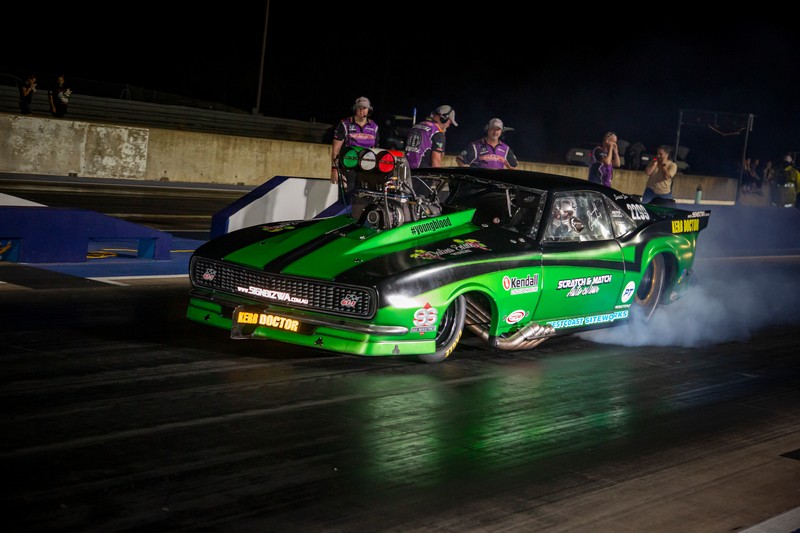 What was your journey like to the Top Doorslammer category?
We first built the car to run a few different classes. AA/AP the main one, so this car is twelve inches wider than your standard Doorslammer. We started off running a roots supercharger running AA/AP and then occasionally ran TD when the show came to town. Then we started to travel to a meeting or two every year to see what that was like.
In 2015/16 we upgraded to a PSI and went to full Top Doorslammer trim. We continued to chip away at our race developments until in 2018/19 we invested in the best parts possible on the market with Noonan cylinder heads, a Chance Convertor, QuickDrive and a Liberty five speed gearbox all run through a TSP billet 11-inch rear end diff.
After a year or two of adjusting to the new combination, it has now seen us be competitive and able to go quick and fast. At most meetings now it is like a flip of a coin to see who will top qualify or go fast MPH between me and John, with us setting the ANDRA MPH record last year in Darwin.
What was your favourite event of the 2021/2022 season and why?
All of the ADRC events were memorable for us as we did great in all of them. We got fast MPH at all of the events this season and three of five quickest ETs and three of five Top Qualifier Awards.
But the 2022 Westernationals would have to be the most favourite and memorable, as we took home a win over John in the finals and also took home the Crow Cams Top Qualifier Award presented by Decoglaze Glass Splashbacks as well as Fast MPH and Quick ET for a complete clean sweep.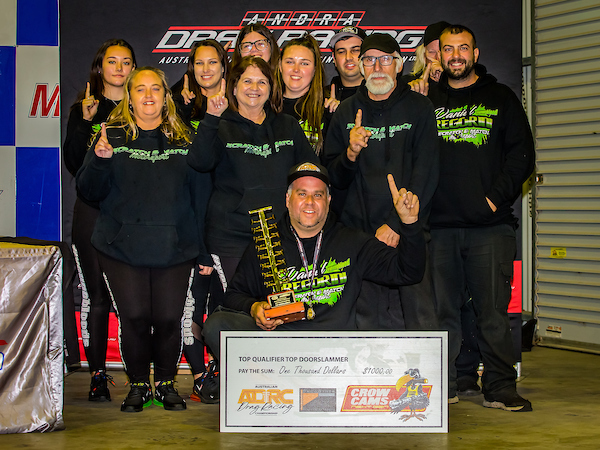 Now that some time has passed, has it sunk in that you are the National Champion? What does it mean to you to have achieved the title?
It started to sink in leading up to the event. We didn't yet have it locked away, but with such a big lead going into the Grand Finals I was feeling great leading into the event.
Winning the title completes my racing career. You always have goals and to win a ANDRA Xmas Tree was the first step and in a highly competitive group one class like Top Doorslammer, that's huge in itself. Setting ANDRA records was another goal, and we are the current MPH record holder. But to win a national championship was never one of the goals, as I never thought the little team from Bayswater WA could achieve this!
Anytime I ever want to stop racing now I, along with my team, can hold our heads up high as we achieved something we never thought was possible. And to stop John's ten-year streak dominating the class is something no other West Australian has achieved.
What was the highlight of your season aside from taking out the title?
The teamwork of my team and their commitment and never give up attitude is amazing. Also, the team spent all season with assistant crew members (from Lisa's all girl team) training them step by step while still maintaining their best quality work on my car. A lot of people thought the addition of the second car to the team would distract me and effect my ability to tune and drive my car, but to the haters I say thank you, you guys are the ones that make me push and help me succeed more than ever!
What are your plans for the upcoming season?
We have a combination that I am 100 percent sure will run into the 5.5s, so my goals are to keep chipping away at that, to be consistent and to keep doing what we do best.
Once that goal is achieved, it will be time for a new chassis and car from Jim Salemi at Gforce Race cars – a lighter, narrower and sleeker car would help us go faster and quicker, right?!
We are also working towards getting Lisa licenced and competing alongside me in Top Doorslammer which we are hoping will happen for round one at Hidden Valley.
Overall, we excited for the future and growth of our sport and can't wait to attend events all over the country.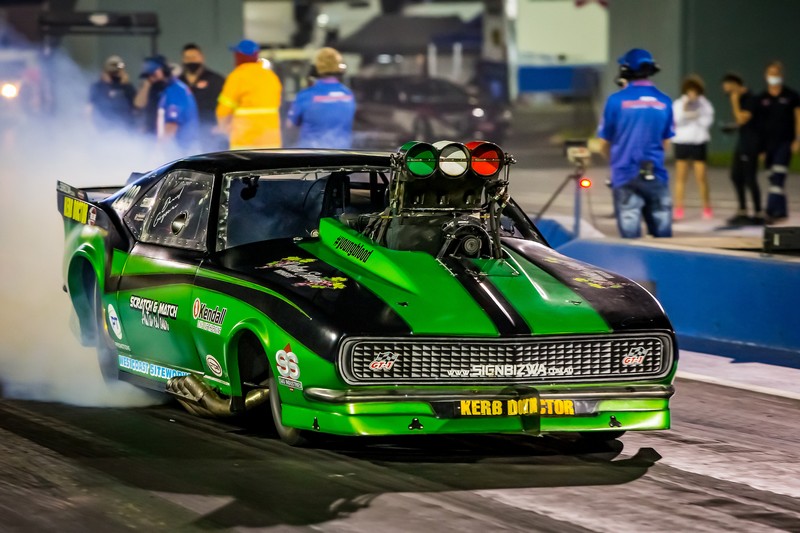 Who would you like to thank for the roles they have played in your title season?
Lisa and I would like to thank ANDRA, the ADRC, and all of the staff and volunteers at the tracks we attended throughout the 21/22 championship season. We met some great people in Darwin and Alice Springs, and we can't wait to get back to those tracks.
We would also like to thank our crew: Peter Gregorini, Neil Bruce, Chris Petruzzo, Graham Bruce, Tony Petruzzo, Maria Gregorini, Renee Simms, Hannah Johns, Mikayla Tipper and Melly Howard; and also, Liz Johns, Adam Stewart, James Rowland, Matt Gullotto, Ryan Learmonth and Wayne Keys who all helped us out along the way.
I also want to thank all of our sponsors past and present, there are so many that have helped us over the years, including our present major and supporting sponsors:
Major sponsors
Scratch & Match Autocolour
Kerb Doctor
Westcoast Siteworks
Kendall oils
Oil & Energy
S & S Industries
Dalisa Estate Winery
Supporting sponsors:
Signbiz WA
Go print
Dirty detailing
Final Drive Engineering
Gforce race cars
Resolution racing services
DMPE
Applied Automotive
Kinetic Engineering