The weekend's South Coast 660 at South Coast Raceway has provided a perfect start to 2020's Summit Racing Equipment Sportsman Series action for more than 150 competitors.
The event marked round seven of the 2019/2020 Series and the first for the new calendar year, hosting two big days of action across January 11 and 12.
After a busy day of qualifying on Saturday, Sunday hosted eliminations for 10 brackets with Jake Berias (Summit Racing Equipment Junior Dragster), Gavin Dohnt (Modified Bike), Kelvin Brian (Super Street), Graeme Cooper (Super Sedan), Kenny Stewart (Modified), Glenn Henley (Top Sportsman), Levi Addison (Competition Bike), Matt Forbes (Super Comp), Christine Steffens (Supercharged Outlaws) and Colin Griffin (Super Gas) ultimately hoisting Silver ANDRA Christmas Trees at the conclusion of the event.
Claiming the runners-up plaques were Allirah Kardum (Summit Racing Equipment Junior Dragster), Bryan Finn (Modified Bike), Nikolas Karanovic (Super Street), Enio Marrocco (Super Sedan), Chris Farrell (Modified), Jason Arbery (Top Sportsman), Tony Frost (Competition Bike), Louis Svingos (Super Comp), Tim Stewart (Supercharged Outlaws) and Graeme Spencer (Super Gas).
Also celebrated were Top Sportsman competitors Julian Carafa and Roc Puccini, who took home the Vinyl Wraps and Graphics Best Presented Award and a Perfect Light Award respectively.
By taking out the victory today in Modified Bike, Henly (VIC) racer Gavin Dohnt secured his fourth event win of the season and continued his Portland winning streak after winning last month's South Coast Nationals and also the 2019 running of the South Coast 660 event.
Also the DecoGlaze Glass Splashbacks Central Victoria Top Qualifier Medallion recipient for his bracket, Dohnt enjoyed a bye run in the opening round of today's racing before going on to dispatch Derryn McGregor and Shane Walker prior to his final face-off against Bryan Finn. The former champion from Stirling North in South Australia had earned his second consecutive finals match-up against Dohnt by virtue of earlier victories over Paul Cooper (round one) and Levi Addison before he enjoyed a bye in the semi-final.
"The weekend has been great. We had been hoping to test on Friday (which was rained out) as there were some things we wanted to try, so we tried all of those things at once in the first qualifier and that didn't work, but the remaining qualifiers were good," Dohnt explained.
"In the third qualifier the bike went quicker than it has ever gone by half of a tenth, so it went very well and the track was just excellent.
"It was really, really good (to get the fourth win). We have done one 'five-twenty' pass at Mildura previously but all of our passes today except for one 'roll off' were in the five-twenty range so the bike was running really well and the track was really good considering the weather – from the startline prep to all the way down the track it was just great.
"We have had a really good weekend – the Modified Bike crew has been great and it has just been a fantastic weekend with some fantastic people racing at a great club," he concluded while thanking Komatsu Forrest Products, LV Dohnt Forrestry, PB Suspension, and his wife Jodie for their support.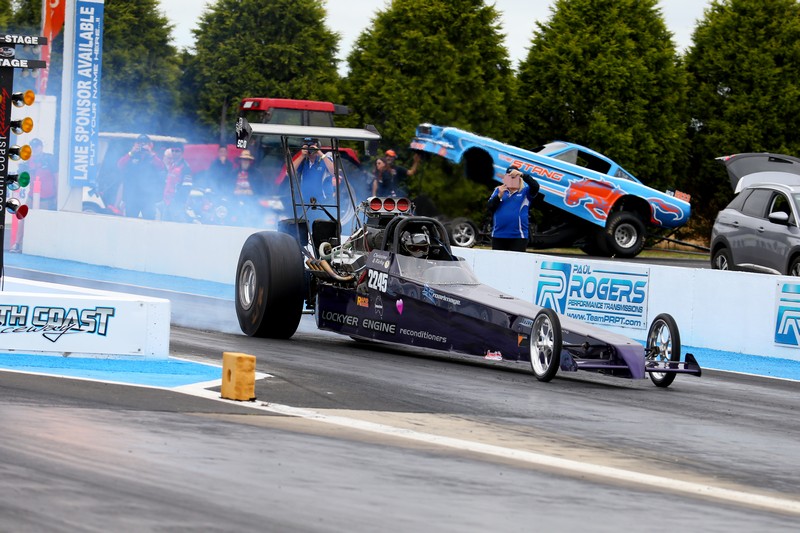 Another racer securing a fourth victory for the season today was Christine Steffens, who secured not only the ANDRA Christmas Tree for Supercharged Outlaws but also the Chris Stewart Memorial Trophy.
The Supercharged Outlaws racer from Queensland was also the Top Qualifier for her bracket, which allowed her to get her campaign for her fifth finals berth of the 19/20 Series (from seven events held so far) underway in strong form with a bye run in round one. From there she faced off against Kane Finn before taking on Tim Stewart and his 'The Stang' 66 Mustang Funny Car in the final. Stewart – who secured back-to-back runners-up plaques – had earlier defeated Jason Keily (round one) before enjoying a bye run in the semi-final.
"It has been a really huge month for us – we broke an axle on the trailer coming down for the South Coast Nationals last month and after we won that meeting, we left the car with Justin Russell of Spud Racing who worked with Tony Frost who owns Warrnambool Pedders to get the axle fixed. We came back down on Thursday to fit it back in and were very appreciative of their help," Steffens explained.
"It was a really bumpy weekend for us as I just wasn't finding my groove in the car, but thankfully we were still able to get it done in the final against Tim Stewart.
"Tim is a really tough racer, as is Kane Finn who I raced in the second round for a double break-out. They are all tough racers so we are really very happy to be able to take out a win in such a competitive field.
"To secure the Chris Stewart Memorial was very meaningful for us too and while I didn't know Chris personally, I feel honoured to accept this trophy, as we are all one drag racing family.
"This is our fourth win of the season and our fifth final, and I think it all comes down to having a good support crew with my husband Ricky and our crew guys Shaun and Dave – it is a real team effort with a bit of luck thrown in!
"My thanks goes to South Coast Raceway, all of the hard working officials and firies, Summit Racing Equipment and Lockyer Engine Reconditioners.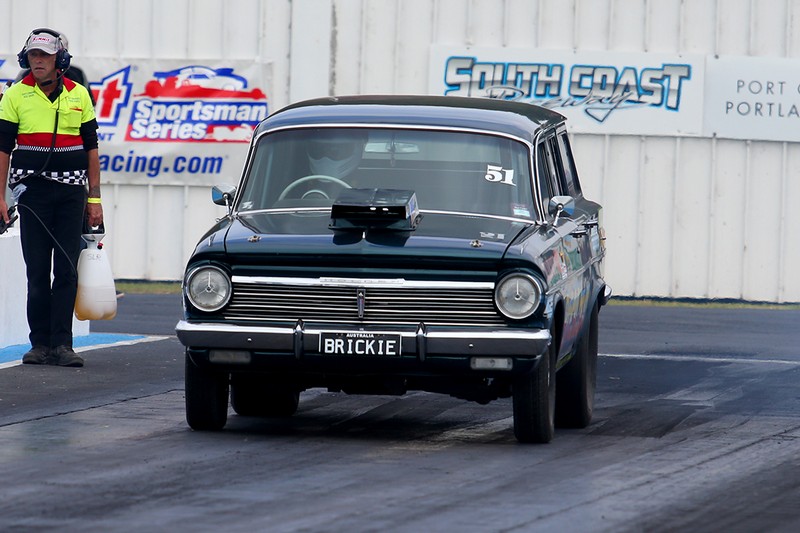 A popular victory went to the much-loved Bricklayer EH Holden Station Wagon of Graeme Cooper in Super Sedan, with the Hastings (VIC) racer emerging the winner from a finals battle against Enio Marrocco and his Gemini Coupe.
On his way to the final, Copper had dispatched Peter Tzokas (round one), Tony Tedesco, Steve Hunt and defending champion Martin Mirco while Marrocco had beaten Brett Mathew, Top Qualifier Brendan Carr, Tony Lamana and Des Jeffree.
"This is actually our 40th championship win including Victoria Divisional Championships, Australian Championships, Divisional Rounds and the US Nationals – there are 28 event wins and 12 Divisional Championships," Cooper explained.
"It feels pretty good! I got stuck on 37 there for a while – it feels very rewarding, we have been doing this for 42 years this year and it has been really, really good.
"It was a good meeting overall too, not just because we won but because South Coast Raceway always runs a good show down there.
"They threw some quality racers at us too – we had former champion Peter Tzokas in the first round, then Tony Tedesco who has been around for a while and Steve Hunt, then the current champion Martin Mirco. In the final I raced Enio Marrocco – we have been racing toe to toe since the nineties and he beat me up the last four times so it was nice to get one back on him!
"We just had a really fun weekend like we always do and we managed to take away another win, so that was really nice!
"I have to thank APS Service Centre in Frankston – I had a massive car accident on the way home from the Adelaide event where I wrote off my tow vehicle and two others in a freeway accident when I was cut off. They have been absolutely fantastic, lending me a tilt tray to go to the last meeting and helping me with parts to fix my other tow vehicle. Financially it has been a trying couple of months and they have just been fantastic, I wouldn't be racing at the moment without them.
"I also need to thank Paul Rogers Racing Transmissions, Ian McMasters Panels in Hastings, Ice Ignition, Paul Turner, Warner Signs and my beautiful wife Linda and my daughter Telisa. Finally, a special thank you has to go to South Coast Raceway – they are just amazing and put on a beautiful show, it is well worth the trip there as even if you don't do well, you still feel so welcome."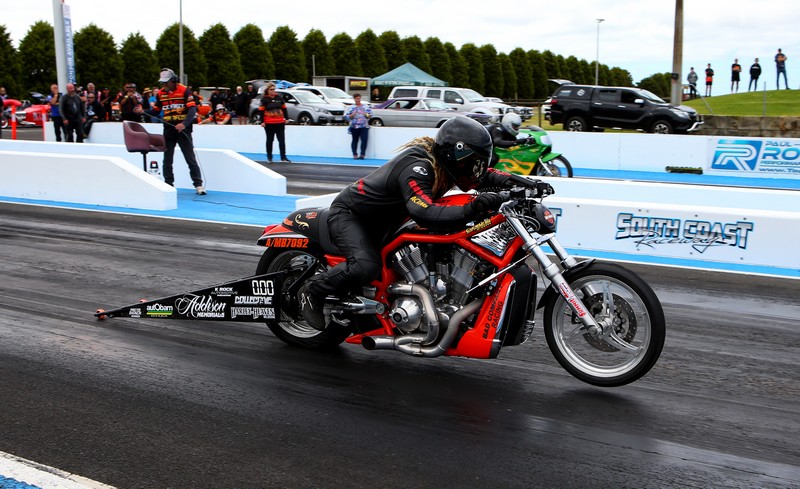 Enjoying a break-through win was Levi Addision, who notched up his first ever ANDRA Christmas Tree in the Competition Bike ranks this weekend. It was only the second Competition Bike event for the racer from Somerville in Victoria, who undertook double duty in Portland by also competing in the Modified Bike bracket.
Addison faced off against former champion and last round winner Tony Frost in the final for the bracket which runs a Chicago Shootout racing format. The Top Qualifier for the bracket was Rob Cassar.
"This is really good as it is only our second ever Competition Bike event, so I am pretty happy to get the win! I am just stoked to be honest," Addison said.
"I have raced Tony (Frost) a few times now so I was just concentrating on doing my own thing, he is super fast so I was praying that we just went that bit better!" he laughed.
"It was a really good event for us, we got a PB as well as the win and we had no issues. I was also racing in Modified Bike so with doing the two classes it was a bit of a handful but it also meant more ride time which is always better.
"I would like to thank my wife, my dad and my whole family for their support; as well as Addison Memorials, The Collective Family, Harley Heaven Melbourne, SRT Signs, Faster Moto, Bad Company Racing and BMC Australia."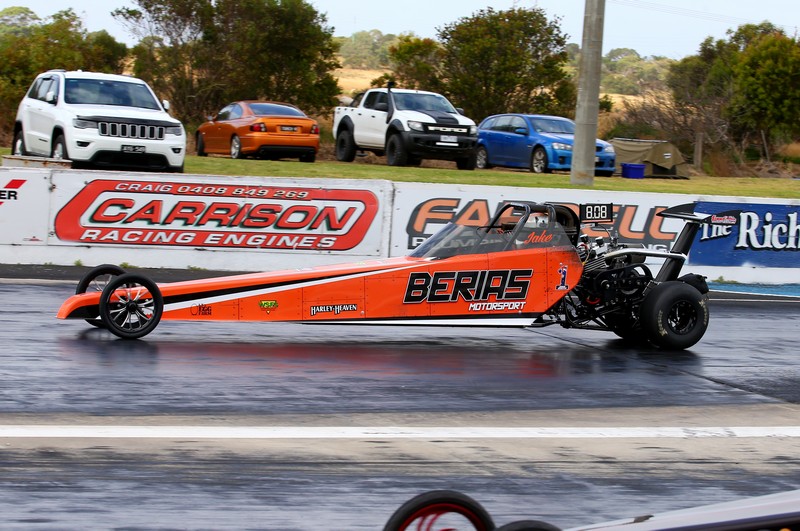 In the Summit Racing Equipment Junior Dragster ranks, it all came down to defending series champion Jake Berias and Allirah Kardum. After a tight race, it was Berias – who also won the 2019 South Coast 660 – who would take the victory.
On their way to the final, Berias had taken on Tim Baker (round one), championship leader Tommy Turic and George Limperis while Kardum had faced off successfully against Todd Wagner, Brooke Camilleri and Top Qualifier Sarah Donnelly.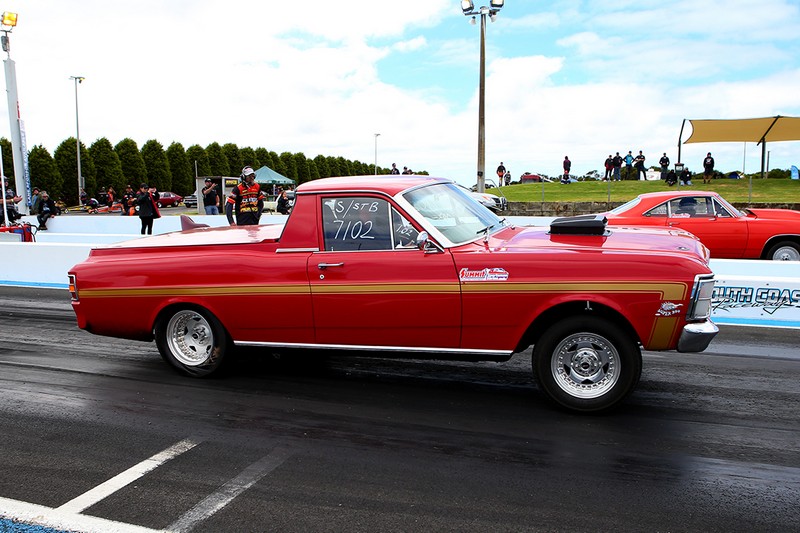 Kelvin Brian in Super Street was also grinning widely this afternoon, with the Hamilton (VIC) racer taking the victory in his Ford XU Ute.
Brian defeated a hard-charging Nikolas Karanovic who broke-out by the smallest of margins in an intense final race. Earlier he had emerged victorious from battles against Andrew Gay (round one), Andrew Shirley, Ian Hick and Henry Spiack while Karanovic meanwhile had taken wins from last round victor Tony Barbara and Top Qualifier Peter Jephson in the opening two rounds, before enjoying a round three bye ahead of victory over Scott Cleary to book his place in the final.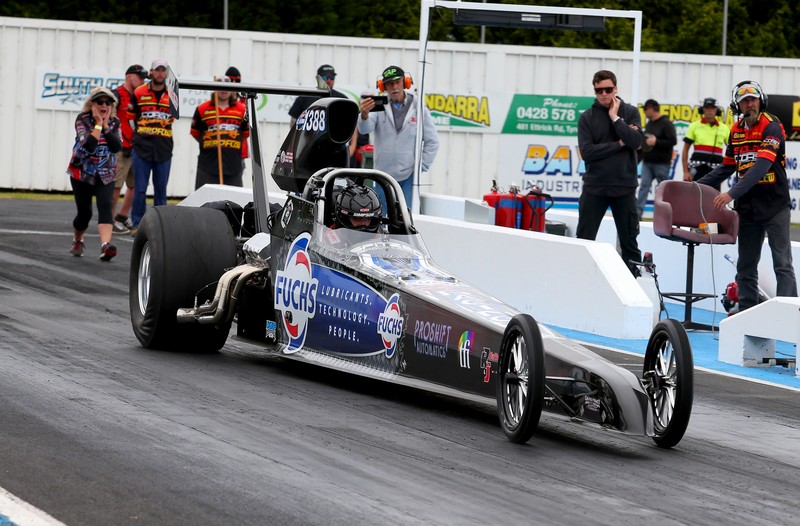 In the Modified bracket, it was Kenny Stewart who would claim the victory with a win over local hero Chris Farrell in the final. The pair had matching dial-ins to create an exciting conclusion to the Modified proceedings at the South Coast 660, with the Tarneit (Victoria) racer beating out Portland's Farrell in his Fuchs Spitzer.
Stewart had earlier taken on Davydd Estcourt, Bradley Hicks and Shane Wynd – who defeated Top Qualifier Simon Barlow in the second round – while Farrell emerged successful from match-ups against Josh Baker, Ashley Johnson and Adam Mundy.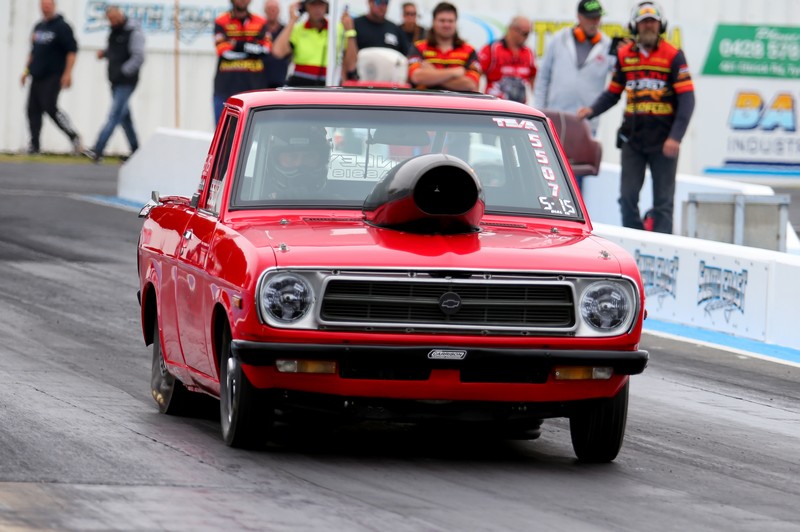 Glenn Henley is another racer who is notching up the wins this season, taking out his third event victory of 19/20 and his second in a row with a win over defending champion Jason Arbery in the Top Sportsman class. While both entrants red lighted in the final, it was Henley who was handed the victory in his Datsun Ute by virtue of Arbery being the first to commit the transgression.
Henley had earlier taken wins from Tim Parker (round one), Joe Ridenti and Top Qualifier Dean Cleary before enjoying a bye run in the semis while Arbery had taken on and defeated Stuart McBain in the first round ahead of a round two bye and wins over Leon Davies and Sam Cardinale.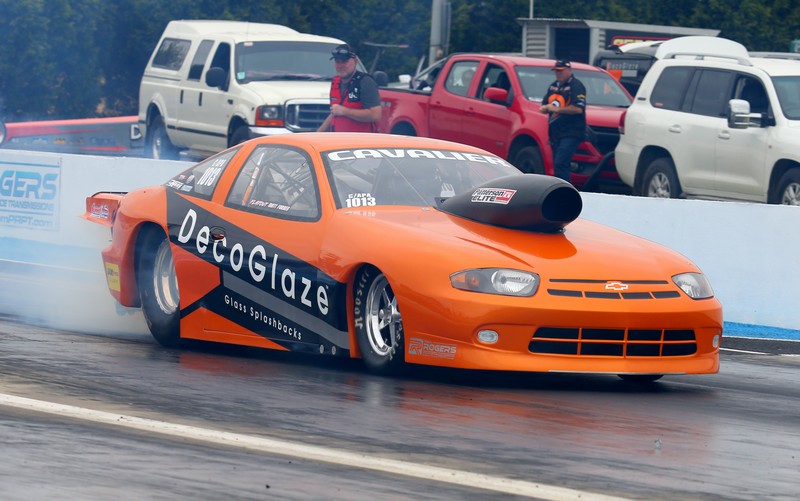 Technical infringements also decided the Super Comp final, with Matt Forbes accepting the light before deciding to not complete the run while his opponent Louis Svingos red lighted. Forbes, from Canadian in Victoria, therefore took out the victory in his Chevrolet Cavalier over Adelaide's Svingos and his VF Valiant despite not having travelled down the race track.
This finals match-up which yielded back-to-back victories for Forbes was set-up courtesy of victories over Shane Baxter and Graeme Simms for Forbes and Top Qualifier Craig Geddes for Svingos, who benefited from a round two bye ahead of the final.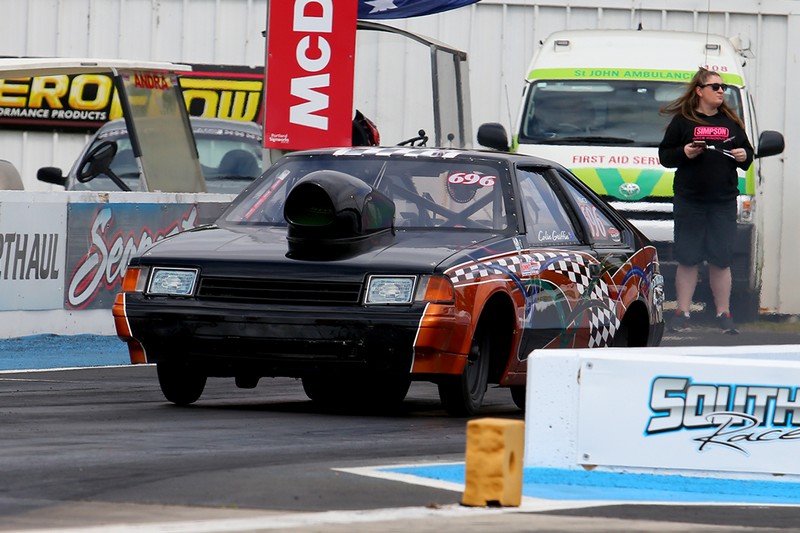 The Super Gas bracket was another to host a back-to-back victor, with South Coast Nationals winner Colin Griffin again walking away victorious with a successful race over Graeme Spencer.
The Craigieburn (Victoria) resident had earlier defeated Renee Cockerill and Michael De Rose aboard his Toyota Celica while Spencer had taken wins from Anton Krajina and Top Qualifier Jason Wilson in his 63 Corvette.
For full results from this weekend's Summit Racing Equipment Sportsman Series round, please click here.
ANDRA thanks South Coast Raceway and all of its volunteers and sponsors for an outstanding race track and a well-run event.
Round eight of the 2019/2020 Summit Racing Equipment Sportsman Series will be held at the Perth Motorplex, with 49th Westernationals to be hosted by the venue across February 29 to March 1, 2020.
The event will feature not only all the racing for the Summit Racing Equipment Sportsman Series, but also Top Fuel, the West Coast Top Doorslammer Challenge and the West Coast Nitro Bike Challenge with all racers competing for a prestigious ANDRA Gold Christmas Tree Trophy.
For event information, visit www.motorplex.com.au or www.andra.com.au