Ten new records were reset following the 2017 ANDRA Australian Nationals at Calder Park on January 28-29
Pro Stock winner Lee Bektash reset the 1000ft speed record moving it from the 175 mph minimum to 177.09 mph in the process of qualifying number one and taking the event win.
The combined Super Comp bracket saw a huge attack on the record books with nine new marks. Current ANDRA Competition champ Craig Geddes reset his previous B/Dragster records of 5.999 at 170.90 mph to 5.991 at 171.66.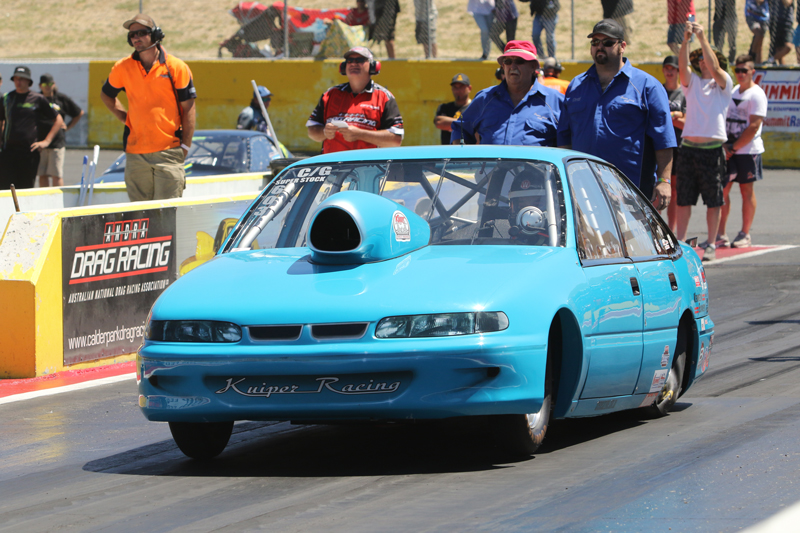 Sydney racer John Kuiper (ABOVE) put his name on the C/Gas ET list bettering the minimum of 6.70 with a 6.697 in his Commodore. Kuiper also reset the speed record, previously held by John Skorpos at 151.57 mph, to a new 154.97mph mark.
Darren Parker (MAIN IMAGE) is certainly no stranger to the record books having already inked his name next to the B/APA records. At the ANDRA Australian Nationals, Parker improved on his 6.199 ET mark with a new 6.175 in his Pontiac GXP
The C/MSA minimum marks of 8.29 at 123.00 mph now belong to Michael Caroscio after his Firebird stopped the clocks in 8.204 seconds and 125.78 mph.
Super Comp Nationals winner Jamie Chaisty had a huge weekend at Calder Park and he was able to back up his victory by adding his signature next to both H/MSA minimums. He bettered the 7.92 minimum with a 7.776 and bumped up the 127.00 speed minimum to 131.65 mph!
Congrats to all on your performance achievements at the 2017 ANDRA Australian Nationals.
https://www.andra.com.au/images/stories/ANDRA/PDF/records/20170201_1000.pdf
images by Joe Maday and Wayne Nugent
www.andra.com.au